HELLO, MY NAME IS
ANDREI IUNISOV
I am an independent digital marketing and SEO consultant from Germany with 13 years of experience on a worldwide level.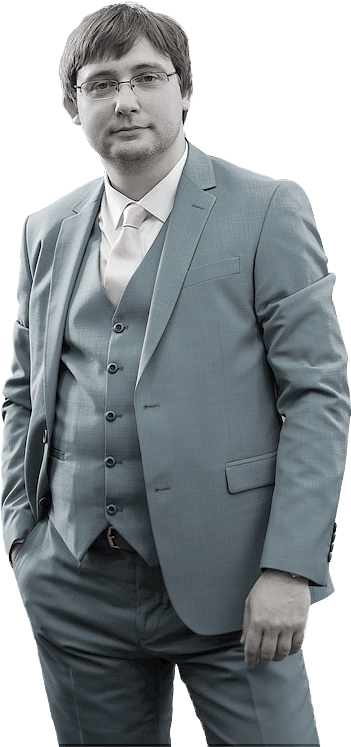 How Can I Help Your Business?
In Marketing & SEO
---
● Generate More Target B2B Leads
● Improve Visitor -> Lead Conversion
● Improve Lead -> Opportunity Conversion
● Generate More Online Orders
● Get Your Website to Google in TOP-10

In Digital Transformation
---
● Transform Business Process into Digital Space
● Digitize Workplaces in your Organization
● Integrate Business Processes with Digital Tools
● Improve Business Goals' Delivery Speed
● Reduce Human Error Factor

Since 2006 I was involved in digital marketing and SEO in the rapid-growing software company Parallels in Seattle, WA.In 2009 I founded the first web analytics agency in Russia. My client list included the top-100 russian digital advertisers. In 2014 the business was sold to the hugest independent digital advertising agency in Russia - iConText Group. After the acquisition I moved to Germany.Since 2016 I serve as CDMO in Bacula Systems - an enterprise backup software company and CMO in VirtoSoftware - a SharePoint development company. I also provide digital marketing, SEO consulting and digital transformation services to various companies from all economy sectors worldwide.
Marketing Strategy & Research
B2B Lead Generation & Nurturing
SEO (Search Engine Optimization)
SMM (Social Media Marketing)
Search & Display Ads in Google
Digital Marketing Analytics
Conversion Rate Optimization
Facebook, Instagram and LinkedIn Ads
13+ Years Experience in Digital Marketing & Analytics
Parallels, Inc
2006 - 2009
Senior Online Marketing Manager
Responsible for overall online revenue and marketing efforts in Parallels. This included sales and lead generation via search marketing (SEM, SEO), software review portals, free download websites, affiliate management, social media marketing, email marketing campaigns, retargeting campaigns and other channels. Executed conversion rate optimization activities using Google Analytics, Omniture and website usability improvements. New sales and upgrade campaigns to user base with $100k/day results.
Co-Founder and CEO
The leading web analytics agency in Russia. Founded as the first independent web analytics agency in 2009, the first Google Analytics certified partner in Russia. Executing web analytics services for largest russian companies: Kaspersky, Acronis, Panasonic, Renaissance Credit, Megafon, Beeline, MTS, CTC, KupiVIP, IVI, Incom, X5, Faberlic, Fast Lane, Lamoda, EnglishFirst etc. Since 2014 a member of iConText Group - one of the biggest online marketing holdings in Russia. Responsible for overall strategy, new business acquisition, project execution and P&L.
iConText Group
2014 - 2015
Marketing Director, Head of SMB Business
Responsible for overall iConText group marketing&strategy. Built profitable SMB business division (icTurbo) with >100Mn revenues. Responsible for business processes for SMB customers, lead generation, sales operations and service execution. This job was transitional after WebProfiters was acquired by iConText.
Bacula Systems
2016 - now
Director of Online Marketing
Lead generation and nurturing using SEM, SEO, social network advertising, email and CRM marketing techniques. Tripled (+300%) the number of leads in 1 year. +150% to the number of opportunities. Continuing to grow the amount of quality leads and sales conversion. Successfully competing with the hugest IT companies like IBM, HP, DELL, EMC and others.
VirtoCommerce & VirtoSoftware
2017 - now
CMO
VirtoSoftware is a SharePoint-oriented company, who builds SharePoint and Office365 apps, provides consulting and training. Responsible for product messaging & marketing, lead generation and nurturing of the prospects to opportunities. Using PPC, SEO, social network ads, email and video marketing. Under my management the organic traffic grew by 67%, the number of trials grew by 28% resulting in the best sales month so far.
Internet Investment Development Fund
2015 - 2018
Investment Board Member
Along with other board memebers in the Europe's biggest internet projects fund responsible for marketing and business model evaluation of the fund's projects. Main expertise: online retail, enterprise and consumer software, SAAS services. Evaluated marketing strategies worth of tens of millions of USD for the biggest fund's projects incl. Babadu, Pravo.Ru (Case.One), Robot Vera, Promobot, Cinemood and others.
Digital Marketing & Consulting Portfolio
Digital Consulting Services
COMPETITIVE INTELLIGENCE
---
Every company wants to know the «know-hows» of its competitors. Traffic sources, conversion rates and cost per lead, user behaviour – by investigating these metrics businesses are able to accelerate growths. Numerical approach makes the analysis outstanding - instead of relying on subjective assessments, I am researching the numbers and rely on facts.
STRATEGY & GOAL SETTING
---
One of the biggest problems in marketing is the lack of a modern digital strategy which would be based on data and not someone's feelings. The second problem is the incorrect goal setting. Digital agencies and in-house marketing teams might not understand each other very well. The modern strategy and well-defined task set is the key to success.
ASSESSMENT & AUDIT
---
In every company marketing has its own story, with employees, agencies and subcontractors. Sometimes management doesn't understand their actual work quality and performance. That's when the comprehensive audit is the right solution. The assessment is independent with no motivation to criticize and change agency without the actual need.
CONVERSION OPTIMIZATION
---
The key differentiator of my service is the ability to improve all types of conversions: visitor-to-lead, lead-to-opportunity and opportunity-to-sale conversions. Book a consultation with me that will share some insights about you current conversion rates, market averages and will explain how can you sell more by growing different types of conversions.
VALUE COMMUNICATION
---
How do you better communicate and quantify your unique value? I can help you to create differentiated business value messaging and quantification, enable prospects to self assess their challenges, "do nothing" costs & potential benefits from your solutions. I also empower your sales team and partners to quantify prospect challenges, benefits, ROI & TCO.
EXECUTION CONTROL
---
I will either select the best subcontractor through the tender procedure or will leave the current agency. The last option might be quite long and not cost-effective but there are situations when it can't be executed differently due to the internal personnel which needs to be taught modern marketing methods. I also have a prominent partner web developer team.
MARKETING OUTSOURCING
---
Sometimes for some of the clients I am managing marketing by myself with my team of partners to deliver the best quality, save costs or when you don't have enough tasks for a full-time marketing director. By using part-time model and a professional team I have enough time and experience to deliver meaningful results and meet KPIs while saving your budgets.
DIGITAL TRANSFORMATION PROGRAM
---
By using the modern, preferably open source, secure, cloud or on-premise digital tools like CRM, ERP, marketing automation system, agile project management and collaboration tools I improve your organization's business processes speed, human and material resources usage and ensure project goals have faster delivery times and better KPIs.
Get in touch
Feel free to ask questions and send business suggestions. I will try to reply you in 1 business day.