LinkedIn Ads for B2B LeadGen: Best Practices & Case Studies.
Updated 11th September 2023
Date :
June 7, 2021

By

LinkedIn is the most powerful platform for online B2B lead generation. It has a huge audience of 850M+ business professionals, focuses on business-related connections and has a lot of different tools for quality lead generation and nurturing.

In my opinion, there are only 2 main types of ads that can be used for B2B lead generation on LinkedIn: sponsored InMails and sponsored content.
Sponsored InMail
Sponsored InMail is a promotion method that sends personalized messages to the LinkedIn message center of your target audience (this is somewhat close to how regular email inbox works, but on LinkedIn messages page). There can be different variations of Sponsored InMails' content, but most of InMails include a personalized greeting via first or last name substitution, a call-to-action button with a customized text depending on your campaign goals, a link to your landing page, and a banner image (optional).
The main goal of this ad format is to generate leads by pushing visitors to download a whitepaper, sign up for a demo, register for webinar or something else depending on campaign objectives and available assets. Sponsored InMails can be rather effective in this regard since they have high open rates due to them being sent and received within LinkedIn as regular messages from other users.
There is also a more modern variation of Sponsored ads called Conversation ads – following the same idea as with the regular Sponsored InMail advertisements but adding a twist to it. The twist itself is that each one of these advertisements has a multitude of CTA buttons attached, offering a so-called "choose your own adventure" experience for every client it gets sent to. By asking relevant questions and adding LinkedIn Lead Ads Forms you can capture leads easily, especially when inviting visitors to webinars or to whitepaper downloads. This particular approach offers higher CTR, better engagement and thus higher-than-average conversion rate.
As of September 2023, Sponsored InMail is no longer possible to create, so stick to Sponsored Conversation. Additionally, both Sponsored InMail & Conversation are not allowed in the EU because of GDPR limitations. If you market your products or services in the European region, you can only run this format in the UK, Switzerland and Norway. However, you can use Document Ads as a great alternative!
Sponsored Content 
Sponsored content is a type of B2B LinkedIn lead generation ad that is included directly into news feeds with regular LinkedIn content, working as a variation of a promoted post. Some users draw a direct comparison between an organic post on a company's personal page and a sponsored content post, claiming that the latter is an improved version of the former.
One of the biggest advantages of this ad format (often referred to as a "single-image ad format") is the level of engagement since the content itself is integrated as a part of the newsfeed. This kind of approach to B2B LinkedIn lead generation helps a lot with transferring affinitive audiences towards landing pages, raising brand awareness level with bright and appealing images, and there is also a regular lead generation process with LinkedIn lead generation forms that are built on LinkedIn by the advertiser and are populated right in the newsfeed after the click on the ad.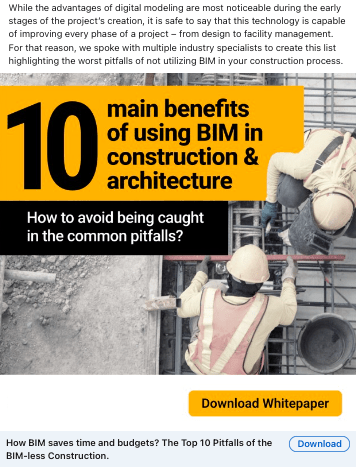 It is worth noting that single-image ads, like the one described above, are not the only possible option when it comes to sponsored content as a whole. In addition, there are also carousel ads, video ads, event ads and document ads.
Video ads are extremely versatile, offering the ability to highlight positive customer experience and/or showcase new products or services – but only if you can get creative enough with the video ad. Sometimes video ads are used to invite selected audiences (current clients, prospects, etc) to an offline event.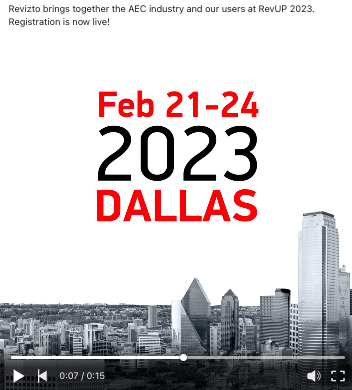 Carousel ads, on the other hand, are closer to a traditional take on a LinkedIn advertisement, providing a number of images in a swipeable row of "cards" that can be used to share useful insights or just promote a product or a service using storytelling. It can be somewhat difficult to figure out since you have to make sure that your clients would keep swiping from the first image to the last for the ad itself to be effective enough. However, sometimes in my experience carousel ads had better CTR than the regular single-image ones. I would recommend using them, if your single image campaigns don't perform well.
Event ads have a rather telling name – offering the ability to promote specific events that you have set up on your own LinkedIn page. The main objective of this kind of ad is to boost the number of event visitors. If your lead criteria includes not only trial form submissions or whitepaper/ebook download, but also event registrations – you can definitely use this ad type for lead generation.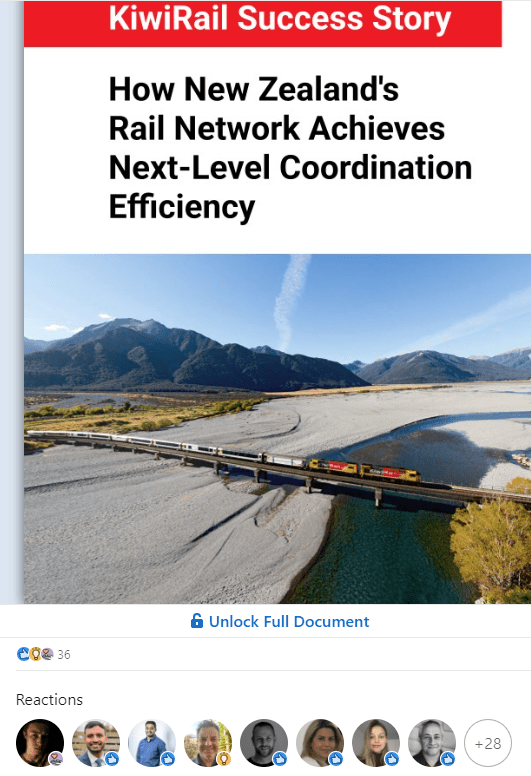 Document ads are one of the most recent additions to LinkedIn's B2B marketing toolset, offering the ability to share actual documents with target audiences in a variety of formats – PDF, PPT, DOCX, DOC, PPTX, etc. It is a great way to promote some sort of "evergreen" content (whitepapers, case studies, RFP templates, etc) to your audience and it also works great when it comes to gathering leads.
You can customize the number of pages which the visitor can preview without downloading the asset, generating additional interest in your target audience. Additionally, in my experience these leads have a better quality  because the irrelvant audience won't download the asset at all, having an ability to preview it.
Once the last "free" page is reached, the user see a text "Want to view more? Unlock the document below" landing to a LinkedIn form.
General use cases for LinkedIn ads
Despite the fact that LinkedIn ads can be useful in a wide variety of use cases, they are not universal, meaning that there would be quite a lot of situations when using LinkedIn as a leadgen channel would be useless. Here are some examples of when LinkedIn ads should not be used:
If your budget is limited (in my opinion, a budget of at least 600 – 1000 USD per month is usually where the advertisement on LinkedIn becomes somewhat possible to test);
If you are targeting a broad audience with no specific customer profile in mind for branding reasons;
If you are operating on a consumer market, not business-to-business;
If your product or service has a relatively low cost, or if your lifetime value per customer (LTV) is low because of the high cost per acquisition for some LinkedIn ad formats.
Alternatively, there are also multiple statements that can be used as a signal for you to use LinkedIn ads, such as:
Your goal is to generate quality conversions by using an upper-funnel or mid-funnel lead generation strategy;
You have a specific audience for your product or service and you operate in a B2B market;
Your goal is to remarket the traffic that you've directed from LinkedIn to your own website;
Your goal is to remarket the organic SEO traffic visitors that bounce from your website and make them convert;
It is your intent to run targeted account-based marketing campaigns.
The checklist for a daily or weekly B2B campaign assessment
Constant measurement and monitoring are essential at any stage of a LinkedIn campaign as this helps to monitor performance and dynamically improve results. This checklist below should help with figuring out if your LinkedIn B2B marketing campaign is working if you compare current results with the ones from the previous period of your choice. Here are the questions you should be answering to:
How high or low is the average cost per qualified lead? What are the changes to the last period in this metric?
How high or low is the number of leads for a selected period? Are there any spikes or drops in the number of leads?
Are your campaigns providing enough impressions and clicks? Is the audience broad enough?
Can you still fit into your budget with such an audience size?
Is the quality of leads sufficient enough to be able to qualify them as MQLs? Are there any changes in the quality after targeting changes?
My personal experience with LinkedIn for B2B leadgen
My LinkedIn B2B lead generation experience started in 2013 when it had much less ways to advertise. At those times advertisers were able to use only simple text ads based on pay-per-click model.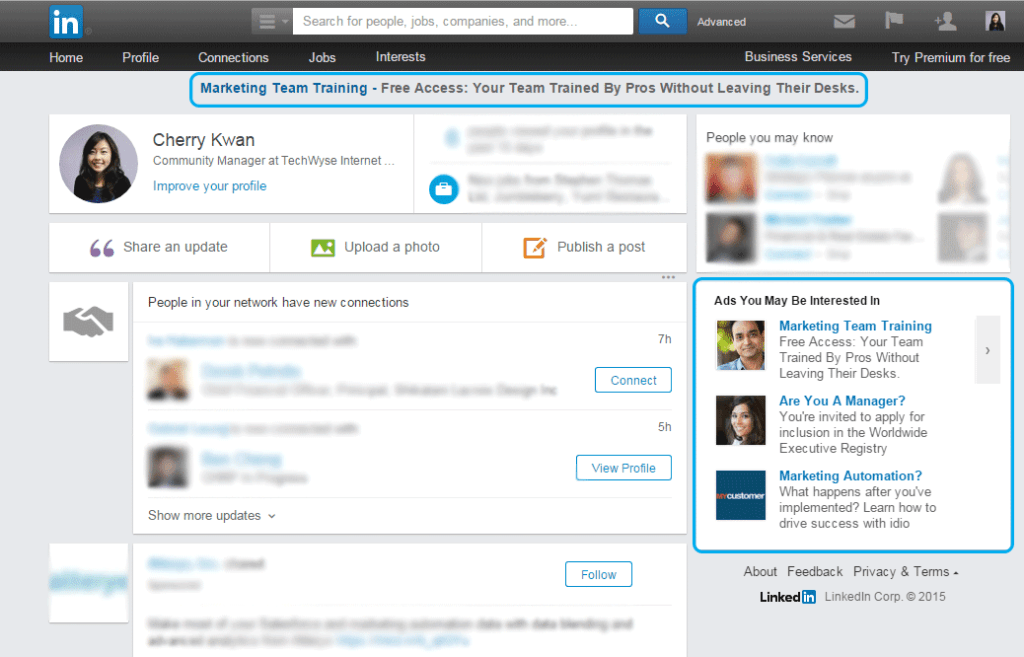 I have to admit that I was unable to deliver significant results this way because the cost-per-click on LinkedIn for the industries of my clients was always higher than average (especially higher than in Google Ads). That is why lead cost was ruining the unit economy and was not affordable to my clients.
During the last 10+ years LinkedIn ad platform made a huge progress with targeting capabilities, ad formats and bid strategies. I started testing it once again in 2017 for some of the clients and surprisingly the results became much better. The cost-per-lead dropped down, the number of leads increased and the quality of these leads became much better.
I think there's also an additional factor of why B2B lead generation on LinkedIn got better – it's marketing automation technology which is evolving. The rise of enterprise nurturing tools like Marketo, Pardot or smaller products like Mailchimp and Autopilot allows businesses to get leads on different stages of the consumer journey, not only during the phase of final purchase. This lead generation tactic allows to get more leads because of smaller lead cost and also leaves the space for additional marketing if the sales cycle is more than 2-3 months.
Let's take a look at the ways to use LinkedIn for B2B lead generation where I had success below. My competence was confirmed by LinkedIn team itself publishing case study with one of my clients where we had such notable results:
The lead generation forms completion rate of 35% surpassed all LinkedIn benchmarks
The customer halved its cost per lead (CPL) target for the LinkedIn  campaigns
Generating lower-funnel leads on LinkedIn
Usually when I am talking about lower-funnel leads in the enterprise software industry or the other B2B industries I mean trial downloads, requests for proposals or price quotations. These are the prospects that have already chosen the list of potential vendors and are in the evaluation process.
Trying to target these people not only on LinkedIn but in all the other social networks or is not cost-effective, at least according to my experience. It doesn't depend on the ad copy or targeting criteria, the main reason of why these campaigns fail is because it's unlikely to catch lower-funnel leads in social network exactly during the moment when they're evaluating products. Search advertising is much more suitable for this goal – and this is why PPC for B2B is so expensive nowadays.
Instead of trying to get the leads in the most competitive stage of the consumer journey it's more useful to focus on the upper part of the conversion funnel. During this stage customers are looking for more information about the products by downloading whitepapers or ebooks, registering for webinars or just looking at the other implementations in case studies. Let's take a look at all these ways to generate leads.
Whitepaper downloads using LinkedIn
By downloading whitepaper the prospect shows the interest in either general topic which is connected with your company industry (e.g. "How to use artificial intelligence in backup and recovery?") or in specific technology which is close to your product (e.g. "How to backup and recover VMware virtual machines?"). I rarely use generic whitepapers for lead generation as they have poor lead quality in the end. Here some of the technology whitepaper campaigns on LinkedIn and their results: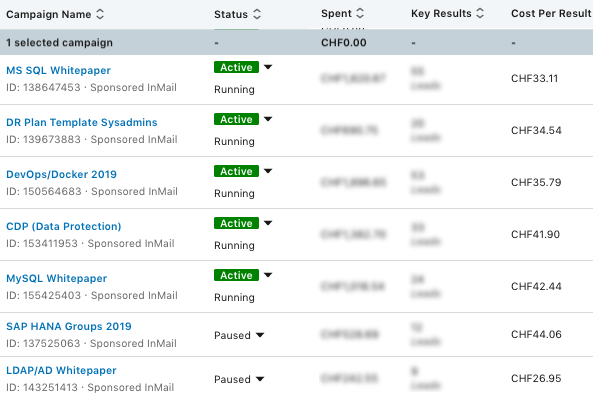 You'll see here some of the most prominent technology whitepaper campaigns: MS SQL database backup strategies, Docker volumes backup and restore, MySQL database backup, SAP HANA backup and Microsoft Active Directory data protection strategies. Technology whitepapers require you to look for the relevant audience with the usage of:
LinkedIn Groups targeting
Job title-based targeting
Skills-based targeting
So for example for MS SQL database backup strategies you'll need to look for MSSQL database administrators. That's quite simple, you make a selection and adjust the other targeting criteria like profile language, age, company size, job seniority etc: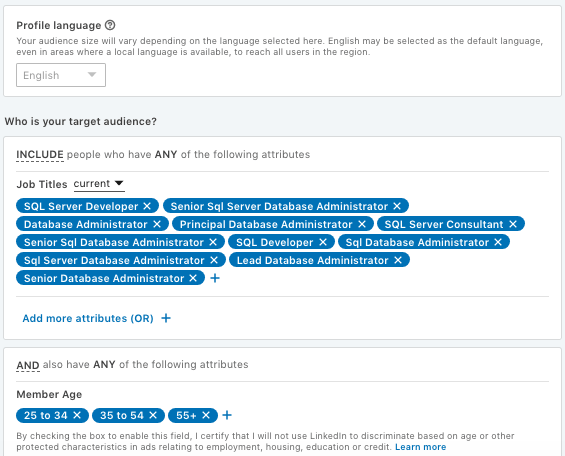 You also need to exclude your company followers, current clients and employees. However, when you don't have the direct position name (e.g. SAP HANA database administrator) in LinkedIn's catalog – it could be useful to use LinkedIn Groups targeting: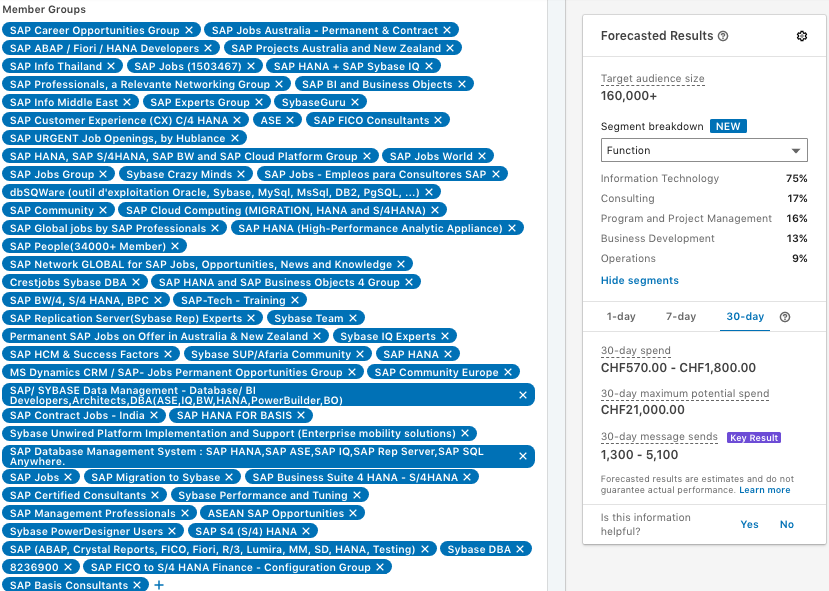 Even with geographical exclusions and all the other limitations listed above in the example the audience size of SAP HANA-related groups is 160K people which is a decent audience according to LinkedIn's guidelines.
Keep in mind that position names need to be researched deeply with the product marketing department before starting the campaign. I used to target system administrators, database admins and IT managers in the beginning but then after GDPR was introduced in Europe I also started to target data protection managers and officers.
If you can't find the relevant groups and job titles, you can target skills. For example, one of my customers is Cipherpoint – a SharePoint security & encryption software vendor. I target "SharePoint" skills, because there are not so many security professionals tied specifically to SharePoint. So it's better to select the people with the generic SharePoint knowledge.

Now let's talk about the ad formats and campaign objectives. While marketing to B2B companies on LinkedIn you can not only generate traffic to your website, but you can also create a form just inside the platform and collect leads directly from your ads (this is called LinkedIn Lead Ads, and to use it you need to choose lead objective while setting up the campaign from the beginning).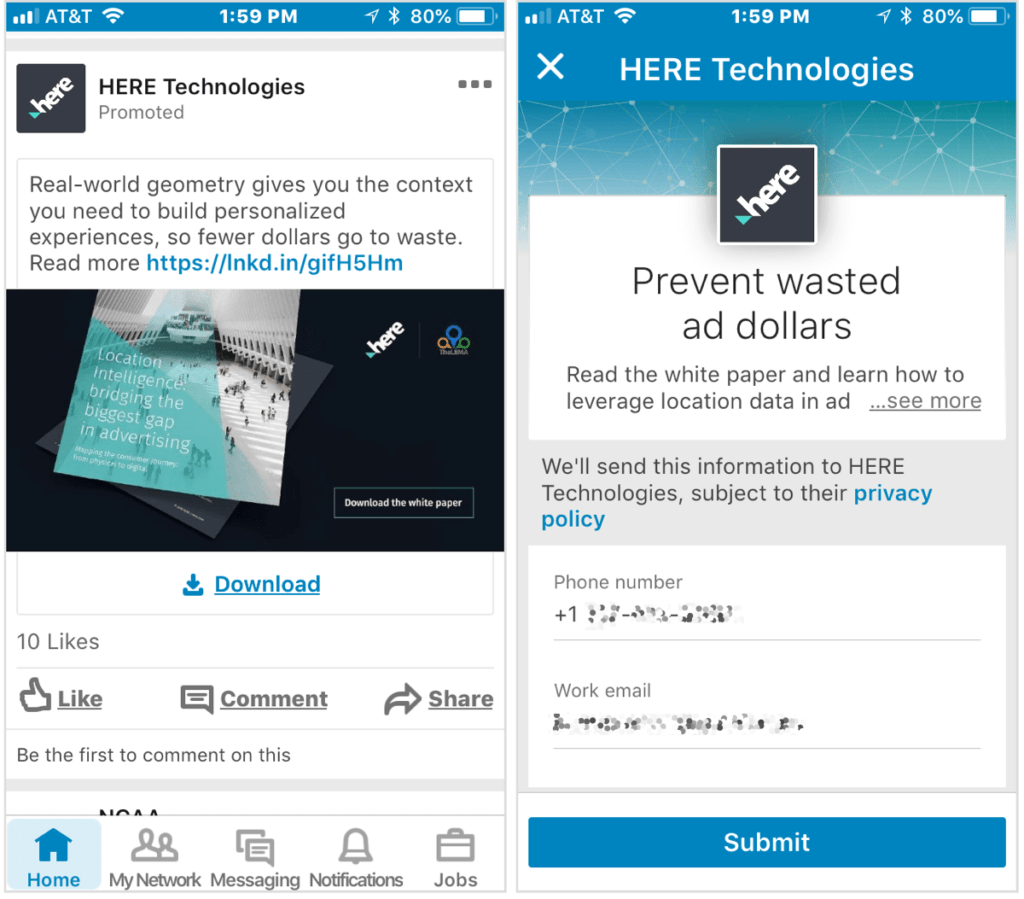 Format-wise there are different options:
Single image ads
Video Ads
Carousel Ads
Sponsored InMail Ads
Sponsored Conversation Ads
I have used all these different approaches but let me share the examples with InMail messages in combination with Lead Ads. Their big advantage is that they're delivered on mobile devices where users tend to download whitepapers (which will never happen in case of trial download of the enterprise software product).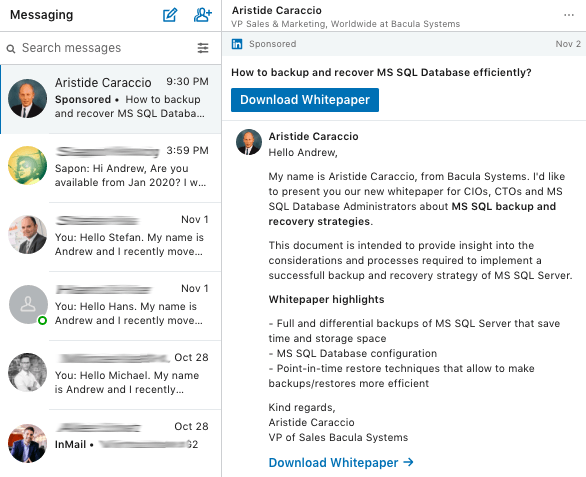 Keep the messaging short and sweet as in this example. I was testing messaging formats for more than 2 years when I finally came to the best conversion rate. The key to success is simple:
Keep the subject line straight-to-the-point, write exactly what the prospect might be looking for;
Personalize the messages with %FIRST NAME% and other merge tags;
Introduce yourself very quickly, without the long sentences of what you and your company is doing (the prospect can check this later on);
Send the main messaging – what do you want to do with this Inmail in regards to this particular prospect?
Provide additional information and highlights.
Here is the example which I used for the other client of mine: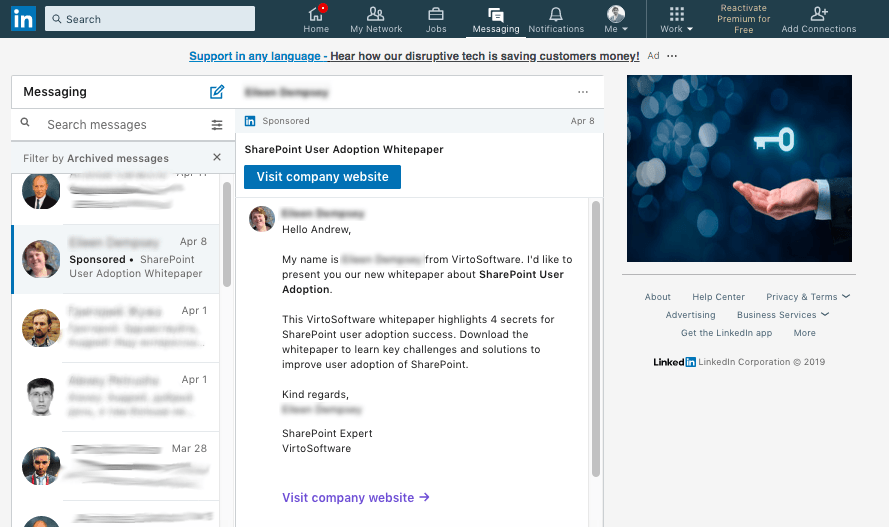 In this case the campaign is actually the remarketing one. We're attracting visitors to our blog using SEO and then promote InMail ads with whitepaper downloads to this specific audience cluster on LinkedIn. This way we're transferring the unknown organic traffic visitors to the specific leads. By using this approach I was able to generate hundreds of leads on a monthly basis.

Marketing B2B case studies on LinkedIn
According to my experience B2B case studies are harder to promote on LinkedIn than whitepapers. Traditionally they present less interest than whitepaper to the potential audience and because of this the number of leads is lower while cost per lead is higher. I found case studies to be effective while promoting them in relevance to a specific industry:
In this example one of my clients that develops software for architects is presenting a case study about the usage of the software during hospital construction. As you can see, the campaign produces leads in both North America and Europe, but the cost per lead differs a lot, mainly because of the level of competition in the US and Canada.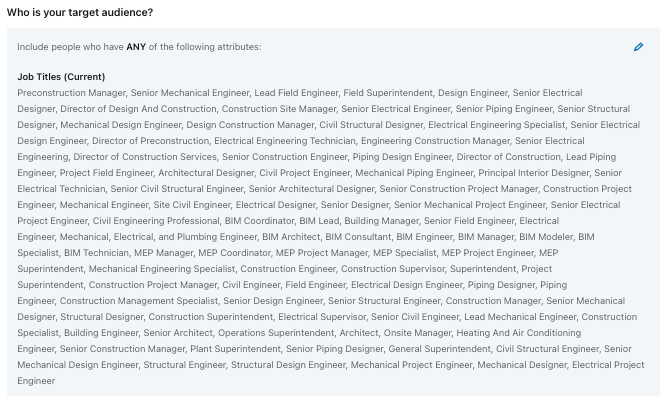 The target audience consists of relevant job titles narrowed by years of experience, member age and company industry (hospitals in this particular case). Only when using such a narrow targeting with an asset that is compelling I was able to generate leads with a decent cost per lead with case studies.
I also had the experience of promoting case studies with Document Ads, and it worked quite well. The case study was describing the usage of BIM software in railway construction, so I developed this targeting model: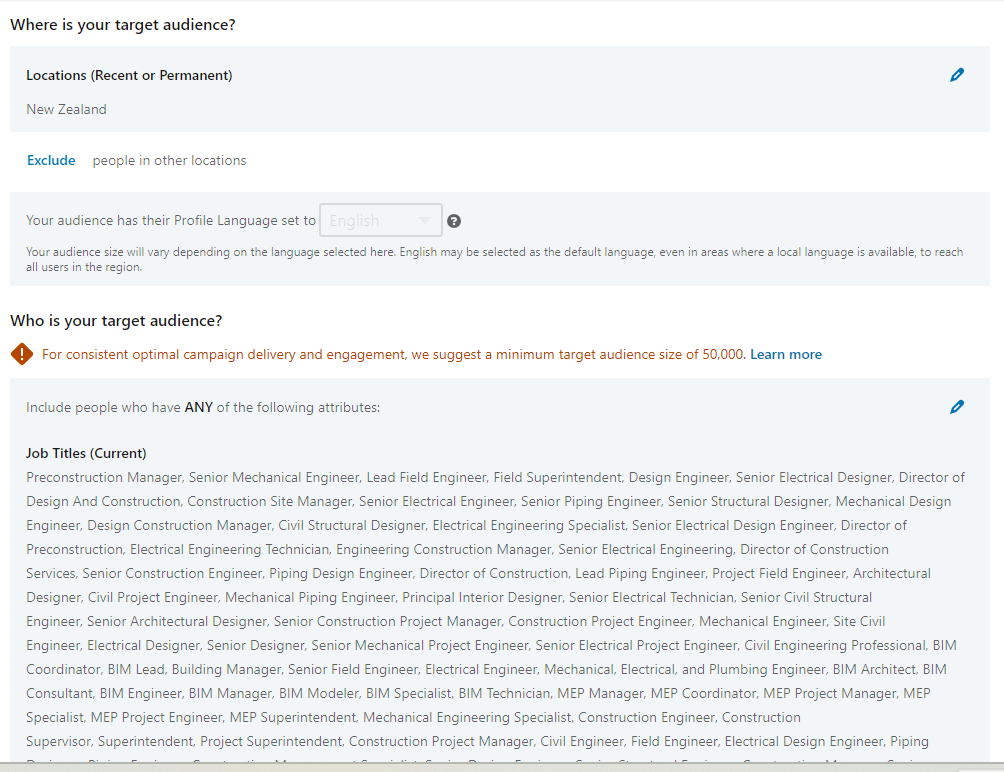 This asset was connected with the region where the campaign was running, so the was having quite a good affinity index. Here is my take on the creative part: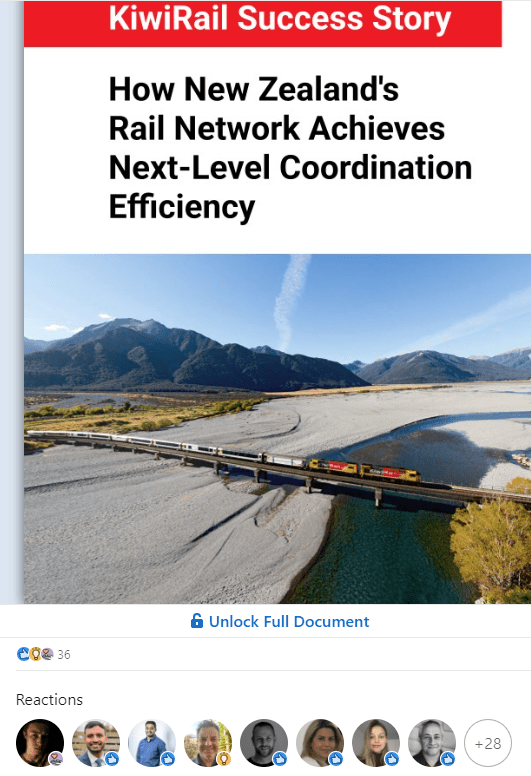 This campaign delivered 30+ quality leads with ~60 USD cost-per-lead. I consider this a good result, especially keeping in mind the tight local audience.
B2B webinar visitors lead generation  
LinkedIn is perfect for generating webinar participants which are frequently used in B2B marketing. The Sponsored Conversation format allows you to send the webinar invitation which you get immediately in your prospect's mailbox. Then they just have to read it, click on the link and they'll see all data pre-filled from their LinkedIn profiles.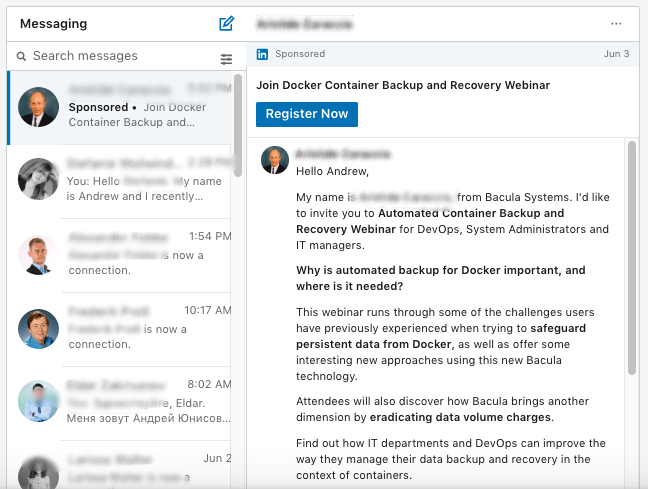 The messaging is a little bit different compared to the technology whitepapers. It gives an immediate insight on what the visitor will get during and after the webinar. All the other principles that I listed above stay the same. The targeting is based on the job title and is splitted in different groups. The cost-per-registration is quite small – below 30USD/registration.