How To Improve Lead Quality? A Guide to Increase Lead Quality.
Updated 24th November 2022
Date :
April 26, 2021

By

It's a common situation in B2B digital marketing when there are tons of incoming leads but the number of opportunities created from them is relatively low.

This is where the topic of lead quality and qualification comes in. It's safe to say that, while the number of leads, in general, is an important metric, the quality of these leads is just as important, if not more important than quantity. It doesn't really matter how many leads you have, if they are all low quality – they're basically a dead weight and would not translate into SQLs or MQLs on their own.

There are many different metrics that can be used to assess lead quality – and it's also important to not get carried away with analyzing everything at once. Focusing on the correct metrics is the key to success. Additionally, lead quality should be taken into account as early as possible, preferably as soon as the visitor enters your website for the first time.
Quality factors for lead quality identification
As for the actual lead quality identification, it's possible to figure out six main factors that can be used to determine lead quality when combined:
Need – Does this lead actually need our product/service?
Revenue – How much revenue can this lead bring to our company?
Budget – Does this lead have a budget to afford our product/service?
Interest – Is there any interest from this lead towards our product/service?
Authority – Can this lead make a decision about purchasing our product/service?
Timeframe – How quickly can the decision be made?
Additionally, another important factor that should be taken into consideration is the lead source, which can be split into three main source types:
Traditional media
Direct marketing
Online marketing
Tips to improve lead quality
Lead generation as a whole is an unstable process, and it might be really hard to start bringing in quality leads from the get-go. However, there are also many different tips and tricks that can be used to circumvent or avoid those lead generation problems altogether. The list of tips includes, but is not exclusive to:
Form a feedback loop between departments
When it comes to B2B companies and their extremely long sales cycles, it's important to maintain regular communication between marketing and sales teams. A lead quality assessment must be performed as early as possible so that all of the potential benefits and lessons from this lead can be used in the future operations.
For that exact reason, it is recommended for sales and marketing teams to report to each other in a closed loop on a regular basis. That way, sales activity reports can be provided to marketing, and more information about the client, in general, is sent to the sales department.
There's a particular example I've seen while working with Bacula Systems and their departments. Bacula's sales department segregates its leads into five different groups:
#1 – This lead is not a lead at all;
#2 – The information behind this lead seems to be real, but the project behind the request is absent;
#3 – This lead can be converted into a sales opportunity, with some time and effort;
#4 – This lead can be converted into a sales opportunity within a relatively small time frame (about two weeks or less);
#5 – This lead has all of the signs of a high-quality lead, being a concrete project, with one of the lead types that we're looking for and a high chance of closing a deal.
After the classification process is complete, this information is sent to a marketing team and then used to correct various marketing campaigns in favor of a company's own needs.
Set up a company-wide definition of a qualified lead
The number of companies that don't have a company-wide definition of a qualified lead is surprisingly high since the misunderstanding between sales and marketing departments could easily have a lot of unpleasant aftereffects. On the other hand, the existence of a unified definition of a "sales-qualified lead" that both marketing and sales teams agree with is crucial for better cooperation and easier work with clients, among other benefits.
For example, in Bacula Systems the definition of the SQL is:
There is a specific backup system project in the nearest month;
We're talking to the person in the "buying center" of the company;
We know all the other people in the "buying center";
The lead is in our target customer segment from the size perspective.
Improve the quality of lead generation contact data
I've seen some examples where SEO, Google Ads or the other lead generation sources generate more than a hundred of new leads per sales person in the region but this person only works with 2-3 opportunities a month. One of the multiple reasons of this is connected with the quality of the leads' contact information.
The most common issues with the contact information include:
fake emails;
emails from non-business domains.
Usually when the sales person opens a new lead in CRM, it's vital to have the correct email and the business domain in it – these 2 attributes demonstrate the high quality of the contact and increase the processing priority.
It's relatively easy to prevent the fake emails. Once your lead generation form is submitted, don't automatically redirect the user to the material (whitepaper or case study) that he/she had requested. Just send the file to the mailbox and notify about this on the "Thank you" page: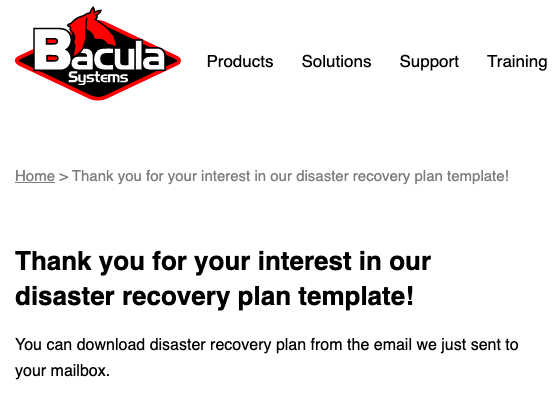 Not all the leads without business emails are junk – there can be various reasons why the person has left the personal email. Sometimes there is no access to the business email outside of the office, and sometimes the built-in LinkedIn forms already have the personal email automatically pre-filled because of the initial account settings.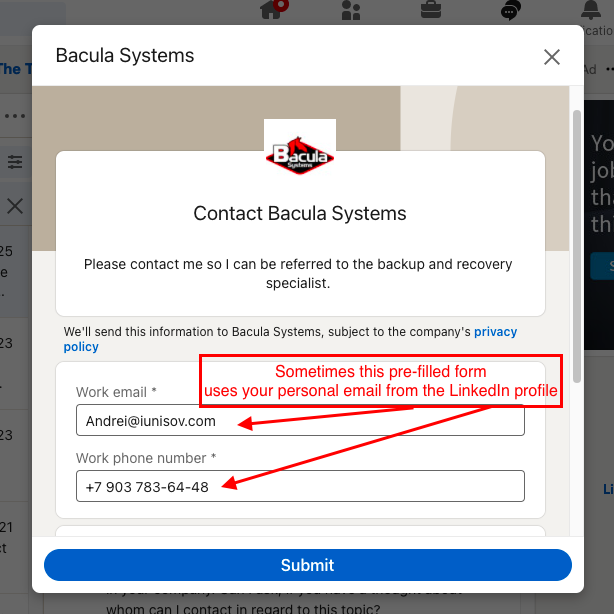 I would suggest using RocketReach (or similar tools) when you have a lead with the non-business email. It allows to input the first and last name or LinkedIn profile URL, and then you'll get all the possible variations of the lead's business email. RocketReach has its own database and also the email prediction mechanism.
To overcome the problem of non-business emails you could also prevent your forms to accept the leads with the free email domains. Here is how it looks like:

Even on the phase of typing the form recognizes the email domain and informs on the issue while making the submission button inactive.
As you see, there are several factors that might decrease your lead-to-opportunity conversion rate. These simple tips are based on my personal experience and can help you to overcome one of the main reasons which is the incorrectness of the leads' contact information.
Invest in lead nurturing
Lead nurturing is a process of constantly building relationships with prospects, no matter how soon they'll buy your product or service. Three main goals of lead nurturing are maintaining a constant connection with a prospect (to the point of a prospect being ready to perform a purchase), increasing brand awareness, and building trust.
The majority of your website's qualified visitors are there to investigate and gather information, and not to buy immediately. However, active lead nurturing manages to turn a lot of these visitors into actual clients, after some time. Lead nurturing is usually done with the usage of email, SMS or PUSH-notifications channels.
Here's my example of a lead nurturing campaign for a Project Management whitepaper that I did for VirtoSoftware (presented below).
List triggers and form submission are two of our starting points in this context. Both of those are followed by the first "step" in this lead nurturing campaign, which is a 1-day delay. After that, we're entering a sequence of emails sent on a regular basis – with each email covering a different aspect of the previously downloaded project management whitepaper.
This is how the biggest part of lead nurturing is achieved – keeping up contact. By sending emails on a semi-regular basis, we can establish a connection with our leads without annoying them.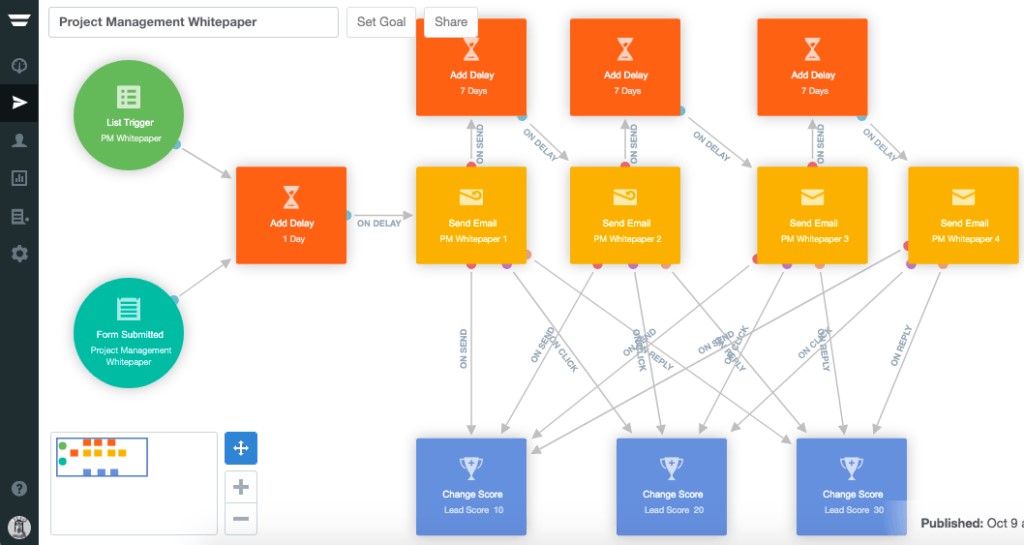 Additionally, this whole process allows us to evaluate each lead using a scoring system (three blue squares). In this situation, we're judging prospects' reactions to each of our emails. You can see here that sending each successful email gets this specific prospect 10 points, while the prospect clicking on the email in question counts as 20 points, and the prospect replying to one of these emails adds 30 points to the score.
One of the important aspects of lead nurturing is to make sure that your nurturing emails look personalized. The modern way of doing colorful emails is not going to work because people feel it's automated communication. Instead, we're using the blank templates that look like real personal messages and generate higher reply rates.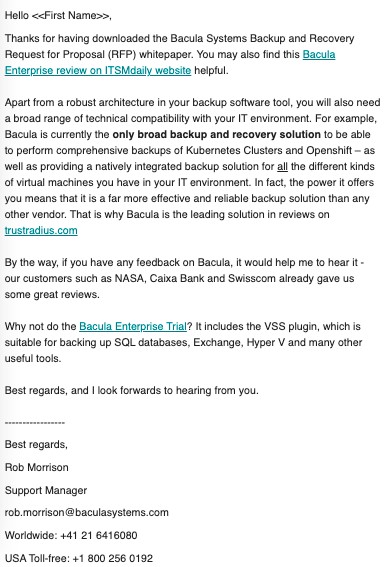 Counting "points" or "score" for each of your leads is called lead scoring, and it is the next important point on this list.
Implement lead scoring
Ranking all of your leads based on a specific methodology that rates the interest level of a lead, as well as sales readiness level, is what lead scoring is all about. There might be different interpretations of high and low scores for leads in different companies, but at the same time all of them can be simplified to a combination of two factors: "interest" and "fit".
If the fit is high, but the interest is low – a lead's interest should be stimulated in some way (by nurturing, for example). If both the fit and the interest are high, the follow-up needs to come as quickly as possible after this realization.
If the fit is low, but the interest is high, then it's possible to keep the connection with the lead by taking orders. Lastly, if both the fit and the interest are low, the only reasonable idea is to avoid this lead and do not spend sales resources.
If we're talking about specific scores for each lead (i.e. 1, or 10, or 100 points, etc.), it's possible to set up specific rules that would give leads more scores depending on some of the actions. Here's one of the most basic examples from my own experience.

As you can see, "deep" website visits are adding 7 points, and "long" visits add 5 points. Deep website visits are usually the ones that have five or more pages of the website visited in one session (the number of pages can be customized).

At the same time, long website visits are the ones that count minutes of each visit per visitor – three minutes, in my example (the exact amount of time can also be customized).

Alternatively, it's also possible to add many different conditions that would "add points", from the prospect's title to the geographical location of the visitor. I've explained this subject more in-depth in my other blog post about automated lead qualification.
Another approach to qualifying your leads is lead bucketing, which is as simple as dropping each lead to a corresponding "bucket", be it a "hot lead", a "warm lead" or a "cold lead". It is barely a system in the first place, but it is a decent starting point.
The last popular method of lead qualification out of the three is lead mapping, which is a similar concept to lead scoring, but with no actual scores (high, low, etc.). Instead, leads are categorized depending on how far they are in the sales process. Here's a simplified example of which categories can be included here:
Inquiry
Lead
Quality lead
Lead in contact with sales
Lead ready for purchase
Proposal lead
Customer on a free trial
Actual customer
Getting back to lead scoring, which is a baseline for all of the methods above – there are two data types that are typically involved in lead scoring: explicit and implicit. The explicit data type is the one that the prospect in question provides, including title, company name, industry, etc. On the other hand, the implicit data type is all of the information that was collected by analyzing the prospect's behavior when it comes to your website.
When it comes to lead scoring in general, it's also important to remember to update the scores on a regular basis. At the very least, it is heavily recommended to review your lead scores once a month or more – this information is crucial for the marketing department, at the very least.
Use a marketing automation platform
While both lead nurturing and lead scoring can be done manually, it is only effective if you're working with a somewhat limited number of leads. But massive enterprises with hundreds of sales would be near impossible to manage on your own.
This is where marketing automation platforms come in, allowing you to pass the brunt of analysis and measurement to the algorithm so that you can focus more on figuring out ways of improving lead quality. Additionally, it can offer behavior analysis for each of your leads in the sales funnel, as well as the effectiveness of your marketing program when it comes to lead generation, revenue, sales, and so on.
It's even possible to integrate a marketing automation platform within a CRM system, making it that much more intelligent and effective.
To make the subject easier, here are three different examples of marketing automation platforms that I'm using with my clients: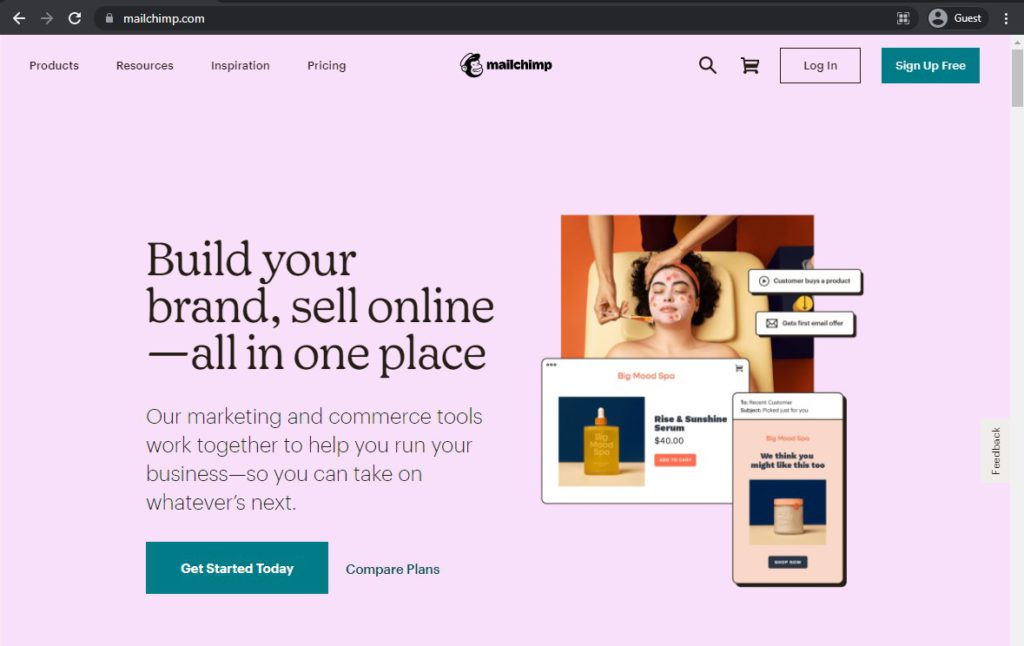 Mailchimp is a multifunctional marketing platform that mostly targets smaller businesses. It brings AI-powered tools in a user-friendly interface, enabling the ability to form and mass-send automated messages and marketing emails for everyone.
This platform can also be used to create landing pages, form marketing campaigns, facilitate analytics and reporting, send postcards, and, of course, sell products or services online. Mailchimp also offers a built-in CRM system, and they have both free and paid subscription plans.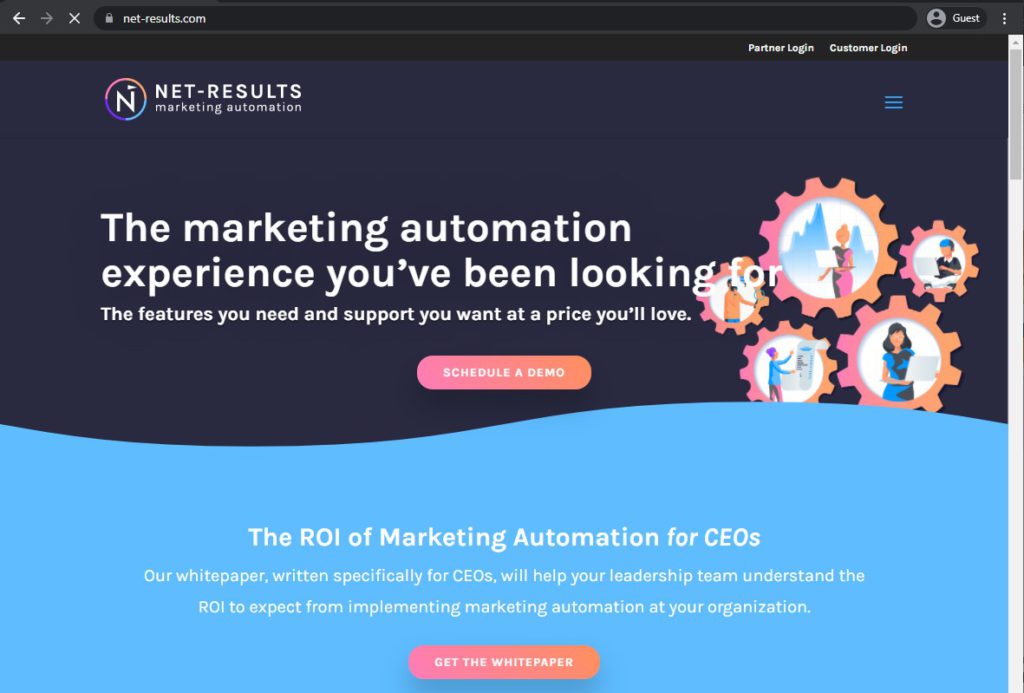 NET-Results is a marketing automation platform that is based in the cloud and is capable of scaling to both small businesses and large enterprises. Some of the main features offered by the platform are social media management, marketing list management, email builder, lead management, and, of course, analytical tools.
There are also automation capabilities for sales workflows, landing page builders, sales alerts, etc. Generally speaking, it is an extremely flexible solution with many different use cases and features. It offers both mobile and desktop versions of its software, and the entire service is subscription-based.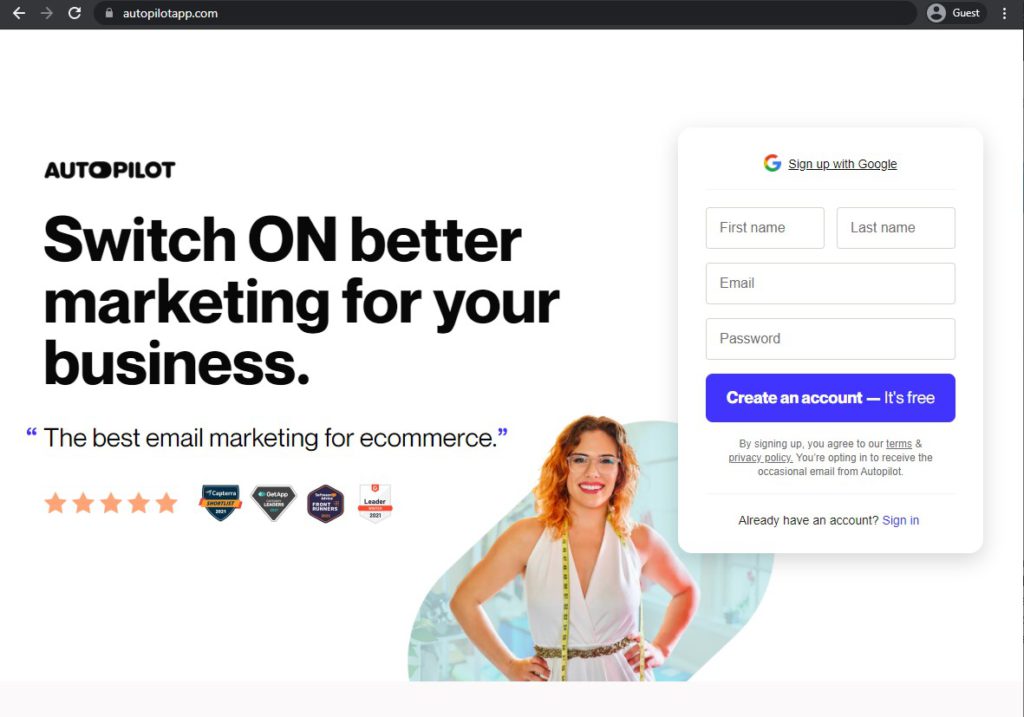 Autopilot is a multi-channel marketing automation software that offers many marketing-related features in a user-friendly interface. The main process that Autopilot helps with is customers' automated journey – be it via email, online, in-app, SMS, or any other communication type.
It lets you automate workflows and personalize messages with a simple drag-and-drop interface, it offers measuring campaign ROI capabilities, as well as revenue funnel optimization. It can work with Salesforce CRM and many other similar systems, including Twilio, Zapier, Slack, InsideView, etc.
Conclusion
There are several different approaches to identifying your lead quality, including different metrics, different techniques, and so on. However, lead scoring is also just one of the many factors that influence the overall lead quality for your company, along with lead nurturing, feedback loop, automation, and so on. Knowing all of these factors and how they can affect your lead quality is extremely important for successful work with your company's leads.