PPC B2B Lead Generation: Best Practices and Case Studies.
Updated 24th September 2023
Date :
August 30, 2021

By
Startegies for using PPC in B2B Lead Generation
Pay-per-click (PPC) advertising is widely used for customer acquisition in both B2C and B2B economy sectors. While using PPC advertising for consumer (retail) business is relatively common, B2B lead generation through PPC is not so straightforward. However, customer journeys of B2B prospects might contain search engines at some stage — and this makes pay-per-click advertising one of the lead generation approaches for B2B.
Here are some generic considerations and strategies for using PPC in B2B lead generation. Below them I will follow up with my specific examples and case studies.
Keyword Research: Start by conducting thorough keyword research to identify the search terms and phrases your potential B2B customers are using. Always think about excluding keywords which are most focused on consumer search query and think on long-tail keywords with strong B2B focus.
Targeting: Precision in targeting is crucial in B2B lead generation using PPC. Use targeting options like location, demographics, and upload customer lists to narrow down your audience to those most likely to be interested in your B2B products or services.
Relevant Assets: Create campaign assets that align with your audience's interests and pain points. Ensure that the assets like ebooks, whitepapers or case studies are promoted in your campaigns (not only trial requests or just contact form submissions). 
Ad Copy: Craft compelling ad copy that speaks directly to your B2B audience's pain points and needs. Highlight the value and benefits of your offerings, and include a strong call to action (CTA) that encourages them to take action related to the above assets that you offer.
Lead Forms: Design lead generation forms that are easy to complete and don't require too much information upfront. Ask for essential contact details and perhaps a few qualifying questions to gauge the lead's interest. Always integrate the form with you CRM and marketing automation systems.
Ad Extensions: Use ad extensions to provide additional information, such as site links, callouts, and structured snippets. This can enhance the visibility and CTR of your ads.
Remarketing: Implement remarketing campaigns to re-engage visitors who have interacted with your website but didn't convert into leads. Show them tailored ads to encourage them to return and complete the desired action.
CPL Management: Set a reasonable expected cost-per-lead and budget based on your goals and monitor your KPIs closely. Adjust your budget allocation based on the performance of individual campaigns, keywords and geographies.
Free template and checklist downloads
There are several types of lead generation assets in B2B: whitepapers, ebooks, free guides, templates, checklists etc.. All these documents can be promoted using pay-per-click advertising.

In this case of Bacula Systems I am advertising the document called «Disaster Recovery Plan Template». The landing page is extremely simple — just a download form with several explanation sentences — https://www.baculasystems.com/download-your-disaster-recovery-plan-template/. This company is targeting system administrators and IT managers; these employees are usually responsible for creating and continuously improving enterprise disaster recovery plans. They are frequently looking for disaster recovery plan templates and guides. That is why this document is valuable for the target audience, it is regularly downloaded and used by Bacula Systems for lead generation. Cost-per-lead is between 20-45 USD depending on the geography.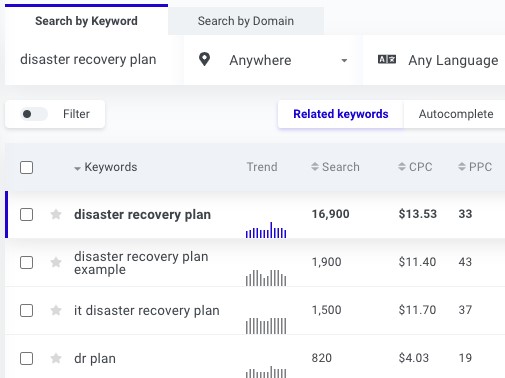 The search statistics above demonstrate the popularity of the topic — the search demand is quite big and allows us to get 400+ leads on a monthly basis. These leads are demonstrating the interest in the  product because revizing the disaster recovery plan usually goes together with the assessment of the backup software. Note the conversion rate of the search campaign — 12,11%, one of the biggest I have ever had in my experience.

The next example is also connected with Bacula Systems, but the whitepaper is called «Ransomware Prevention & Response Checklist». This free document is intended to provide insight about ransomware attacks prevention, it is one of the hot topics for modern CIOs and CISOs.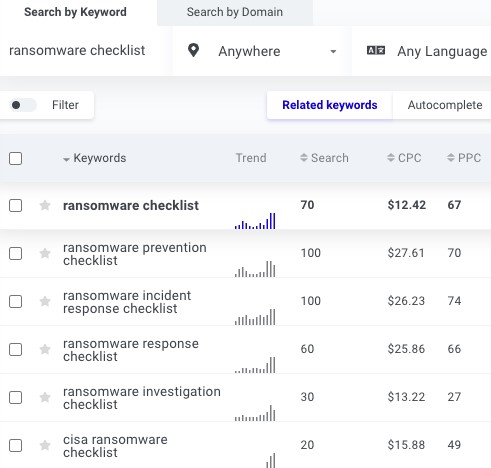 As you can see, the number of searches is smaller than for disaster recovery plans, but still good enough for a targeted lead generation campaign. The landing page is similar to the previous example — https://www.baculasystems.com/ransomware-checklist/. The cost-per-lead is slightly bigger than for the previous whitepaper – 50 – 80USD per lead, however the engagement rate is higher for this type of asset.
Pay attention to the search statistics in order to understand if there are any keyword patterns helping to define what free template or checklist needs to be prepared.
Whitepaper downloads

The example listed above is a data protection and cybersecurity company Cipherpoint. Cipherpoint finds and protects sensitive data in SharePoint portals and other file shares. Keeping this in mind I have used 2 customer whitepapers: «Top-10 SharePoint security threats» and «Data classification policy template». The company is targeting CISOs and data protection managers. The search statistics shows high demand for the above ad assets: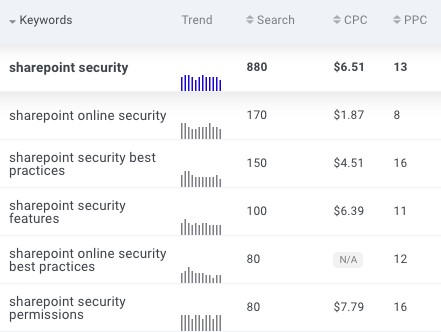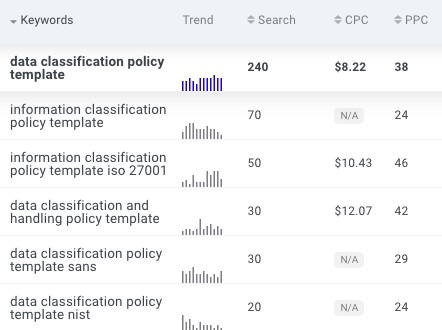 Lead generation with these whitepapers provide cost-per-lead which is 3 times lower than market average (if we compare it with the lead generation providers or agencies).
Remarketing campaigns
B2B lead generation is not straightforward and the customer journey has lots of options. One of the ways to generate leads for B2B is by using SEO, but this needs to be a 2-step approach. Google prefers informational content over the commercial, especially after the last several Google Core and Helpful Content System updates, so for lots of keywords the only option is to promote a blog post or a glossary article instead of the commercial product page. That is why on the first step companies tend to create blogs and get visitors from search, but the only problem is that these visitors are bouncing off the website frequently and don't follow the conversion funnel (usually they're not ready for a conversion action at this stage of their journey).
This is where the remarketing campaign comes in. Google Ads allows to retarget specifically the people who visited the blog post. This type of campaign was created by me several times for the customers, and it always works for B2B lead generation.

As you can see, the number of conversions is excellent, and the cost-per-lead is between 15 and 30 USD depending on the geotargeting. Also, the converson rate is 1,61% which is way better than for any other display (not search) campaign. There are some vital things that need to be done in order to make the campaign successful:
Exclude «Games» and other low-affinity topics in campaign settings;
Exclude mobile & tablet traffic (not always, but needs to be tested);
Include at least 3 responsive ads with 3 different whitepaper landing pages;
Remarketing audience should be collected with Google Analytics tag;
Demographic exclusion — exclude 18-24 years of age (depending on your product);
Geographical exclusion — exclude the countries that do not convert in your original search or social media campaigns;
Choose the location option «Presence: People in or regularly in your targeted locations»;
Set the bidding strategy to «Maximize conversions» (as the simpliest) or any other custom bidding strategy you prefer only after you generated at least 15 conversions overall (despite Google recommendations to turn it on instantly);
Don't convert your campaign to Performance Max type (unless as a short test);
Exclude showing ads on sensitive content, audiences with parental guideance, teen and older audiences.

The same example for the other client — cost-per-lead is slighly bigger than in previous example, but mostly because of the limited geographical targeting and budget.
Conclusion
There are many ways to generate leads for B2B using pay-per-click advertising, but these 3 approaches have provided the best conversion rates and cost-per-lead during my experience. Of course, there are many other ways to generate leads incl. straightforward ones like branded campaigns or campaigns with generic topical keywords, but my goal was to describe the methods that work effectively in B2B. Please do not forget about Microsoft Ads, there are some tech areas (like M365, SharePoint, etc) where advertising there is vital and equally effective to Google Ads.
In conclusion, leveraging PPC advertising for B2B lead generation can be a highly effective strategy when executed strategically. The specificity required for B2B campaigns, from precise audience targeting to tailored ad copy and customized assets, sets them apart from B2C campaigns. B2B professionals are often looking for solutions to complex challenges within their industries, and your PPC campaigns should address their pain points and showcase the unique value your products or services offer.
Success in B2B PPC campaigns goes beyond click-through rates; it's about generating high-quality leads that are more likely to convert into paying customers. To achieve this, relevant assets and continuous campaign optimization are essential. By focusing on the unique needs of the B2B audience, refining your messaging and excluding irrelevant search terms, you can harness the power of PPC to drive meaningful lead generation and ultimately contribute to the growth and success of your B2B business.