PPC B2B Lead Generation: Best Practices and Case Studies.
Updated 9th December 2022
Date :
August 30, 2021

By
PPC for B2B Lead Generation
Pay-per-click (PPC) advertising is widely used for customer acquisition in both B2C and B2B economy sectors. While using PPC advertising for consumer (retail) business is relatively easy, B2B lead generation through PPC is not so straightforward. However, customer journeys of B2B prospects might contain search engines at some stage — and this makes pay-per-click advertising one of the lead generation approaches for B2B. In this post I will share my case studies about  B2B lead generation for technology companies with the usage of PPC.
Free template and checklist downloads
There are several types of lead generation assets in B2B: whitepapers, ebooks, free guides, templates, checklists etc.. All these documents can be promoted using pay-per-click advertising.

In this case of Bacula Systems I am advertising the document called «Disaster Recovery Plan Template». The landing page is extremely simple — just a download form with several explanation sentences — https://www.baculasystems.com/download-your-disaster-recovery-plan-template/. This company is targeting system administrators and IT managers; these employees are usually responsible for creating and continuously improving enterprise disaster recovery plans. They are frequently looking for disaster recovery plan templates and guides. That is why this document is valuable for the target audience, it is regularly downloaded and used by Bacula Systems for lead generation. Cost-per-lead is between 20-25 USD depending on the geography and season which is way better than any other offers on the market.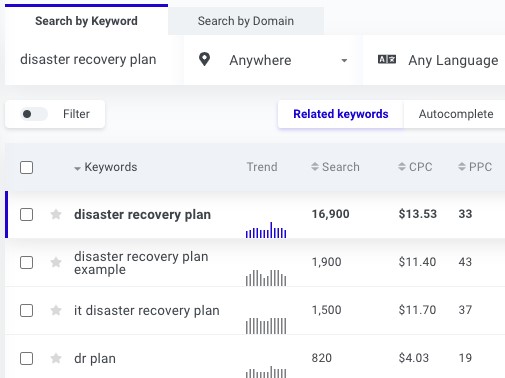 The search statistics above demonstrate the popularity of the topic — the search demand is quite big and allows us to get 400+ leads on a monthly basis. These leads are demonstrating the interest in the  product because revizing the disaster recovery plan usually goes together with the assessment of the backup software. Note the conversion rate of the search campaign — 12,11%, one of the biggest I have ever had in my 15+ digital marketing experience.

The next example is also connected with Bacula Systems, but the whitepaper is called «Ransomware Prevention & Response Checklist». This free document is intended to provide insight about ransomware attack prevention, it is one of the hot topics for modern CIOs and CISOs.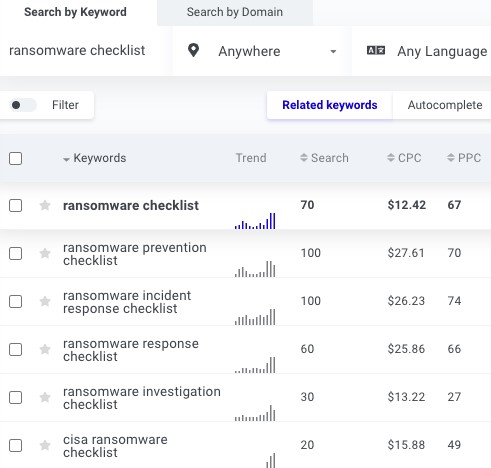 As you can see, the number of searches is smaller than for disaster recovery plans, but still very good for the lead generation campaign. The landing page is slightly different to the previous example — https://www.baculasystems.com/ransomware-checklist/. It contains whitepaper summary to generate additional download intent; ransomware topic is popular and there are many advertising assets which can be considered not useful by the prospects, so we decided to put the contents in order to facilitate additional interest. Cost-per-lead is practically the same as with the previous whitepaper.
I would also recommend to put the conversion attribution model in Google Ads to time-decay or even, depending on your sales cycle and pipeline specifics. This is why conversion numbers on the above screenshot are not in the integer format. Pay attention to the search statistics in order to understand if there are any keyword patterns helping to define what free template or checklist needs to be prepared.
Whitepaper downloads

The example listed above is a data protection and cybersecurity company Cipherpoint. Cipherpoint finds and protects sensitive data in SharePoint portals and other file shares. Keeping this in mind I have used 2 customer whitepapers: «Top-10 SharePoint security threats» and «Data classification policy template». The company is targeting CISOs and data protection managers. The search statistics shows high demand for the above ad assets: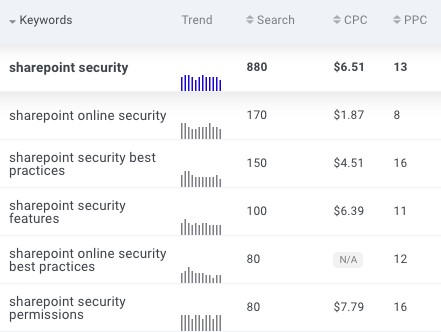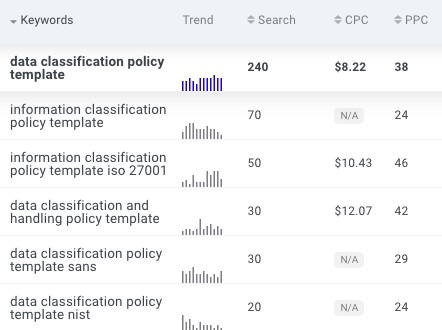 The landing pages also contain whitepaper summary to generate additional download intent – https://cipherpoint.com/insights/whitepapers/insider-threats-teams/. Lead generation with this whitepaper provides cost-per-lead which is 3 times lower than market average.
Remarketing campaigns
As I have already written, B2B lead generation is not straightforward and the customer journey has lots of options. One of the ways to generate leads for B2B is by using SEO, but this needs to be a 2-step approach. Google prefers informational content over the commercial, so for lots of keywords the only option is to promote a blog post or a glossary article instead of the commercial product page. That is why on the first step companies tend to create blogs and get visitors from search, but the only problem is that these visitors are bouncing off the website.
This is where the remarketing campaign comes in. Google Ads allows to retarget specifically the people who visited the blog post. This type of campaign was created by me several times for the customers, and it always works for B2B lead generation.

As you can see, the number of conversions is excellent, and the cost-per-lead is between 15 and 30 USD depending on the geotargeting. Also, the converson rate is 1,61% which is way better than for any other display (not search) campaign. There are some vital things that need to be done in order to make the campaign successful:
Exclude «Games» from topic settings;
Exclude mobile traffic from devices (not always, but needs to be tested);
Include at least 3 responsive ads with 3 different whitepaper landing pages;
Remarketing audience should be collected with Google Analytics tag;
Demographic exclusion — exclude 18-24 years of age (depending on your product);
Geographical exclusion — exclude the countries that do not convert in your original campaigns;
Choose the location option «Presence: People in or regularly in your targeted locations» and;
Set the bidding strategy to «Maximize conversions» (as the simpliest) or any other custom bidding strategy you prefer;
Exclude showing ads on sensitive content, audiences with parental guideance, teen and older audiences.

The same example for the other client — cost-per-lead is slighly bigger than in previous example, but mostly because of the limited geographical targeting and budget.
Conclusion
There are many ways to generate leads for B2B using pay-per-click advertising, but these 3 approaches have provided the best conversion rates and cost-per-lead during my experience. Of course, there are many other ways to generate leads incl. straightforward ones like branded campaigns, but my goal was to describe the methods that work effectively in B2B. Please do not forget about the other search engines: Bing and Yandex. The se search engines with their PPC platforms provide the same set of tools for B2B lead generation as Google.