Enterprise B2B Lead Generation for Technology Companies
Updated 9th December 2022
Date :
August 25, 2021

By
Introduction
The technological progress has led to a fundamental change in the most basic process of buying services and/or products. Right now, it is way harder to convince your customers to buy something using only the traditional marketing channels and tactics.
This change was initiated by the fact that product or service research, in general, is far more accessible nowadays than ever before. The same happens with enterprise B2B technology products – customers are actively researching, comparing, and choosing the best alternative (feature- or price-wise) before even signing up for a demo or trial access.
What is a lead in the enterprise B2B technology sector?
Essentially, a lead is a potential client that has shown their interest in your service or product, regardless of the nature of this interest. The only thing that matters here is the interest itself, although most of the time these clients are not yet convinced that they want to buy your specific brand of service or product. Convincing these potential clients is the main goal of any company in this scenario – and this rule is applicable for both B2C and B2B use cases.
When it comes to technology companies, specifically, there are two main types of markets – B2C and B2B (enterprise). It's simple to define the lead for the B2C technology market or just consumer software – in this case, a lead is mainly a trial period registration that turns into a purchase sooner or later.
However, the complexity of lead generation (and marketing) in the B2B technology and enterprise software is a lot higher than with B2C customers – for a number of reasons. First of all, enterprise B2B technology lead generation is a multi-step process that addresses several different levels of a company at different times – which means that the actual process of selling a product or a service to a single company could easily take an entire year or even more.
Additionally, it's not uncommon for enterprise B2B technology lead generation strategies to target different audience types within the same company. For example, if we're taking a company with a need for an enterprise backup and recovery system – a basic sales pitch should start with system administrators, data center managers, and other kinds of IT personnel. The next step is to work with the IT management – including CIOs, CTOs, and so on.
Additionally, there might also be a need to communicate with managers of other parts of a company – procurement chief, CFOs, CEOs, etc. All of the managers have to have a proper understanding of the need for your specific product or service – a backup and recovery system, in this example. This leads us to at least three entirely different levels of target audience within a single lead.
A list of enterprise B2B technology leads is relatively diverse, including, but not exclusive to:
Trial requests;
E-book downloads;
Demo requests;
Whitepaper downloads, and so on.
Some of the common ways to generate enterprise B2B technology leads based on my personal experience are presented in a list below. But first, there's another matter that provokes discussion, and that is lead prices, or costs-per-lead (CPL).
Enterprise B2B lead costs
In 2017 HubSpot released a detailed demand generation report, and MarketingCharts summarized it in their own article. According to that information, there are several different factors that can be used to sort lead costs, including industry, company size, and company revenue, to name a few.
Industry-wise, it's safe to say that the IT & Services industry turned out to be the most cost-heavy when it comes to lead pricing, with more than $369 per lead. The closest competitors are Healthcare ($285) and Finances ($271), and even those are far more affordable in comparison. The cheapest leads, on the other hand, turned out to be in the Nonprofit industry, with $43 as their CPL.
Another interesting statistic is how company size correlates with the lead price, and this one seems to be fairly linear in comparison – with bigger companies paying far more than smaller ones. For example, enterprises with over a thousand employees have to pay $348 per lead, while smaller companies with less than fifty employees have a CPL of $146.
As a direct consequence of the previous information, it's obvious that the companies with more revenue would pay more for a single lead when compared with smaller businesses. As such, enterprises with more than $500 million revenue are paying over $400 per lead, while businesses with less than $1 million in revenue are generally comfortable with their $166 per lead price.
That being said, this information is somewhat normalized and most of these companies use the same lead generation methods, resulting in a relatively high CPL. With that in mind, I can show you several tactics that result in a smaller price for that single lead – and across different platforms, too. Let's start with lead generation via blog SEO.
How to generate enterprise leads for B2B technology companies?
2-step lead generation based on blog SEO for B2B & enterprise technology
A typical example of B2B or enterprise technology lead generation based on blog SEO, for example, includes two common steps – the first one is keyword analysis and blog post creation based on the relevant keywords and search results. It's vital to take the current search results into the account to define the search intent properly. The second step refers to converting these blog visitors with little commercial interest to actual leads.
The first step is relatively common and not exactly sophisticated – it consists mainly of keyword collection on the subjects of interest, as well as search results analysis based on those keywords. As a result, you'll be able to see which content types are prevalent for which keyword combinations – informational pages, blogs, product pages, etc.
Since Google in most cases prefers informational content over other content types, it is often much more useful to work on your blog posts from the get-go. However, even getting to the top of the page for a specific search result does not mean that these leads are going to have any interest in buying your product in the first place.
This is where the second step comes in – its main purpose is to convert uninterested visitors to actual leads with targeted marketing campaigns. For example, while working with VirtoSoftware B2B technology company I've attempted to follow this same plan – researching keywords, creating blog posts, and so on. As an example post, one of our posts about SharePoint Forms was at the #2 position for the keyword "SharePoint forms" in the USA.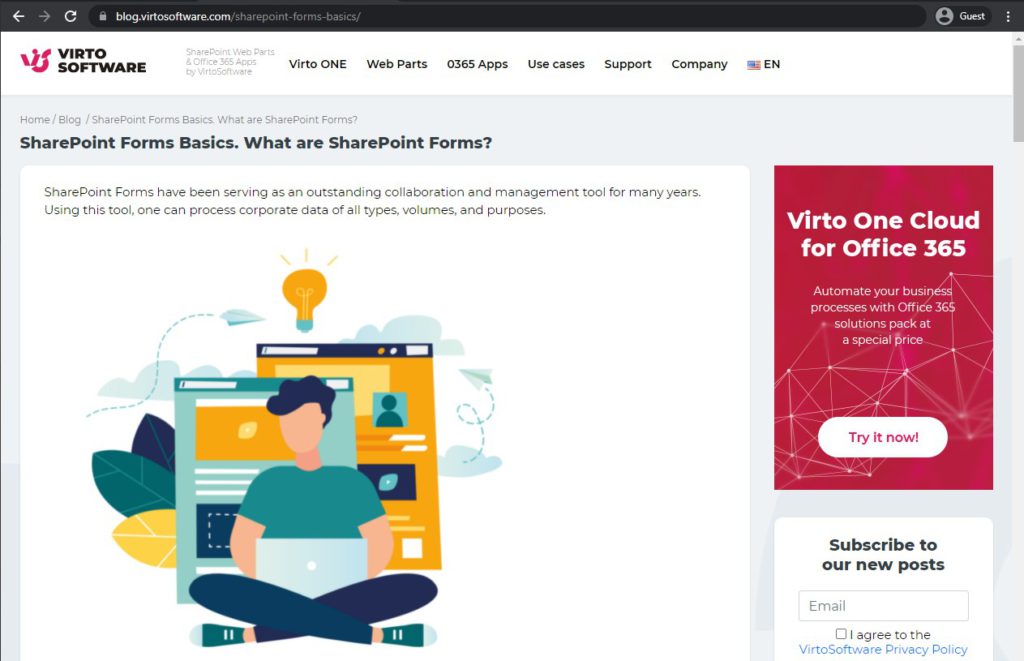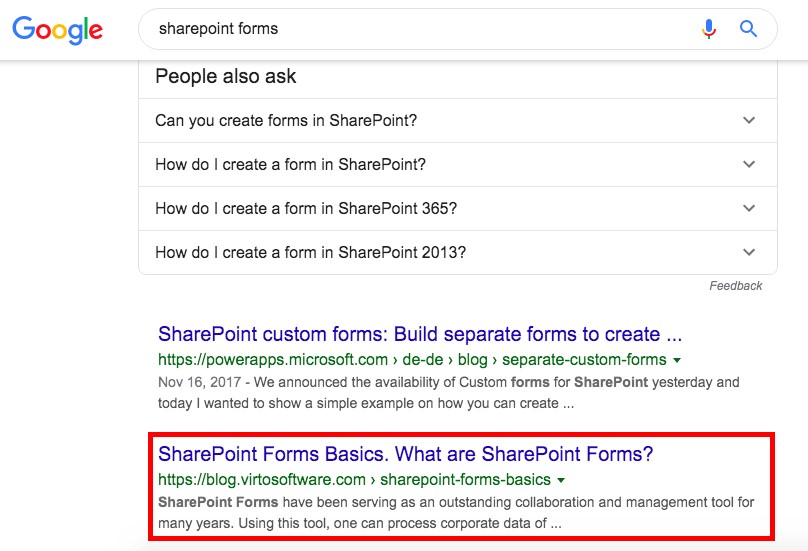 However, the problem appeared when none of the leads from this position were actually interested in performing conversions, like downloads, transactions, etc. To solve this, we've created several different retargeting campaigns using LinkedIn Lead Ads – which allowed us to advertise whitepapers about SharePoint-related topics to all of the visitors of the VirtoSoftware blog that had a LinkedIn account.

The LinkedIn Inmails that we've used to engage with audiences were simple themselves, but the whitepaper topics were researched extensively in Google Ad Planner and Google Trends beforehand to make sure that they can generate interest. Additionally, the number and quality of leads drastically improved thanks to LinkedIn using pre-filled forms with the information from users' LinkedIn accounts. This way we have uncovered the unknown blog visitors into specific leads.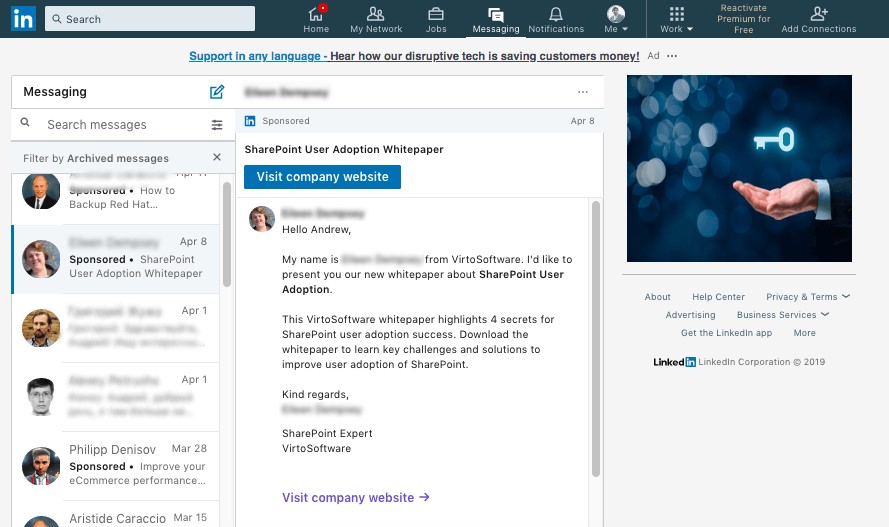 Another example of such a strategy is my work with Cipherpoint – an enterprise IT security vendor. The process is mostly similar in this case, the keyword in question is "data classification", and we've managed to achieve success with it, too – #3 place from the top organic result.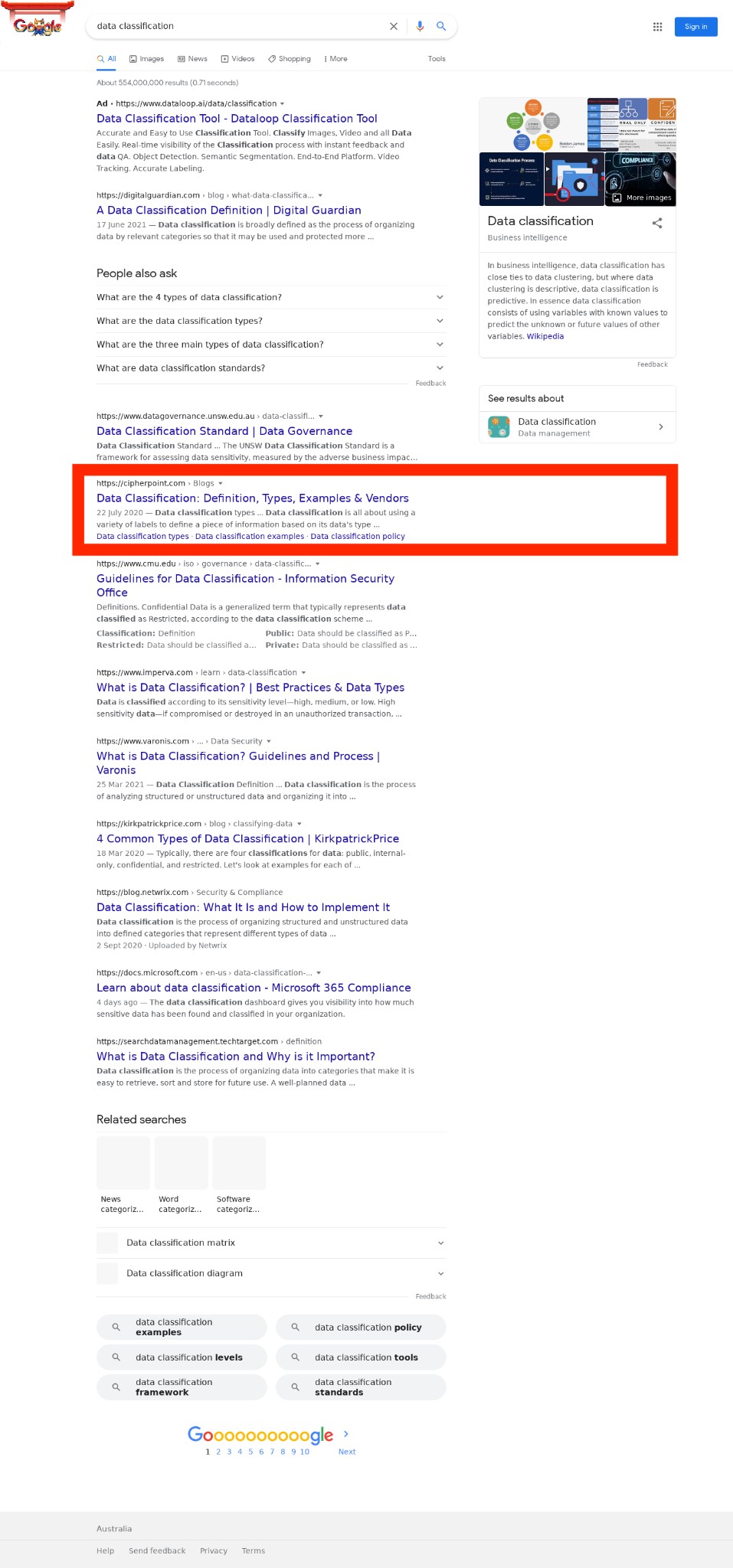 However, a similar problem had appeared – website visitors were not interested in continuing interactions, since it is a blog post which is usually bouncing visitors away after reading. This is where I've started working on setting up a blog remarketing campaign in Google Ads where the whitepapers were advertised.

This approach allowed to generate lots of leads from the unknown blog visitors:

This is one of the enterprise B2B technology lead generation strategies that can be used to convert previously ineffective visits to enterprise-quality leads with an actual interest in the subject. Other materials can also be utilized in the same fashion, such as templates, e-books, and so on.
Whitepapers, e-books, or free templates as B2B & enterprise technology lead generation assets
Different kinds of materials, such as templates, e-books, or whitepapers, can be used to generate many different leads – if the material in question actually serves a purpose in the first place. First of all, it's important to perform keyword research to figure out which keyword combinations are researched more often, and thus, can attract more visitors.
If the whitepaper in question is not connected with a specific search request – it is not going to be of any use as the lead generation material. This is the main reason why case studies are largely ineffective when it comes to enterprise lead generation, too. Case studies are not connected with specific keyword combinations – no connection with a specific search intent.
Whitepapers, on the other hand, can be a great way of answering specific questions of potential clients, generating more leads in the process. This is the way I've approached whitepaper generation as the means of enterprise lead generation in both Bacula Systems and Cipherpoint.

This call-to-action block from Bacula Systems' website perfectly demonstrates how we're selecting the lead generation assets. Disaster recovery and ransomware are generating high interest and lots of searches, so we've decided to prepare the free disaster recovery guide and ransomware prevention checklist. Here is the stats we analyzed: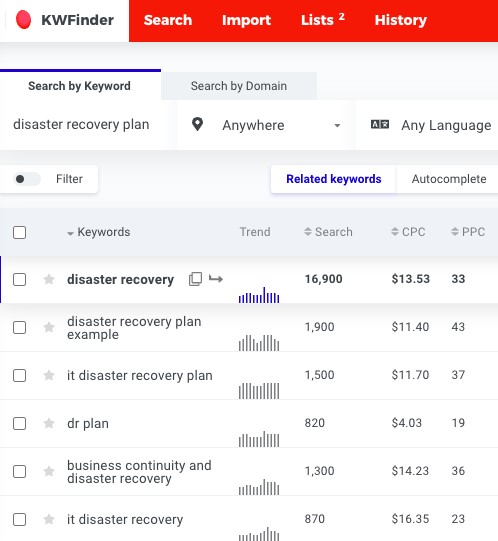 Looking at the keyword collection tool I understood that people that look for disaster recovery are actively researching DR plan examples which explains why we created this free template. The same logic was applied when preparing the ransomware prevention and response checklist. Enterprise B2B technology sector requires marketers to prepare relevant ad assets to be successful in lead generation.
Website lead generation assets distribution for B2B & enterprise technology
Whitepapers and other materials can also be successfully advertised using your own articles and blog posts, and it is a relatively effective method of generating leads. The call-to-actions could be placed in the article or blog post itself, acting as a page break of sorts – so that visitors would inevitably see it when reading a specific material related to the subject of the whitepaper.
Here are two obvious examples of such website CTA distribution on enterprise technology websites. The first one comes from Bacula Systems, which is a backup and recovery software provider – which is why both the articles/blog posts and the materials are going to be about a specific backup-related topic.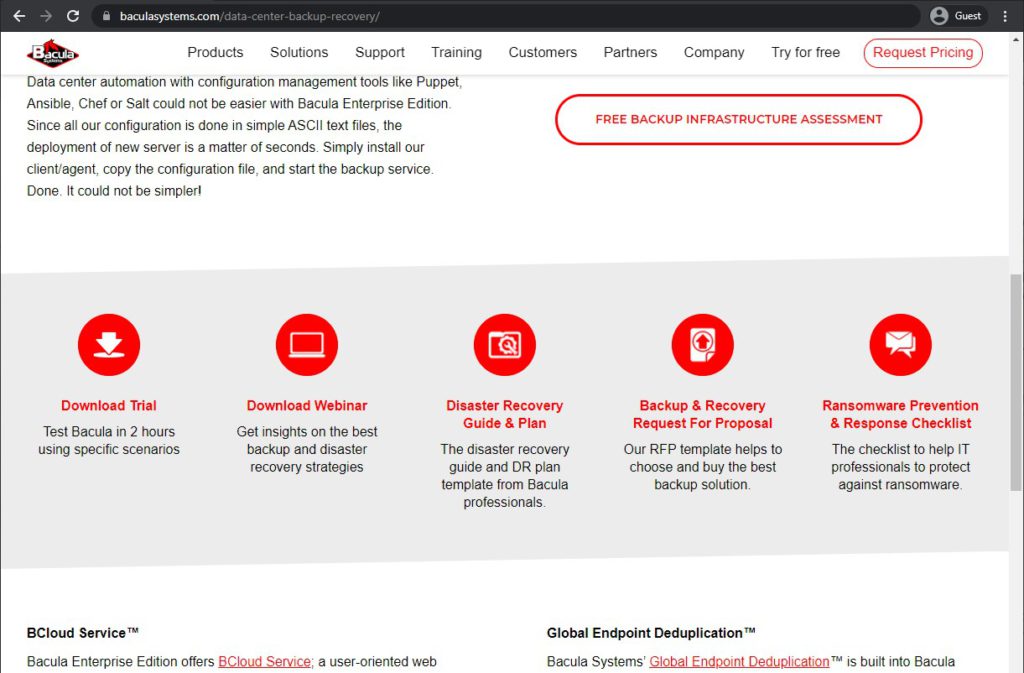 In the image above you can see a part of a "Data center backup and recovery" article, which also offers multiple different calls-to-action in the middle of the article. These actions include trial offers, webinar downloading, an RFP template, and so on.
Another example is going to be from Cipherpoint, which is a data security software provider that employs similar means of promotion in their own materials. It's also an enterprise technology business.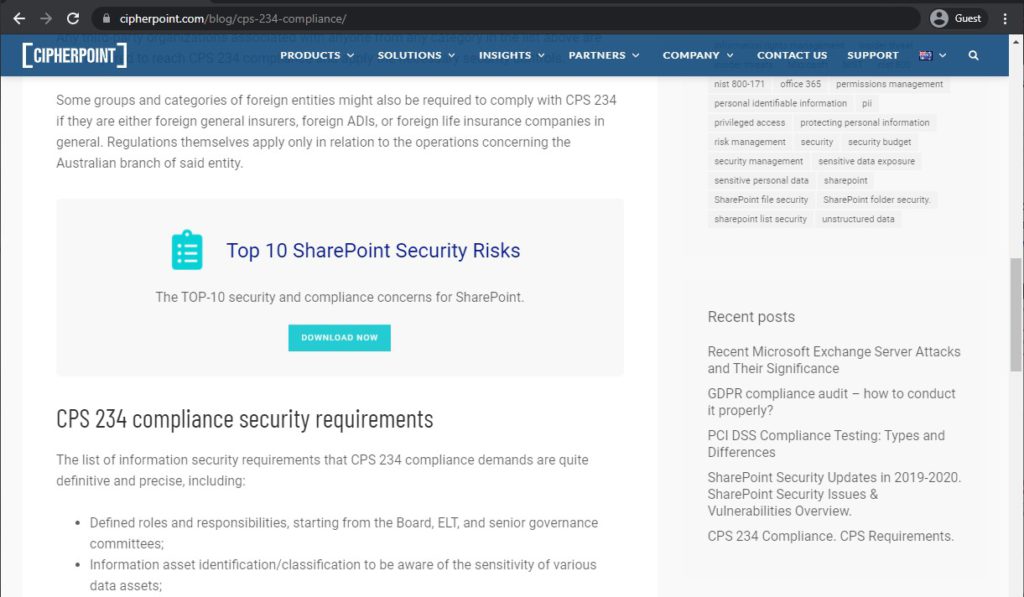 This is a part of a CPS 234 compliance article, and it also includes a CTA for a Top 10 SharePoint Security Risks whitepaper in the middle of the article itself. This way any enterprise B2B technology company can generate additional leads using the proper asset distribution.
Partner marketing and bundling offers in enterprise technology lead generation
Not all of the vendors on the market are your direct competitors. In that sense, it might be useful to try and build relationships with vendors that sell complementary solutions, with the potential of creating a combined solution of sorts. This needs a lot of research beforehand so that you know which vendors have the potential to provide a mutual benefit for you in this regard.
As a result, this might be what expands your efforts in terms of enterprise lead generation for B2B and  enterprise technology companies. For example, one of the many ways to attract more clients for such businesses is to insert various incentives into their newsletters: be it discount coupon codes, webinars, general hyperlinks to related articles, or even free trial or demo invitations.
There's also an example of partnerships being extremely useful that I can provide and can safely say that it works. Back in 2008, when I worked for Parallels there were 2 competing products: our Parallels Desktop, and VMware Fusion. Both of which had the same set of features and the same price of $79,99.
My position was responsible for revenue-driving promotions and affiliate marketing, and we had to close off the end of a quarter by driving $300K in revenue in a short span of five days. No significant discounts were allowed to be made for the general website audience to prevent order cannibalization, and there were no advertising funds.
The only significant asset I had is connections – about 5,000 affiliates, including a number of popular websites, such as MacHeist, MacUpdate, etc. These connections allowed us to come up with a new concept of promotion – a "MacUpdate Bundle", offering 10 Mac utilities for the relatively low price of $64,99 (instead of the full price of $265,78).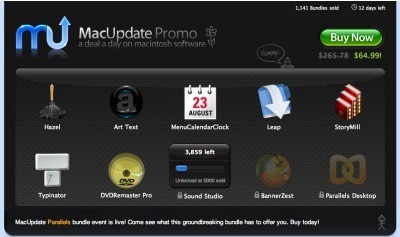 Each of the vendors made a discount of their own, with the entire bundle being hosted by MacUpdate (they also automated the key generation process and helped with negotiating with other participants). The entire bundle was only promoted to the MacUpdate audience, so there was no reseller or distributor cannibalization, and no ad money was needed.
The results were astonishing, with the whole sales plan being done in three days. Additionally, the bundle sales managed to oversell the whole channel sales for the quarter, which meant a massive success. It was so effective that, in fact, this strategy was used for ten more years on a semi-regular basis by Parallels – I've talked more about this case study here.
Overcoming "FUD times" with review and comparison websites for enterprise B2B technology companies
Being able to prove that your enterprise software or B2B technology product is more efficient than the competitors is also extremely important. Most of the time clients have a lot of potential choices when they're at the stage of evaluating a potential product, so standing out and proving your words with references, case studies and statistics is as important as it gets.
It's also not uncommon for clients to try and utilize the data from specialized software review websites, which aggregate user reviews of specific products. For example, websites like G2, TrustRadius, and Capterra are well-known as business technology review aggregators.
It is worth mentioning that buying these reviews by any monetary means, such as gift cards, is heavily discouraged and generally not a good marketing tactic in the first place.
There's a heavy emphasis on honesty and the lack of advertisements on these sites, as well as no way to remove reviews, review and profile verification features, and more. Additionally, these sites include multiple metrics for various parameters, such as performance, usability, support rating, scalability, and many others – all of that is aimed to make the client's choice as informed as possible.
For example, there's our use case with Bacula Enterprise on TrustRadius that allowed us to gain a positive reputation on this website via multiple software reviews by asking happy users to leave a review after their support ticket has been successfully closed.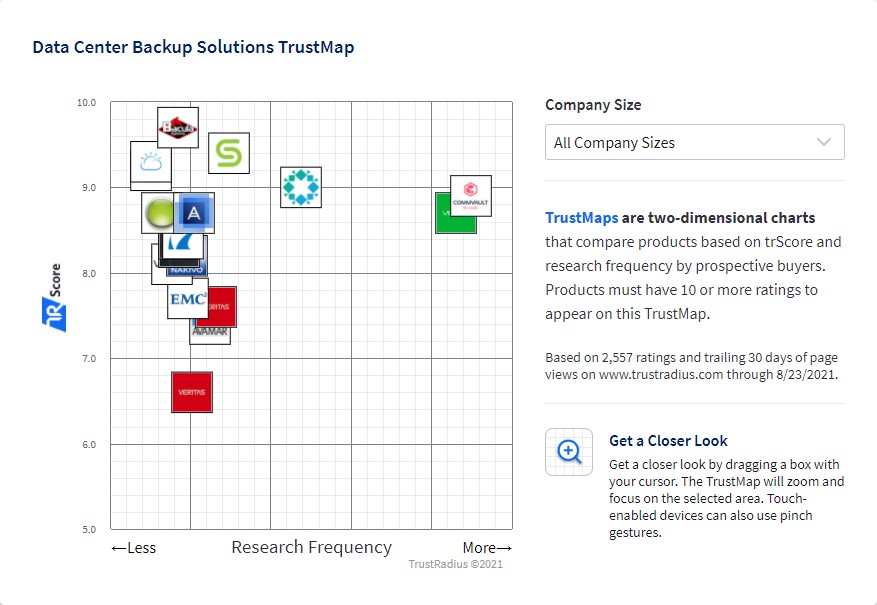 As a result, Bacula Enterprise is placed on the top of the data center backup solutions TrustMap, which makes for a great selling argument, especially in FUD times ("fear, uncertainty, doubt").
Webinars as a part of enterprise B2B technology lead generation
Webinars are incredibly popular right now, and many organizations use them as a tool to convince the customer during the buying journey (especially in the critical points, when the customer is not convinced enough for the next call-to-action).
Webinars can be used in the retargeting campaigns, drawing back potential customers who have visited the website but were not convinced enough to leave all of the info needed for it to be a proper lead.
Some of the potential themes for webinars might include:
Case studies of product usage;
Specific solutions or features of a product;
New releases;
Product adoption examples, and more.
It's true that webinars are fairly complex and resource-consuming, especially for smaller companies. However, each webinar is a one-time investment that can act as one of the most effective enterprise  B2B technology lead generation strategies even after the webinar has been performed for the first time – through webinar downloads, for example.
Here's a case study with Bacula Systems – this strategy allows us to acquire from 10 to 30 leads (per month) on a regular basis.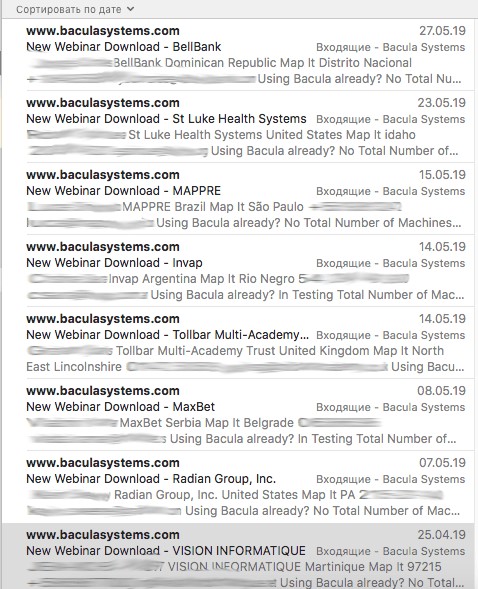 First of all, it's important to begin promoting our webinar several months before it occurs. The first step is choosing the topic of discussion – as a backup and recovery company, we can talk about the best ways to perform disaster recovery, means of performing a backup for a specific database, and so on.
Our decision is also influenced by the market demand, the information from Google Ad Planner, Google Trends, and other sources. It's also important to keep in mind if we can utilize this webinar as an additional means of email promotion later when the topic of the webinar arises in a different promotional letter.
As soon as we're done with choosing the topic, as well as the description and subject line, we're ready to start the invitation strategy. Using the traditional subscription form is pretty much useless, it'll be discarded as just another registration form. There are different ways of preparing for an event, such as events on LinkedIn company pages – both of which require barely any effort to register for a webinar.
LinkedIn's Inmail Lead Ads feature allows generating massive amounts of registrations by sending notifications in emails, and the registration process for webinars in there is barely two or three clicks.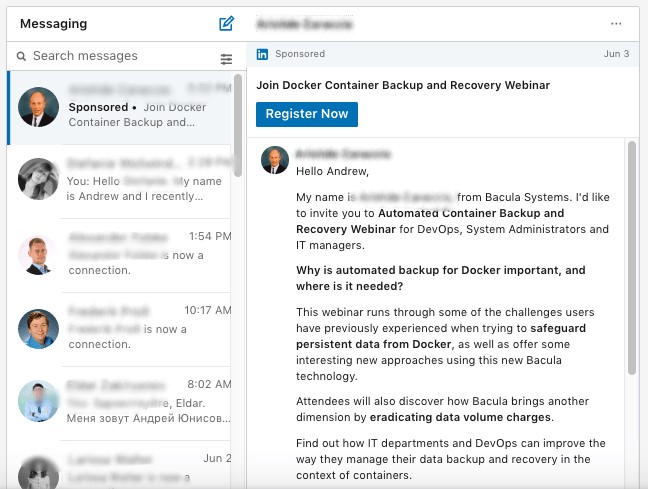 If we're talking about multi-targeting strategy, it'll require us to work with different target emails – which is why we can also split a single campaign into several specific ones, with impressive results – around $25 per lead in a month, which is still a massive improvement over a hundred dollars per lead. In the below case we're promoting the Docker webinar to several audiences: devops, sysadmins and IT managers.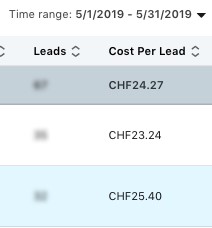 It's also worth noting that leads on LinkedIn are far more useful, and offer far more information about themselves by just registering for the webinar.
Speaking of webinar marketing, another point I have to mention is notification – in Bacula's case we're doing notifications two weeks prior, one week prior, and three days before the webinar. Additionally, we've done a notification at the start of the webinar day, as well as three more notifications – two hours, one hour, and five minutes before the event starts off.
This sequence of notifications allows us to increase registration-to-visitor conversion, which is nothing short of remarkable for such a relatively low investment. This topic was explained by me in more detail here.
Lead generation with LinkedIn for enterprise B2B technology companies
Personally, my own experience with LinkedIn started way back in 2013, and, from my experience, it was not efficient enough to deliver at the level of Google Ads, or better. But it is worth mentioning that LinkedIn advertising made a lot of progress in recent years, offering more targeting capabilities, bid strategies, ad formats, and so on which finally led to significant improvement in the results and allowed allocating bigger budgets in this ad platform.
When it comes to enterprise lead generation using LinkedIn, it's possible to segregate two main lead types – lower-funnel leads and upper-funnel leads. Lower-funnel leads, in my opinion, are RFPs, trial downloads, or price quotations. These potential clients have already chosen the shortlist of enterprise B2B products they're going to buy.
Targeting this specific group of people is not very efficient, since it's extremely hard to catch these leads at the exact moment of them evaluating another product, which makes most of the strategies here too risky to attempt on a larger scale. Search advertising as a whole is much more useful for these purposes, rather than social media advertising. However, you can fall in trouble investing in lower-funnel keywords in Google Ads as it's enormously expensive.
Upper-funnel leads, on the other hand, are something that LinkedIn can easily capitalize upon, targeting people that are still looking for additional information about various products on the market via webinars, ebooks, whitepapers, and case studies.
Downloading a whitepaper, for example, usually means that the visitor in question is interested either in your company, the specific technology, or the industry in general. Here are some examples of this strategy: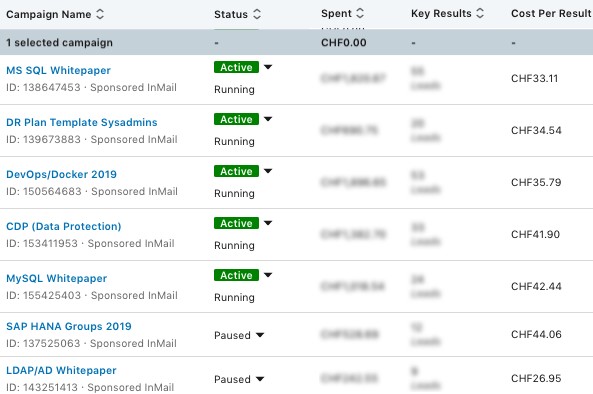 These examples show whitepaper campaigns about some of the most well-known technologies on the market, such as MS SQL database backups, Docker volume backup, SAP HANA backup, etc.. These kinds of whitepapers require a specific audience that can be found using either occupation-based targeting or LinkedIn Groups targeting.
For example, MS SQL database backup as a topic aims mainly at MS SQL administrators – which is relatively simple, you just choose specific job titles and add more criteria to filter out unwanted people.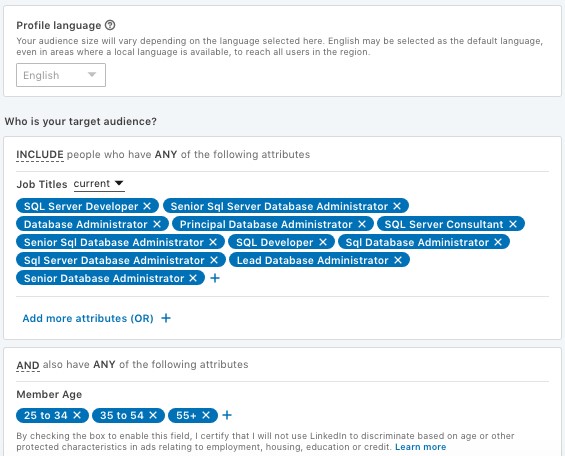 However, there are also some cases when you don't have a specific name for a position you're looking for in LinkedIn's catalog – this is where LinkedIn Groups targeting comes in.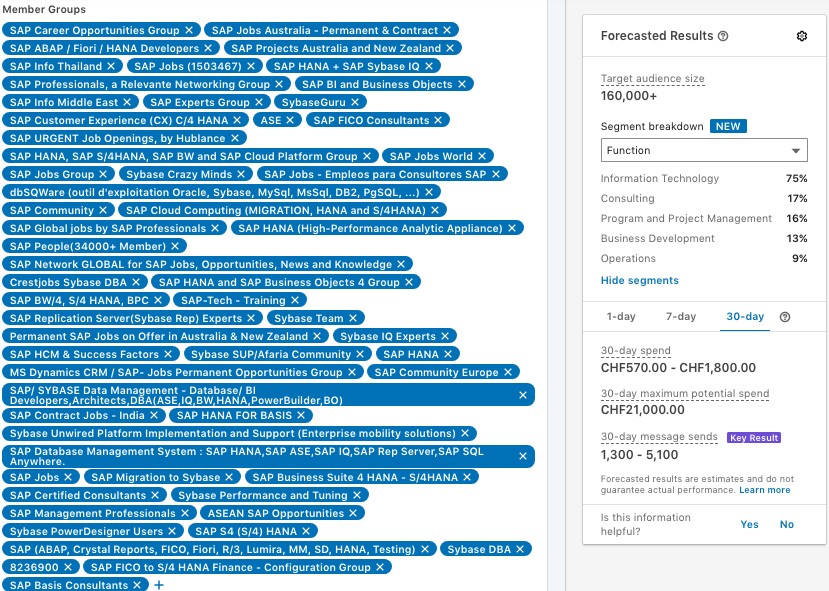 Despite the fact that there were many different limitations included, the example target audience of 160K people is still massive. Although, it's also important to carefully research position names beforehand so that you don't market specific topics to people from a different technology branch. For example, if originally my targets were mainly database administrators, system administrators, and  IT managers – I was pushed into adding data protection managers and data protection officers through the introduction of GDPR.
Another important topic in this context is campaign objectives and ad formats. Marketing to B2B companies on LinkedIn allows you to collect leads directly from your ads by creating forms inside the platform itself (this feature is called LinkedIn Lead Ads), in addition to the original purpose of this kind of marketing, which is to generate traffic.
There are many different ad formats that LinkedIn can offer, such as spotlight ads, message ads, carousel ads, single image ads, text ads, video ads, and so on. In my opinion, one of the best combinations in this case is Inmail messages with Lead Ads. One of the biggest advantages of this approach is that messages are delivered on mobile devices where users tend to download materials better.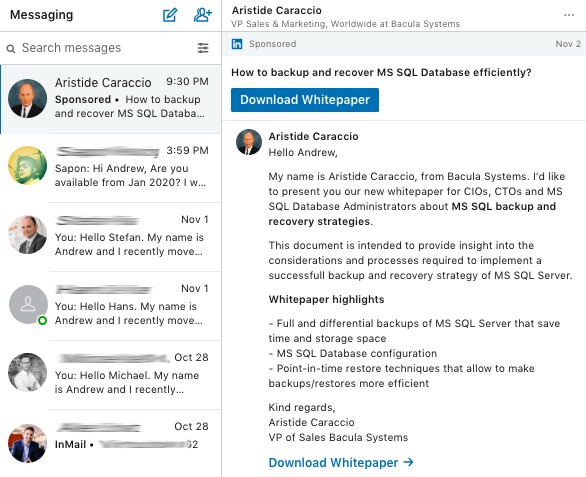 This is the example we've shown before, but it's far more detailed in this context. The message needs to be short and sweet, and there are several other tips I can share from my own experience:
Provide highlights and additional information;
Introductions about yourself and your company must be short and on point;
Personalize each of the messages, by using the first name of the person or the company name;
Write exactly what the prospect might be looking for, don't deviate from the subject too much.
Here's one example of such a message.
These kinds of criteria allowed me to use the combination of Lead Ads and Inmail messages to generate leads three times cheaper than the average price on the market. I've talked about this topic before in this post.
Conclusion
Enterprise B2B lead generation for technology companies is an extremely deep and nuanced topic that varies heavily depending on the target audience, the original market, and many other parameters. When it comes to B2B and enterprise software, I've tried to provide the list of most effective lead generation strategies with my own case studies.