Account-Based Marketing in Tech. How to Help Sales Teams Close Deals Faster?
Updated 12th October 2023
Date :
October 12, 2023

By

Account-Based Marketing (ABM) is a B2B marketing approach that focuses on targeting and engaging specific high-value accounts or companies rather than casting a wide net to a broad audience. Digital marketing plays a crucial role in the execution of ABM strategies by enabling personalization, precise targeting, and multi-channel engagement with specific target accounts. It allows marketers to deliver the right message to the right people at the right time, ultimately increasing the chances of success in securing high-value deals.
The 5 key components of ABM
1. Identifying Target Accounts
ABM begins by identifying and selecting a list of target accounts that align with the company's ideal customer profile. These accounts are often chosen based on factors such as industry, company size, revenue potential, or strategic importance. Sometimes this list can only consist of a single account.
2. Understanding Account Needs
Marketers research and understand the unique needs, challenges, and pain points of each target account. This information helps in tailoring marketing messages and campaign assets to resonate with each account individually.
3. Multi-Channel Engagement
ABM typically employs a multi-channel approach to engage with target accounts. This might include email outreach, social media campaigns, direct mail, telemarketing and even personalized events or webinars.
4. Sales and Marketing Alignment
ABM requires close collaboration between the marketing and sales teams. Sales teams provide target account preferences and valuable insights about them, while marketing teams leverage this information to engage with accounts and generate leads.
5. Technology and Tools
Various marketing platforms and tools, such as CRM systems, marketing automation platforms, and advertising platforms like LinkedIn, are often used to implement and track ABM campaigns effectively.
What are the typical use cases of using ABM in tech marketing?
Account-Based Marketing (ABM) is widely used in tech marketing due to its effectiveness in reaching and engaging specific accounts within the technology industry. Here are some typical use cases for ABM in tech marketing:
1. Enterprise Sales
Many technology companies target large enterprises as their primary customers. ABM is highly effective in this context because it allows tech marketers to focus on building relationships with key decision-makers and buying centers within these large organizations. Personalized content, direct outreach, and tailored campaigns can be used to address the specific needs and challenges of each enterprise account.
Here is an example of the campaign focused purely on acquiring VSI (a single account) as a customer: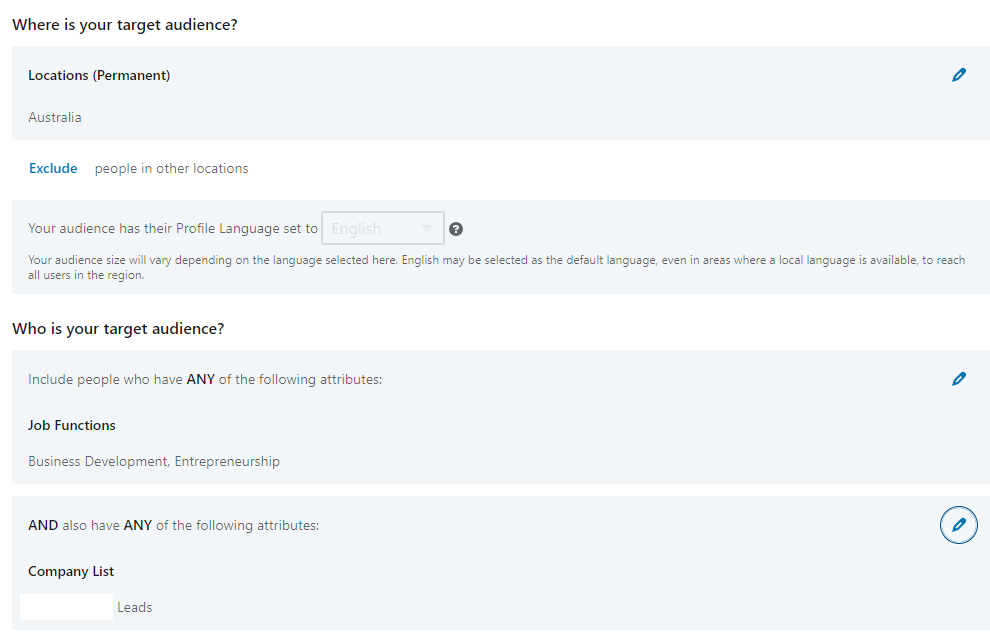 We're targeting 530 VSI employees in target regions without narrowing them down by title or function, just because the audience is going to be too small and LinkedIn won't launch the campaign. Here is how the ad looked like: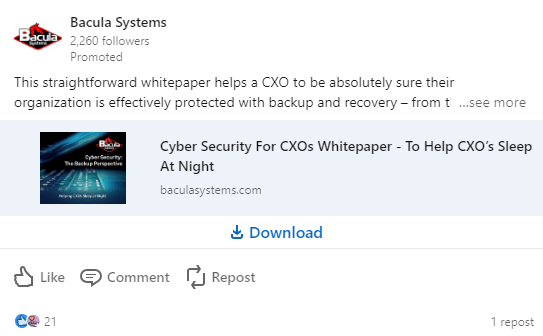 The download button leads to the LinkedIn leadgen form: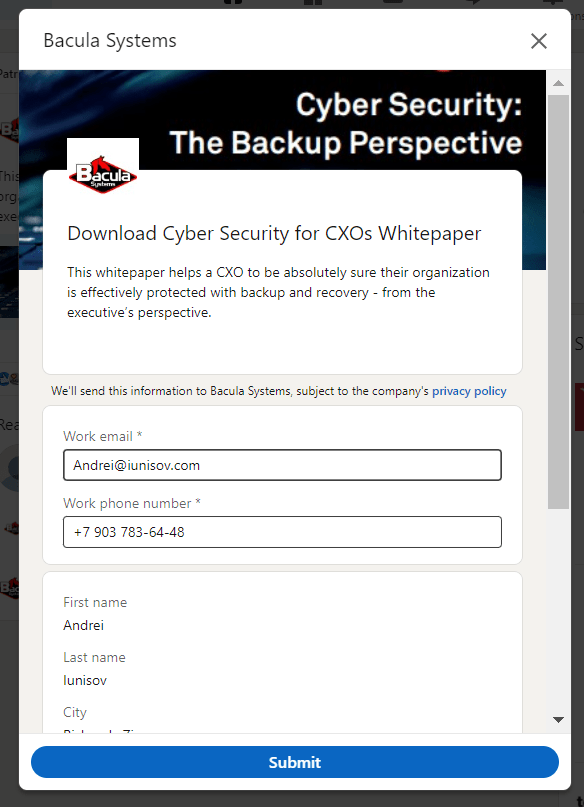 Here are some results: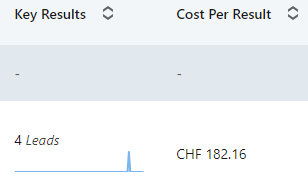 182 CHF per lead might sound a bit expensive for a regular campaign, but for a hyper-targeted one it's a normal result, especially keeping in mind the overall cost of the campaign.
2. Channel Partnerships
Tech companies may use ABM to identify and engage with potential channel partners, such as resellers or distributors. They can target accounts that align with their partner program and work to build mutually beneficial relationships.
Here is an example of the ABM campaign on LinkedIn targeting channel partners of a well-known backup and recovery vendor:
We have targeted Australia only, where I created a list of potential partners based on the competitive vendors' websites. This company list was uploaded to LinkedIn and added to the target audience which was narrowed down by only entrepreneurship and business development job functions in these organizations. Here is what I got:
We didn't get tons of leads, but enough to initiate potential partnership discussions for the region. The overall cost of the partner generation campaign was less than 300 CHF.
3. Product Launches
When launching a new tech product or solution, ABM can be used to create excitement and anticipation among a select group of target accounts. Marketers can tailor their pre-launch and launch campaigns to generate interest and demand among these accounts.
This is what my client has done when releasing their innovative Kubernetes backup module: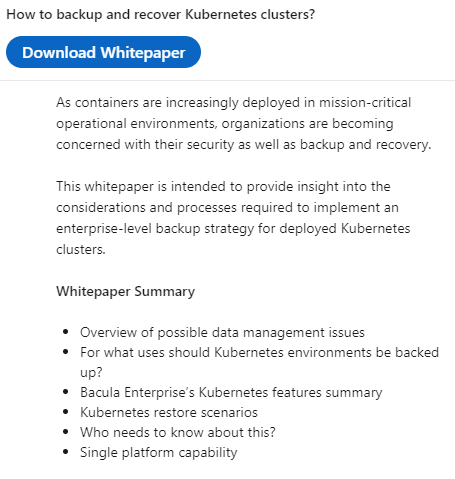 We targeted the following audience: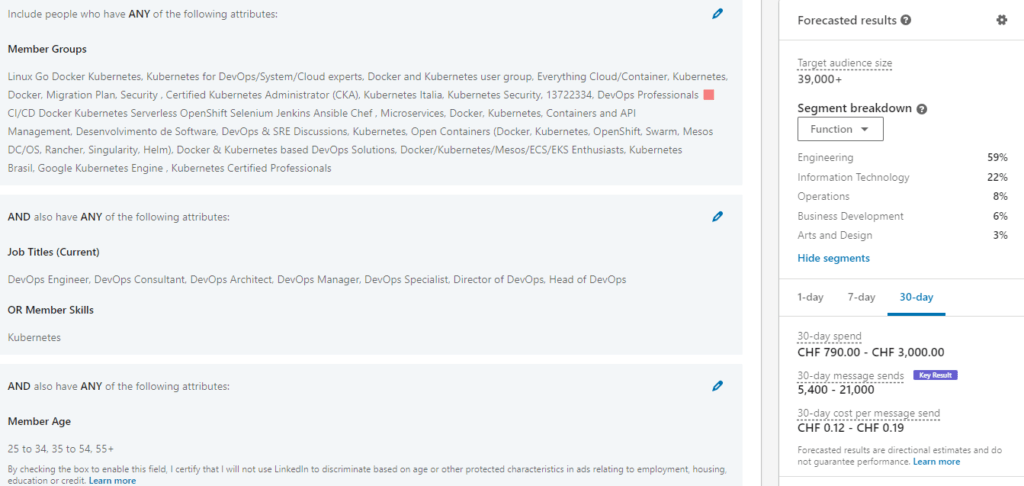 The results were impressive, here is what I can demonstrate: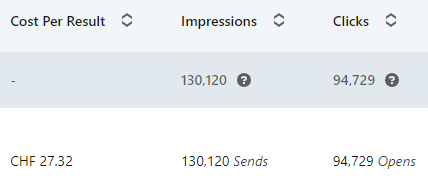 The number of leads exceeded a thousand, while the cost-per-lead was kept under 30 CHF.
4. Account Expansion
ABM is not limited to new customer acquisition; it can also be used to expand relationships with existing customers. Tech companies can identify opportunities for upselling, cross-selling, and providing additional value to their current customer base.
Here is an example of the ABM campaign on LinkedIn targeting several NASA research centers from a backup and recovery vendor already having a contract with them: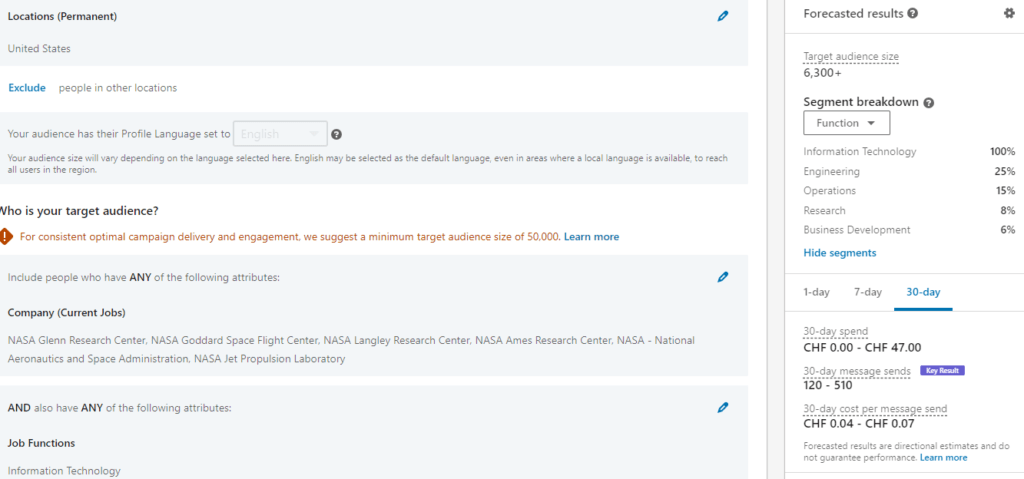 As you can see, we targeted 6300 NASA employees across several NASA centers with IT job functions.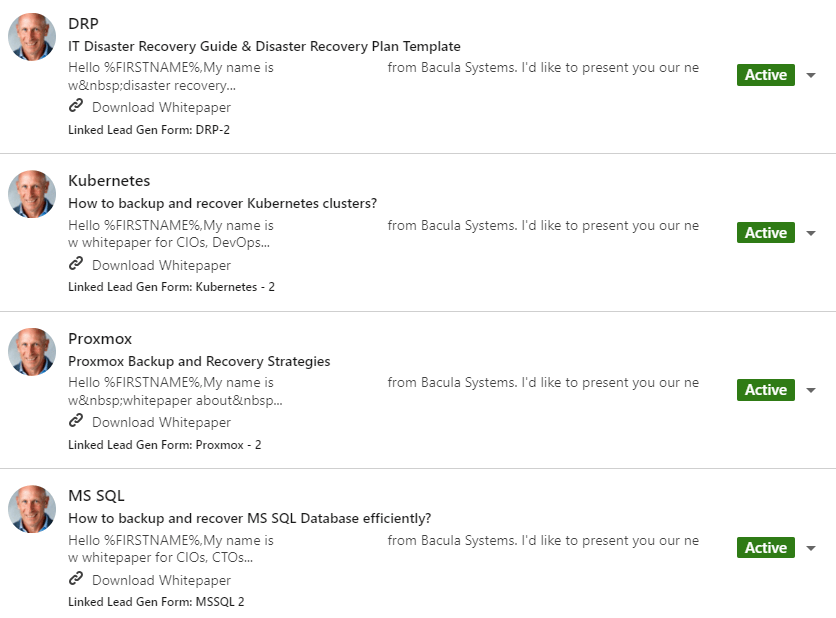 Our messages included IT whitepapers about technologies (MS SQL, Proxmox, Kubernetes) presumably used in NASA labs as well as the disaster recovery plan template.
We sent out 430 messages only, received 208 opens and several leads with a 200 CHF / lead cost.
5. Vertical-Specific Campaigns
Tech marketers often run ABM campaigns tailored to specific verticals or industries, such as healthcare, finance, or manufacturing. These campaigns address the unique challenges and regulatory requirements of each industry.
Here is an example focused on defense & military sector: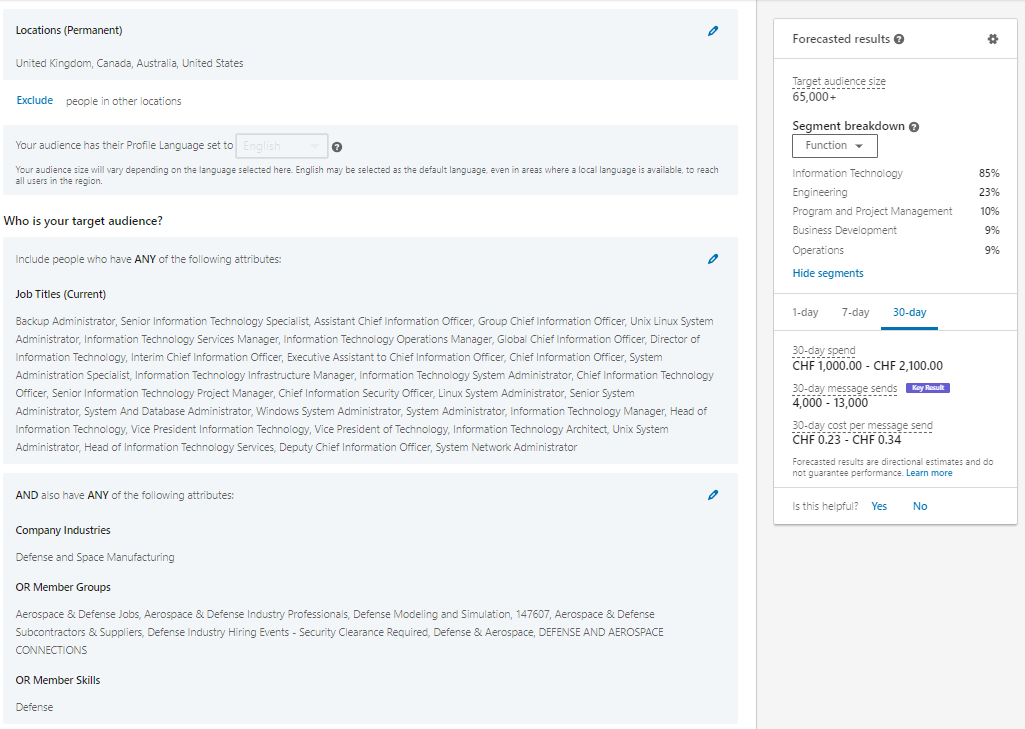 65000 defense & military IT professionals (sysadmins & CIOs) in the UK, Australia, Canada and the USA were in the target audience of this campaign. Here is the message: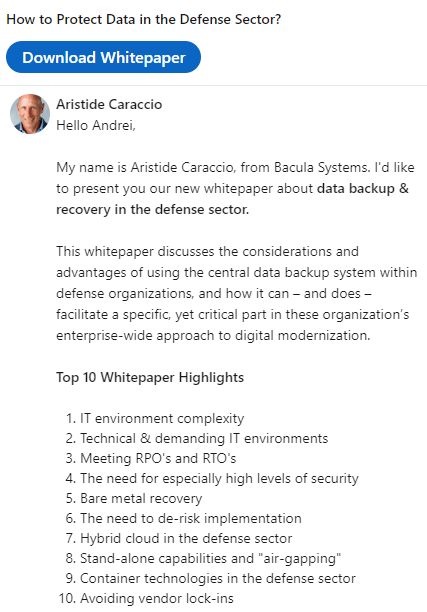 Generating leads in defense industry is always a challenge, but here we got some decent results: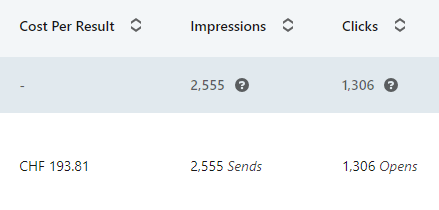 Less than 200 CHF for a quality lead from a defense & military sector in these geographical locations can be considered a good result.
Overall, the versatility of ABM makes it a valuable strategy for tech marketing, whether the goal is to acquire new customers, deepen relationships with existing ones, or drive specific outcomes within the technology sector. It allows tech marketers to focus their resources and efforts on the accounts that are most likely to yield significant revenue and strategic value.