How to increase referral traffic and installations from marketplaces? Microsoft AppSource optimization experience.
Date :
May 20, 2019

By

From the early beginning of my work with VirtoSoftware we have discovered that referral traffic has higher conversion rates than average values on our website. VirtoSoftware develops web parts and apps for SharePoint and Office 365, that means our referral traffic mostly consists of the users browsing the marketplace where we have to store our products — Microsoft AppSource. Increasing our rankings in AppSource will bring us more high-quality leads, in our particular case — app trial downloads. So we began to look deeply on the optimization process.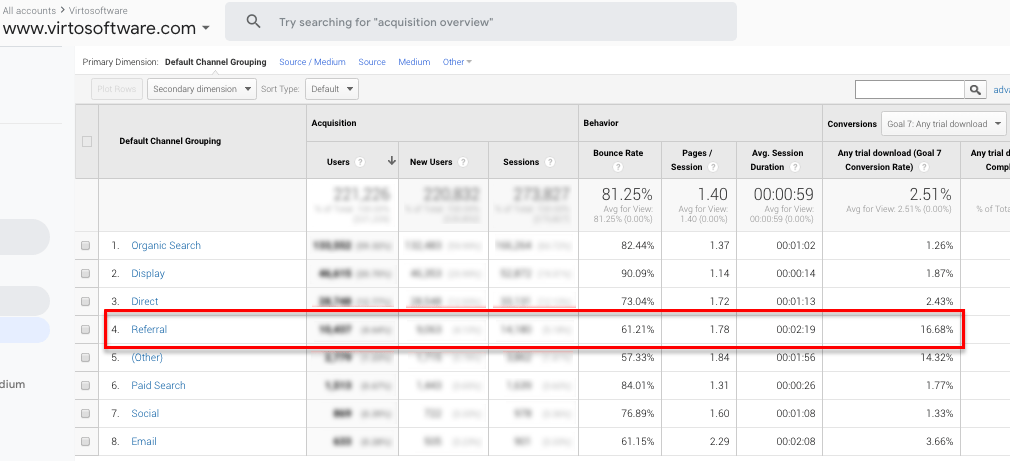 When you're working on markets that require your clients to install your product from their common marketplace, could be AppStore from Apple, Play from Google or AppSource from Microsoft, you have to begin with the goals. Our company has 30+ apps, so we needed to figure out the exact keywords where we want to showcase our apps. Mostly this list was similar to our generic keyword list except the fact that we had to delete the information keywords, e.g. «how to create a form in sharepoint?» or «how to create office 365 workflow?». This type of users in AppSource is very unlikely install and then purchase our app, so we took the decision not to focus on those who was just looking for information.
Here is the part of our keyword list for AppSource (and SEO too):

Then we had to check our positions on these keywords. There is no specific app position tracking tool for AppSource, so we had to do it manually. However, we were careful with results collection — to make them more precise we took the US IP address and searched the AppSource from it using the «invisible mode» in Chrome for every query. This allowed us to get the most precise data on our target market.
After collecting the positions I started to analyze the ranking factors. Well, this was relatively simpler than I expected.
Some of the keywords that we wanted to promote like «task management» or «project management» were landing to the app pages that didn't even have any single direct keyword inclusion. Here are the ranking factors that I defined after looking at the apps with high positions and with worse search results:
– Keyword in product name
– Keyword in product short description
– Keyword in product long description
– Number of screenshots
– Product rating in AppSource
Even though I wasn't in position to change the product name, I started to optimize from descriptions. This is how the submission process look in AppSource: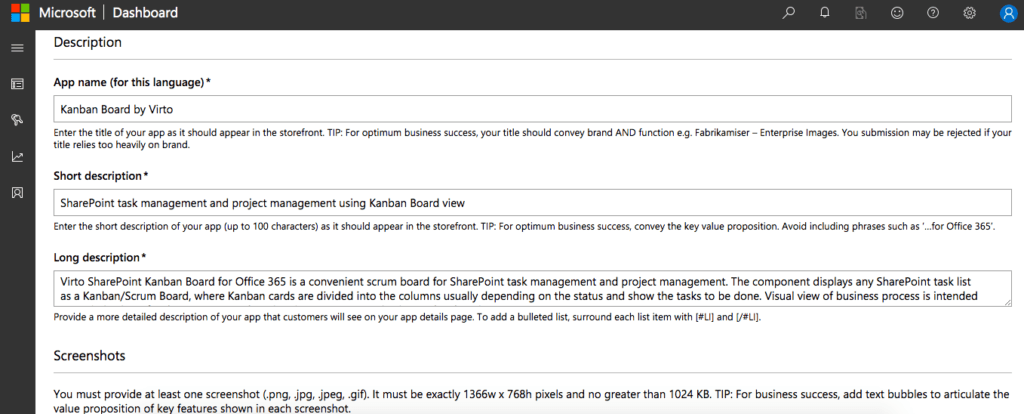 I started to experiment carefully, only working on one particular group of keywords connected with SharePoint calendar. After adding some keywords in direct inclusion I decided to take a look at the position dynamics. It could be that the product were ranked only based on reviews, so I didn't start the complete optimization process for all apps and keywords. The results after changing the keywords were significant:

Along the whole journey I added new screenshots and also performed a newsletter blast asking our clients to rate the products on AppSource (thanks to the team, we have many clients ready to do this). This improved the positions even more.
Traffic from referrals has also shown tremendous growth:

So, if you have the marketplace and your product is inside, you definitely have the opportunity to optimize the listings and get even more leads or installs than you have now. Just follow the simple logic and isolated optimization steps.