YouTube SEO: Tips, Checklist and Best Practices
Updated 9th December 2022
Date :
September 2, 2021

By
YouTube SEO for B2B digital marketing
YouTube is basically the most popular video hosting platform in the world and has many opportunities for marketing products and services on it. However, it's unusual to see YouTube in the digital marketing strategies for B2B companies. It happens because YouTube marketing is meant to be expensive and mostly focused on brand awareness and not on traffic or lead generation.
However, I managed to find several successful best practices on how B2B businesses can benefit from their YouTube channel. Instead of doing the direct advertising on YouTube businesses can generate leads from YouTube search engine optimization. In this post I would like to uncover some ways to optimize and put your video on the top of YouTube search results.
Why doing YouTube SEO?
In the current online marketing landscape there are not so many advertising platforms that generate the predictable and stable amount of traffic and leads. Basically B2B businesses can use Google, LinkedIn, review websites and referrals (Quora, ReddIt, etc) for such purposes. The platforms with a huge amount of traffic like Google or LinkedIn are expensive and their cost-per-click sometimes can't be acceptable from the unit economy's point of view.
Other smaller platforms are good but present the "long-tail" of advertising systems and setting them all up is a huge time investment with unpredictable result. YouTube is a platform where you can benefit from both huge audience and the ability to generate leads from it and scale this lead source with much less time and effort. 
Additionally, SEO on YouTube search results page can not only generate more viewers of your video but also initiate more impressions of the video in the regular Google's text search results which also drives you leads and traffic.
Tip 1 – How to collect target keywords for YouTube SEO?
It is important understand what exact keywords you need to promote your videos on. If you will choose wrong keywords with small search popularity you will not get any viewers. On the contrary, with popular keywords your videos will get more views and this will also facilitate better rankings in YouTube search engine. The common method of collecting keywords is through using the special tools or Google Ad Planner but the problem is that these tools present the regular Google text search data. It can be relevant, but can be not – the search patterns on Google and on YouTube are different. You can't always tell that keywords that are popular in Google are equally popular on YouTube. 
One of the more reliable ways to do YouTube SEO keyword research is to look for the most searchable keywords through Youtube autocompletion analysis. You're choosing one of the main search terms related to your niche and then just add one letter to that search query (for example, you can type "marketing strategy" and then just add one space and one random letter to see which search results pop up higher in the list).
Here is the first step: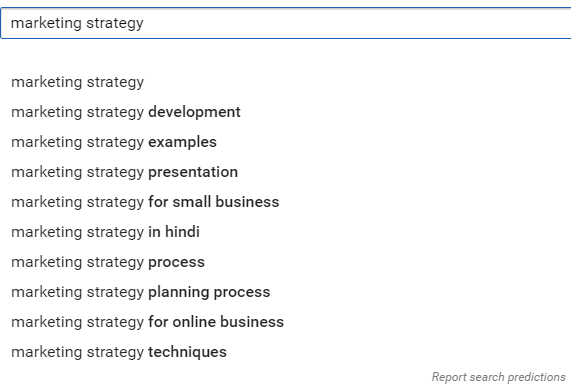 Here is the second step: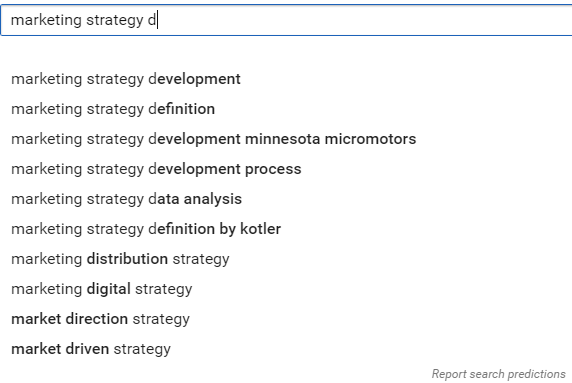 With the knowledge of your target keywords you can start working on your own videos. Its quite similar to the text SEO when you're collecting keywords, analyze search intent and based on this create the landing pages, blogs or any other page types for your website. On YouTube you also need to analyze what type of videos rank better for your particular keyword: 
Long or short?
Commercial or informational?
Popular or not (likes, dislikes and comments)?
From popular channels or not (number of subscribers)?
And so on.
It's you who is analyzing all this data and understands what kind of video do you need to prepare to succeed.
Tip 2 – Promoting playlists in YouTube SEO
The collected keywords may even form clusters (groups) for keywords that are similar to each other. For example, in the above example this could be: 
marketing strategy development;
marketing strategy development process;
marketing strategy development steps;
marketing strategy development new product.
All these keywords are taken from autocompletion analysis. Not only the videos, but also the playlists rank in YouTube search results. Sometimes it's even better to put a playlist on the SERP of YouTube, because it looks bigger visually and probably will have higher CTR and more clicks. You don't have to create a video for every single keyword you'll find, but making at least one playlist for each group of similar keywords is a good practice. Created playlists can be edited and optimized by changing their titles, descriptions and other fields to include target keywords.
Tip 3 – YouTube SEO ranking factors
Let's talk about ranking factors of YouTube videos. There are several things you can optimize to make your videos look more SEO-friendly, including:
Video title;

Video description;

Video tags;

Playlist title;

Playlist description;

Keywords in video's subtitles (transcripts);

Number of comments and keywords in them;

Video likes;

Channel subscribers;

Effectiveness metrics of each video (average watch time, watch-to-end time);

Number of video player insertions to various websites (shares).
Tip 4 – How to optimize the YouTube video's meta data?
Video title
Obviously, the video title needs to be short (60 symbols, the longer ones are cut in search results) and include the main keyword. It should be placed close to the beginning of the title. Do not use clickbait titles, it is not going to work. Instead, use call-to-action messaging and keep the title relevant to the video.
The title is supposed to look intriguing and attract attention, be it via catchy phrases, or any other means – but without being a straight-up clickbait. Some of the word combinations that have previously shown good results when it comes to CTR are: "Fast", "Tutorial", "Easy", "How To", "Free", etc. You can also find more keywords by typing your own title in YouTube's search bar – the list of suggestions shows you the most popular keywords in relation to your title.
Video description
Video description allows more symbols than title, so you can use the keywords several times and add synonyms. Always insert timestamps related to your video, add the URL of your main website & helpful reources and don't forget about hashtags. Remember, the more engaging description you write the bigger CTR is and hence the better rankings you will get.
You can also use keywords in your description, from two to four appearances should be enough in most cases. Time codes are also a great way to highlight some of your keywords and improve the video's user-friendliness – and an integral part of any YouTube SEO checklist.
Playlist title and description
The same principles can be applied not only to the videos, but also to playlists.
Video tags
While the importance of YouTube tags has diminished a lot over the years, the fact that they're still available means that they're not completely useless, either. The good idea is to add approximately five tags per video, with one of them being your primary keyword, and you can pick others from YouTube's suggestion list if they're related to your original keyword in the first place.
Keywords in your video
Nowadays, YouTube attempts to automatically caption pretty much every video on the platform. And that's not to say that their efforts are completely in vain, either. In fact, at this point, YouTube can understand most of the regular words used in videos throughout the platform.
This is why it's a good idea to actually pronounce your keyword in a video, at least once or twice. If YouTube recognizes it – it's another sign of a video's relevance to the algorithm.
Subtitles
In the context of YouTube SEO best practices, you can also make sure that YouTube gets every word right in your video by uploading a transcript of it manually. A transcript can be done either manually or via one of the many services available online. The existence of a pre-made transcript allows YouTube to have a better understanding of your video's theme and helps you with suggesting your videos to the right people.
There are also some other options that allow controlling how much text you want to be displayed on the screen at a given moment. The general idea of adding subtitles can be achieved through YouTube Studio, in your "Content" category. First of all, you should choose the video in question, and choose the "Subtitle" icon on the left side of the screen afterward.
The video subtitle screen allows you to set up the language of your subtitles beforehand, and you have several ways of actually adding subtitles afterward: you can either upload a file in a supported format or type them out manually, with the ability to automatically synchronize them to the video. Another participant on the list of YouTube SEO tips is the ability to apply automatic subtitle translation on that same screen, if you have the need for such a feature.
How to boost engagement metrics of your YouTube video?
There's a variety of services available online that allow you to buy either views or likes or comments for your videos but I'd not recommend using them. The process of getting a sufficient amount of views, comments and likes should have the necessary duration and if you'll do this in 2-3 days, you'll be in trouble and likely will never get where you want. The same about bots and automation – this is not going to work.  Here are some things you could do to boost the number of likes:
Create video transcripts incl. target keywords;

Invite guest YouTube bloggers;
Use cards and end screens;
Set autoplay when videos are embedded (and do more embeds);
Reply to comments with target keywords;
Spread the video in relevant LinkedIn groups.
Tip 5 – Insert target keyword into your file name
YouTube is unable to actually "watch" your video file when you're uploading it, so it has to reserve other means of confirming how much your video is relevant to a specific subject. One of these means is checking the name of your video file – which is why you should go an extra mile with your video file's naming.
For example, if your main keyword is "backup solutions", you can name your file "backup-solutions.MP4". Of course, the file format might be different – since YouTube supports several different file formats, such as MOV, WMV, and MP4, but the general idea behind this action remains the same.
Tip 6 – Take advantage of End Screens and Cards
Cards and End screens are two types of additions to your videos that serve pretty much the same purpose – to increase engagement with your videos and your YouTube channel. However, the way they work is completely different – and understanding the difference between them is an important part of YouTube SEO best practices.
For example, Cards can be added to almost any point of your YouTube video, and serve a variety of purposes. Generally speaking, cards are a form of preformatted notifications, and YouTube offers six main types of these cards:
A link to a fundraiser or a donation (specific to non-profit organizations);
Polls for viewers, usually consist of a question and several options to choose from;
Channel cards to funnel viewers to a different YouTube channel;
Playlist and video cards, linking the video with other playlists or videos;
Fan funding request;
General link cards (can lead to an external website, an approved merchandise platform, or an approved crowdfunding platform).
You can add up to five different cards to a single video, and the number of use cases for those is quite vast and varied.
On the other hand, we have End Screens, which are capable of displaying a similar scope of information with Cards, but have only one place when they can be created – at the end of a video. End Screens also tend to be more descriptive than the Cards, and have their own restrictions.
For example, only YouTube partners are allowed to leave links to external websites in their End Screens, while the rest of End Screen content is available for everyone – be it links to videos, the encouragement to subscribe, or promotion for another channel (with a customizable message). Additionally, YouTube does not allow End Screens for videos that are less than 25 seconds long.
Tip 7 – Work on your thumbnails
In some ways, thumbnails on YouTube are even more important than video titles, since a good thumbnail can easily increase your click-through rate, along with general higher positioning in search results. Thumbnail is a visual representation of your video in search results, making it one of the most important parts of YouTube SEO in the first place.
Your thumbnail's main goal is to tempt the user to click on it since each of your videos usually competes with a myriad of other videos that also demand attention. Failure to attract people's attention here means instant loss of clicks.
While you do have to sway a regular viewer's attention towards deciding that your video is worth their time, it's also important to remember about other factors, such as building your brand with thumbnails. It can be done by using the same visual style to all of your videos so that they can stand out and be recognizable as something belonging exclusively to your YouTube channel. Building up your brand via multiple sources is one of the biggest YouTube SEO tips you can get, and its importance is tremendous.
Tip 8 – Your channel page might also need optimization
Your own YouTube channel is also a crucial part of building up and maintaining the presence of your brand throughout the entire platform. Each and every part of your brand has to be kept to a high standard – including your YouTube channel page.
Your channel description is incredibly important here since it also shows in the search results when it comes to specific keywords. This means that your channel description also has to include keywords on the subject – without overdoing it. The same applies to the channel name, if possible – include the keyword in it.
Your channel description is supposed to show your brand's biggest advantages, and it also has to be interesting to read. Having your description done with all of the recommendations in mind allows your own channel to pop up in search results, and not just your videos on a particular subject. It's also an important part of our YouTube SEO checklist that we're going to present below.
Using YouTube Ads to promote your videos
While it is possible to gain an audience using YouTube Ads, other means of gaining a following might be a better idea. To elaborate on this – the audience that you're going to find directly on YouTube is not the best choice engagement-wise, since none of them found you via another trusted source or organically.
YouTube Ads are far more useful when they're used as a secondary source of promotion. For example, if your product or service is already promoted and sold on other resources, and you're using YouTube to generate a "how-to" content around said product or service – this is where YouTube Ads are almost a necessity. They're not as useful in other cases, especially when used as the prime advertisement method.
How to use YouTube Analytics for SEO?
YouTube's analytical capabilities are quite extensive and allow to boost SEO results. There is a separate section for that in YouTube Creator Studio. The main page of analytics section shows you the visual and numerical stats of your channel for the chosen timeframe.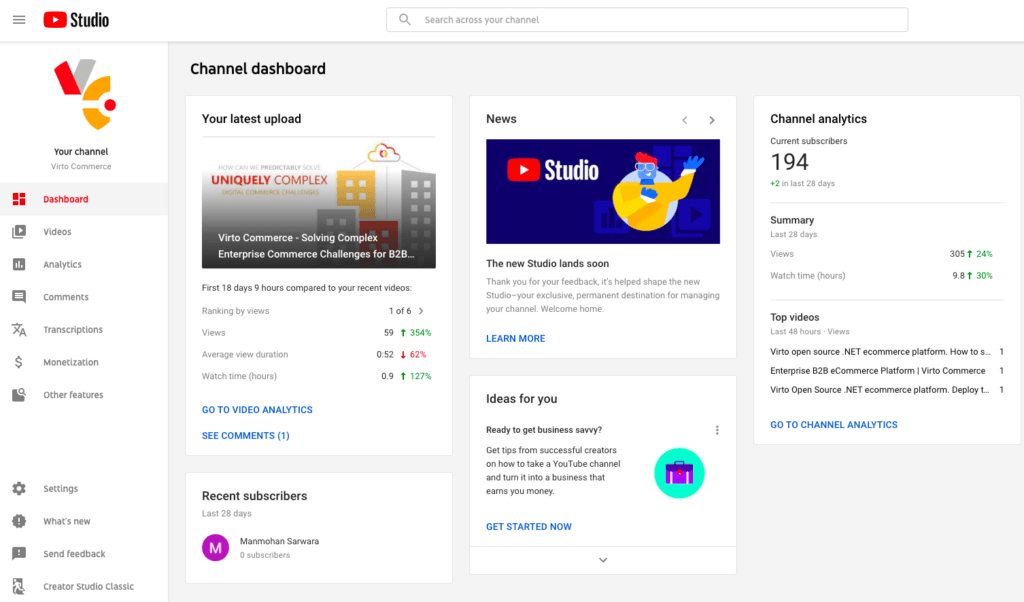 There's an option to lookup KPIs for each video and sort them using certain characteristics like views, likes, subscribers or unsubscribers.

The report above shows the video generating the most subscriber churn. It's even possible to figure out what exact time of the video generates the biggest churn with the usage of the viewer retention report below.

If you see your churn growing abnormally at a very specific particular moment of the video, you can think on how to change the video to avoid viewer loss.
YouTube SEO checklist
Here's a relatively short YouTube SEO checklist:
Get a Google account and create channel with it;

If necessary: change channel type to "Business" and provide an appropriate channel name;

Fill in channel description and tags;

Customize the look of the channel's primary page:

Custom banner at the top of the page;

Links to the other social networks accounts;

Channel trailer for new viewers.

Video for returning viewers.

Create and optimize playlists:

For each playlist

Provide description and keywords based on autocompletion analysis;

Choose the playlist watching sequence;

When uploading a video keep in mind the following guidelines:

File type should be .MP4;

Audio codec is AAC-LC;

Video codec is H.264;

Resolution is 2160p, 1440p, 1080p, 720p.

When uploading a video optimize the following:

Publicity settings;

Description and tags;

Video thumbnail;

Add royalty-free audio;

Add subtitles in non-english languages;

Embed video into your own website and work on its metrics afterwards with friends and family (views, likes and comments);

After some time access YouTube Analytics and take a look at the following for this particular video:

Number of subscribers

Number of unsubscribers;

Viewer sources;

Average view percentage.

Optimize video content in a targeted manner based on the information above. 
Conclusion
YouTube SEO is not a particularly easy subject to understand, and there are many different little things and nuances that you have to keep in mind to stay successful. While covering each and every detail is borderline impossible when it comes to YouTube SEO, I've attempted to gather the most common parts, at the very least. I hope that this article helps you with getting everything right for your YouTube SEO efforts, no matter how ambitious they are.
You can also get the YouTube SEO checklist in a PDF file and a free 30-minute consultation with me if you'll fill in this form.