Webinar promotion. How to advertise webinars and get high-quality leads from them?
Date :
June 3, 2019
By
There is a tool that helps software companies and B2B companies in general to accelerate the deal process and nurture the lead — I'm talking about webinars. Webinars can be about:
Specific product features or solutions
Product adoption in the organization
Customer case studies
And more…
It's really hard to initiate the webinar projects in a small company because webinars are time-consuming and require financial resources in the software tools and people doing presentations.
However, webinars require one-time investment, but for lead generation process they can become "evergreen". I mean if you have recorded an event about the interesting general topic, you can continue generating leads from webinar downloads on a constant basis.
This is how we do it with Bacula Systems and get 10–30 leads per month: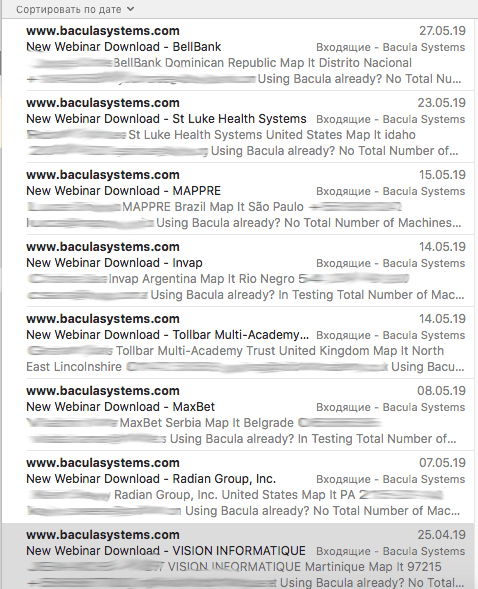 The question that might arise here is how to advertise webinars and generate maximum participants. I'd like to share our webinar promotion strategy and recommend some channels for it in this post.
Usually we start our webinar promotion 2–3 months before the actual even (we're limited in human resources so need to start in advance). The first action that we take is choosing the topic of our event. We're a backup company, so we can talk about many things:
Backing up a specific hypervisor (VMware, Hyper V, KVM etc)
Backing up a specific database (MySQL, MS SQL, Oracle etc)
Backing up a specific application (Exchange, mobile apps etc)
Disaster recovery strategy best practices
Customer reference architecture case studies
Depending on the recently released product features, market demand and search statistics in Google Trends we choose the subject line of the webinar and develop the description. We also look that we could insert this webinar into the appropriate point of our email nurturing queue (e.g. if we talk in email about Oracle RMAN backup, it would be useful to add a link to webinar about this particular topic).
After deciding on the topic and preparing subject line, description and hero graphic we proceed to the actual invitation strategy. There is no sense in using subscription pages from the webinar software products asking people to register — no one wants to have one more registration and fill it in. Here is what we do:
Setup an event on Facebook where people are already logged in
Post to Linkedin company page where people are already logged in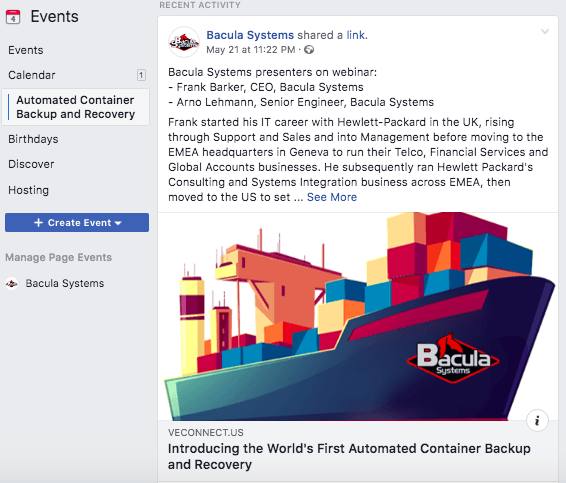 Facebook is great for webinar promotion because its event pages can be advertised using all the sophisticated targeting methods that Facebook provides.

While targeting based on interests and professional position you can get the relevant audience for just several dollars per subscriber. Below is a screenshot describing our container webinar's cost-per-acqusition is not more than $2,73 per subscriber in average for 1 month. And even if only 50% will actually attend you still get $5,46. If you'll ask any platform for enterprise leads for such a price, they will never ever give you something below $130 per lead.

Same results can be achieved with Linkedin but in a different manner. We use Linkedin Inmail Lead Ads functionality to generate registrations. This is also very easy to register as you're getting the email, and in 2 clicks you're registered because you're already logged in. Here is what the user gets: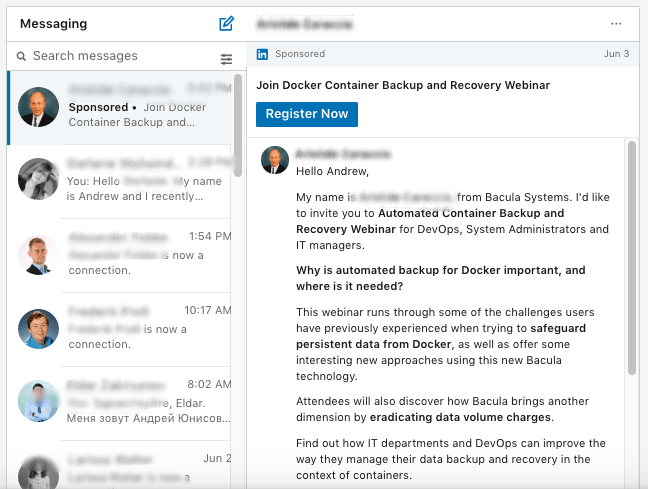 The multi-group targeting strategy will require different email messaging so I am splitting the single campaign into 3 specific ones:

The results in a single month can be impressive: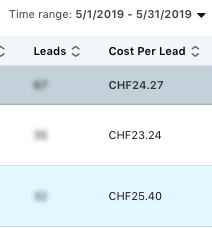 Keep in mind that these leads are much better than Facebook ones that's why they're 10x times more expansive. They're not just marking the event as "Interested" but already submit the pre-filled form on Linkedin which includes: first and last name, company name, company size, position, work phone and email, city, state/province and the number of machines they have. It's quite enough for a high-qualified enterprise lead for just $24.
Of course, after you generated all these people you need to remind them about the upcoming event. Our strategy usually includes:
Notification in 2 weeks
Notification in 1 week
Notification in 3 days
Notification in the beginning of webinar day
Notification in 2 hours, 1 hour and 5 minutes just before the start
With this sequence we're getting not less than 50% lead to visitor conversion (depends on the technology topic and presenters). I suggest everyone to use social network lead generation to make your webinar strategy cost effective and efficient.