B2B Demand Generation Goals and Strategies
Date :
September 7, 2021
By
Creating a sizable demand for products and services is a surprisingly complicated task that a lot of companies tend to struggle with. It is very important, because if you will only satisfy the existing demand without generating a new one, even if your business is built on recurring revenue, you'll find it difficult to grow revenues in future. The main goal of demand generation is to increase brand awareness, stimulate traffic growth and thus generate new leads. This applies for both B2C and B2B demand generation.
The definition and goals of demand generation
Any activity that increases brand awareness or general interest in your product or service can be considered as a part of the demand generation process. The end goals of demand generation are: 1) to form a relatively predictable sales pipeline and 2) to help closing this pipeline.
Demand generation is kind of an umbrella term, covering many different initiatives of marketing or sales departments at any point of customers' journey from the beginning to the very end of it.  However, there is an important distinction between demand generation in the past and the modern world demand generation.
Demand generation nowadays is not about tricking people into buying products or services they don't really need. Instead, it's more about delivering the proper information to the specific people at the right time (especially in B2B), generating interest in your company or product.
Demand generation vs lead generation
One of the goals of B2B demand generation is to guide your audience to interact more with your content, such as whitepapers, e-books, events, free trials, etc. It's possible to constantly engage with your prospects, nurturing them and keep your brand at the top of their minds, right until they've become a qualified lead. After that, you'll be just one sales pitch away from gaining a new customer.
On B2B markets demand generation is also connected with the process of lead generation. While the main target of demand generation is to grow an audience by attracting visitors and introducing them to your product or service, lead generation is all about converting existing visitors into high-quality leads. The connection between the two should be obvious at this point – one attracts more audience, other converts said audience into leads. Demand generation in this relationship is driving awareness and interest to the brand.
While demand generation and lead generation seem like two parts of the same process in B2B, they actually can overlap in some specific cases. For example, driving registrations for product-focused webinars is considered both lead generation and demand generation.
B2B demand generation strategies
Now that I've explained the purpose and the benefits of demand generation in the B2B environment, it's time to talk about some of the most well-known tactics used for  B2B demand generation. Here we have several different strategies:
Invest in quality content
Since the majority of the buying process does not involve a direct conversation between vendors and clients, it's highly recommended to invest in generating various content about your market, typical customer pain points, your company and what you can do to help customer success.
A lot of the time in the B2B sales process is spent on research about the problem and its resolutions, so it's natural investing in whitepapers, blog posts, case studies, e-books, etc. These different types of content are typically targeted at different parts of your sales funnel.
For example, the top of the funnel is more about building awareness by creating videos and educational (thought leadership) blog posts promoted in social media, the middle of the funnel is mostly connected with education via ebooks or whitepapers featuring specific customer pain points resolutions, and the very bottom of the funnel is mostly about verifying the customer decision – that's why this part is focused on case studies and webinars with specific themes.
Use ABM for targeted demand
As the name suggests, account-based marketing (ABM) targets not a broad potential audience, but a specific list of companies that you have to choose (manually or using semi-automated tools). If done properly, this can easily increase demand from the companies on your list. This strategy is widely used on B2B markets.
The whole process begins with actually creating a list in question using manual search, LinkedIn Sales Navigator, prospecting tools like RocketReach and others. Each and every participant of this target account list is supposed to be a great fit for your product or service so that you'll have no problems selling it to them.
Each company on the list can be targeted with a variety of tactics, from ads in search, social media and other channels to simple emails or post letters, or anything else that is suitable in that specific case. The existence of a list allows you to greatly personalize the advertisement, generating more targeted demand on B2B markets.
Use buyer intent data
Buyer intent data is one of the best means of gaining in-market buyers for your product. Generally speaking, buyer intent data is a combination of specific signals that can be translated as prospects' interest in a specific subject, such as visiting specific articles, increasing frequency of visits on the site as a whole, increasing their engagement levels on the subject in different forms, and so on.
By using buyer intent data you'll be able to gain customers that are inside of your market already – without falling into the pit of inventing demand from the ground-up. The entire idea of using buyer intent data is relatively new, but it seems to be growing at an extremely fast pace, so it's highly recommended to take advantage of it now to be ahead of your competitors.
In the software & SaaS industry the most obvious place to get the buyer intent data are review and comparison websites. Sites like G2 and similar ones are having big listings of various products and are able to track which specific product listing pages were visited by the prospect. Then they can sell this information in the form of company names to the vendor. The vendor then can create target lists for account-based marketing based on this data.
Implement content syndication
Content syndication is, at its core, a "softer" version of a basic sales pitch, and this exact difference is what makes it efficient. The main purpose of content syndication is to promote your content (articles, whitepapers, etc.) in front of your ideal prospects in the media that you don't own (not on your website and other platforms)). There are many types of platforms involved in the B2B content syndication:
Slideshare: Multi-disciplinary professional content to a network of LinkedIn alliances.
StumbleUpon: Content sharing, trend browsing, and the ability to follow topics of interest and/or people.
RSS feeds: Rich Site Summary for any website with a lot of customization options.
Tumblr: Another social media platform with blog tracking and various filtering/management options.
Reddit: A critical part of modern internet culture as a whole with a massive audience.
LinkedIn: Business-oriented platform with content syndication-related use cases.
Facebook Business: Business-oriented platform with various resources for raising awareness and promoting products/services.
Scoop.it: Content sharing platform that improves online visibility and generates potential customers.
Taboola: A content discovery platform offering a local placement for advertisements on various sites.
Medium: A platform for many forms of content, such as audio, video content, photos, text, etc.
Infographics: Submitting visual content to community centers with the embed code included.
Outbrain: A content marketing platform for advertising content using massive media such as ESPN, CNN, etc.
Quora: The opportunity for business owners and other specialists in their field to showcase their experience in specific areas by answering questions.
It is worth mentioning that not all of these services are free. For example, platforms like Inbound.org, Medium, Slideshare, Quora, and Reddit are free, while Outbrain and Taboola request payments from the get-go, and both LinkedIn and Facebook work on a freemium access model. By spreading your materials on these platforms you'll be able to target the audience which is not going to visit your website or app and hence generate additional B2B demand.
Take advantage of niche targeting
Reaching new customers in your niche with targeted ads is one of the most basic and cheap demand generation methods. Two obvious platforms of choice for the B2B demand generation would be Facebook and LinkedIn.
LinkedIn offers you extensive target audience customization, down to the region, size, actual company names and more. From my own experience, LinkedIn's targeting capabilities are very powerful, capable of specifying age, job title, skills, profile language, company size, geographical position, and so on.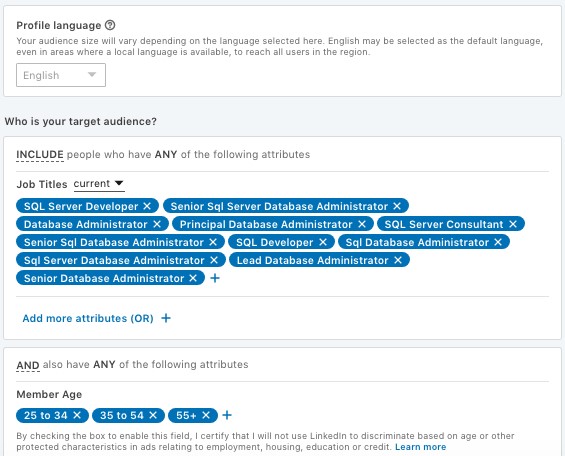 Additionally, if you don't have a specific job title, you can always target various groups from the LinkedIn catalog.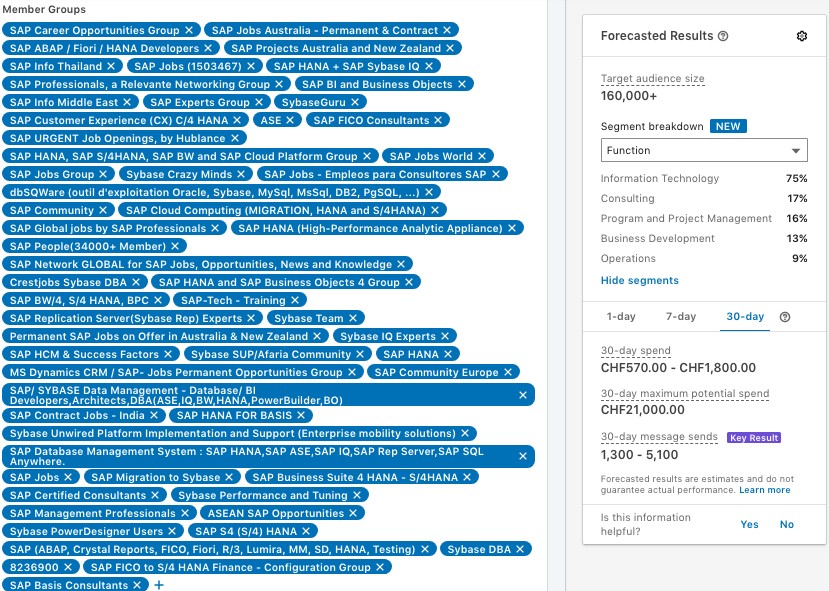 I've explained this topic and my work with Bacula Systems in more detail in this blog post.
That's not to say that LinkedIn is the only platform that offers niche targeting – since it can also be done using Facebook's tools, as well. Going with the same example of my work with Bacula Systems, I've managed to successfully conduct multiple marketing campaigns targeted at specific audiences – categorized by different languages, interests, and so on.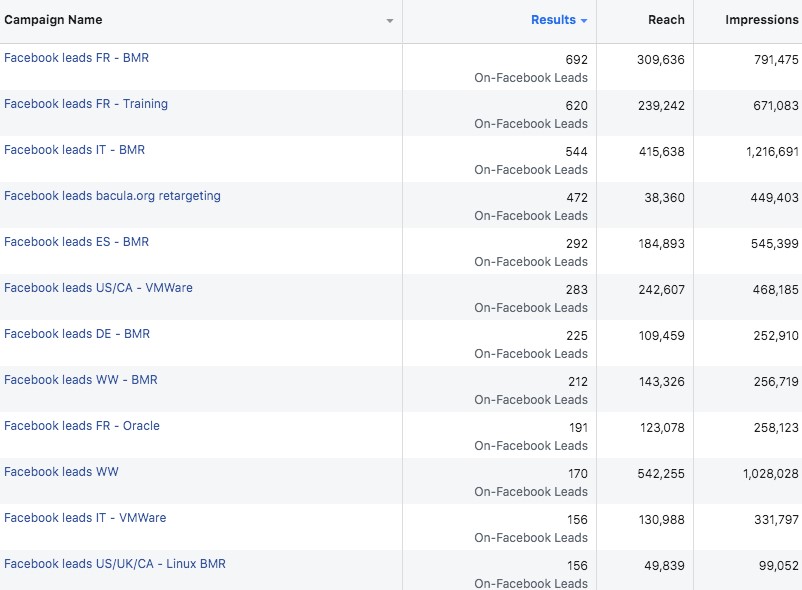 This, and some other use cases of using Facebook for targeting and lead generation, are explained in more detail in my blog post about Facebook B2B lead generation.
Conclusion
Demand generation is not that easy to figure out from the get-go, it is a moderately complicated process that you have to understand and invest in to be able to reap various benefits. Hopefully, this article helps you to understand some of the more common parts of demand generation in B2B environments, along with various strategies that can be used to generate said demand.