Website Templates, Website Builders or Custom Designs – What's Better for SEO?
Updated 9th December 2022
Date :
October 28, 2019

By

At some point in time you'll decide that your business needs to go online – meaning you want to create a new website. There are several ways of doing that, and each of them has their own advantages and disadvantages, both for SEO point of view and in general. The choice in the end would depend on a lot of things, from your budget to your target audience, marketing methods, business industry, personal preferences and others.

We'll work through the three of the most popular choices:
website templates;
website builders;
custom-designed websites.
Let's start with website templates. Using website template means that you're getting a template for your future website (either buying or taking one of the myriad free ones) and can develop your site within the said template's limits. One of the most popular content management systems out there with huge variety of templates right now is WordPress.
This solution implies that you can easily buy a theme or a template from something like themeforest.net, templatemonster.com, thebestdesigns.com (and many others) and customize it to your business requirements with little to no limitations whatsoever (with the help of developers or not, depends on the particular case).
Pros and cons of using a website template:
Basic SEO functions from the start – several SEO management tools are already included in the core of WordPress, and both its open-source nature and a system of plugins would help you to include more;
Most of the time templates are created by professionals and have little to no usability errors, which improves your site's SEO positions and conversion rate;
Templates have cheaper upfront cost and in general are pretty good for situations when you have a tight budget.
Working with templates doesn't necessarily require for you to have in-depth coding skills, but you'll probably require some assistance on that matter if you want to fine-tune your template or theme and the only way to do what you want is to tamper with website's code directly.
Setting up your website using WordPress and templates would require you to have a web host. While this might seem overwhelming at first, it becomes quite handy if your host suddenly starts increasing your site's loading time (and this is incredibly important for Google's search engine) – you can just export your site to another host of your choosing. Most of the template selling sites can also provide you with the template implementation services that put your website on the hosting;
An access to the site's code might look somewhat overwhelming for someone with little or no coding experience. On the other hand – access to your site's code allows you for more in-depth SEO optimization that you can't do with website builders, like differentiating "title" and "H1" tags or no support for XML sitemaps customization, etc.
Here are some of the websites that I have developed with templates:
And this is how their SEO positions and traffic look like: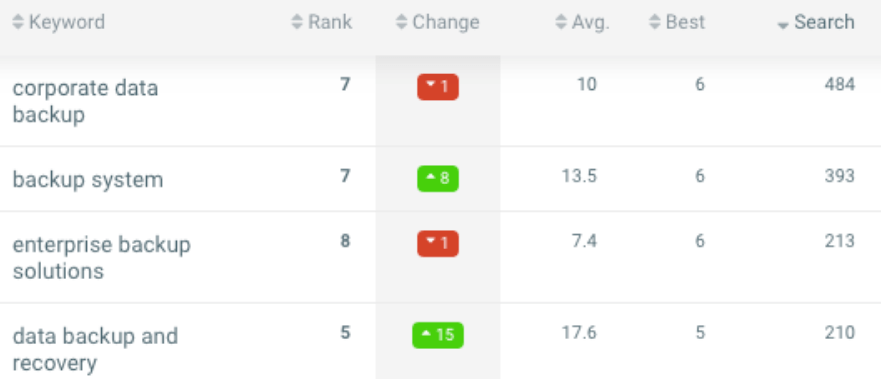 VirtoSoftware
sharepoint calendar – #5 in search, 1300 views / month, $9 AdWords CPC
sharepoint workflow – #4 in search, 2400 views / month, $6 AdWords CPC
sharepoint forms – #3 in search, 1600 views / month, $6 AdWords CPC
shared calendar office 365 – #3 in search, 1900 views / month, $13 AdWords CPC
sharepoint 2013 workflow – #6 in search, 260 views / month, $23 AdWords CPC
office 365 group calendar – #4 in search, 4800 views / month, $3 AdWords CPC
sharepoint workflow examples – #2 in search, 320 views / month, $4 AdWords CPC
create workflow in sharepoint – #1 in search, 390 views / month, $8 AdWords CPC
sharepoint gantt chart – #7 in search, 210 views / month, $5 AdWords CPC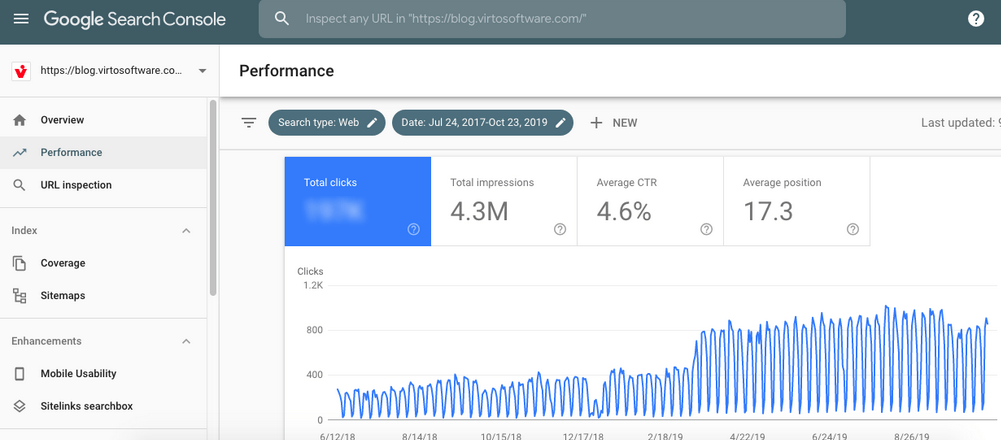 As you can see, despite the fact that both of those sites are based on templates – they can still have quite high positions in Google search, even with the most frequent search queries.
Moving on to the website builders – this might have some resemblance with templates and themes, since website builders (like Weebly, Tilda or Wix) allow you to pretty much create your site yourself without hiring developers by choosing from the predetermined number of blocks and features and building your website from them.
Pros and cons of using a website builder:
Probably the most user-friendly choice from the three if you want to create your site yourself – what you see and change is what you get, you barely need to touch your site's code unless you want to change something that's not supported by the system itself;
Paying for website builder's services or using a free one – you're still tying your site to that exact system with no option to export your site and all of the data to some new place – if you'll choose to change platform, then you'll have to start from scratch;
Site structure can be quite rigid – while most of the website builders aim to provide the most user-friendly experience, it can be quite frustrating to work with the existing predetermined set of rules while making your site look like you want it to (for example, some sitebuilders won't let you to change the chosen template if you have already started working with a different one – you'll have to select a new template and create a new site, there's no option to change the template that you're already using; one more potential SEO-wise trouble might be the automatic naming of all of the images you're uploading onto your site, which can negatively impact your SEO in general);
It is quite affordable, can be considered the most affordable of the three, small investment is all you need to get your website up and running;
Setup speed – typical time to set up your site using web builder is within a day, which is incredibly fast;
Since website builder implies that you'll have a number of predetermined design options to choose from – your site might not look as unique as you think and it's quite possible to find literally the same design for a lot of such websites, which lessens your site's sense of uniqueness;
Most of the time the SEO performance of such websites is quite horrible, with basically no tools to help you optimise your new website to make it more recognizable by search engines, and having a lot of sites with the same structure and design won't help search engines to find your site, either. And you can't forget about the fact that all of the sites developed on one web builder are hosted there, too, which makes it easy for Google to not see your site at all amidst all of the other ones on the same host.
Last, but not least is the custom designs for websites. Most of the time this implies hiring a web designer – or a company providing such services – to create your website from scratch exactly how you want it to look and work.
Pros and cons of custom designed websites:
The highest customizability out of the three options – you can literally request to change any part of the site you want to look different, the only limitation being your web developer's skills;
There's no clear answer about the price range, but most of the sites still claim that custom design is the most costly one, it can be easily $5000+ for a website with all the specifications and tools that you want to have there;
This website development option is the only one that ensures you'll have a unique design for your site since it's created exactly how you see it from scratch;
Since there's no templates or constructors – creating your site might take a long time, general consensus is that you should expect no less than 6-8 weeks of waiting for your site to be up and ready to work;
A good web developer usually knows about SEO basics and its importance and would be able to help you with that, like keyword research, SEO-optimized catalog structure, technically optimized pages, redirection, server errors and a lot more;
Web design quality may vary since it's not that hard to just call yourself a web designer – that's why you should be careful when choosing one, including both portfolio research and user review research.
To sum it all up, there's no optimal solution for everyone when it comes to website creation. Each of the described design options is fitting for a certain group, like custom sites offer a lot in terms of customizations and SEO, but not everyone can handle the cost, website builders are better for simpler websites with little to no budget but have a lot of drawbacks and are barely suitable for larger business. This leaves us with templates as the more balanced choice out of the three options.
If you're looking for a solution that has SEO potential and tools to manage it, and you don't have the funds to afford the custom design – then using website templates is most likely your best option.