The 10 most common mistakes in B2B SEO
Date :
May 25, 2020
By
Search engine algorithms are not constant and changeable. The good news – this is why every self-respecting B2B SEO expert is in constant self-development. The bad news – the rules of the game, which only yesterday brought revenue or traffic suddenly stopped working and brought the marketing metrics down.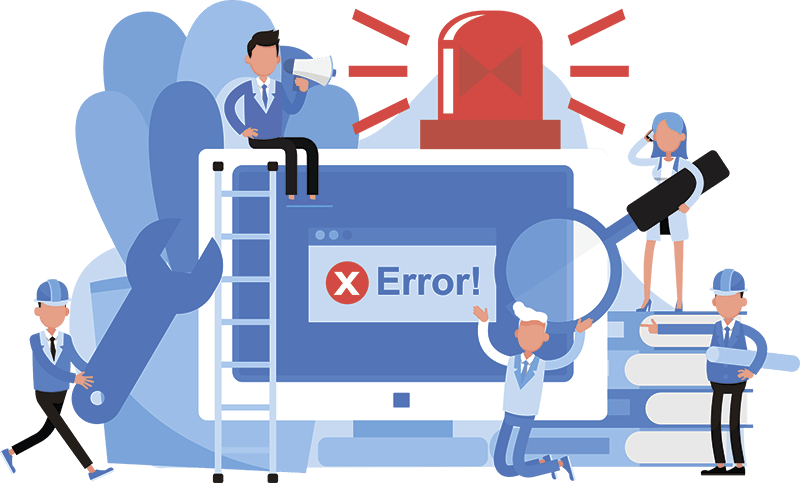 Which SEO errors can and should be avoided on B2B website?
When working on SEO projects in B2B sector I am regularly facing with the issues which can bring all efforts to the starting point. I decided to highlight the most common ones and add the way on how to avoid them or correct the situation if the error has already been made.
SEO efforts for one-pager websites
Numerous websites about digital marketing propagate one-pagers as the most effective business tool in terms of quick traffic generation and its conversion. This is not the case – by promoting a one-pager, you can only work with a very limited group of keywords – 2-4 key ones. Everything else is left overboard.
In order to progress on a broader set of keywords (which is a frequent case in B2B SEO with long sales cycles) different landing pages are necessary for each of the keyword groups, so that each of the pages covers each search intent. In B2B SEO it's vital to have different types of landing pages: blog post, product or service page, glossary article, etc.. Each page type is working for different keyword types: informational, educational or transactional ones. This allows you to get more traffic from search engines.
The small set of target keywords
This error emerges from the previous one. It is committed by those B2B SEOs who believe that it is not worth spending a lot of time collecting the maximum set of keywords possible. Such B2B SEOs restrict themselves to a small group of queries. With the current search results for B2B-related keywords the trend is opposite – SEOs must collect as many key phrases as possible.
Low-quality content: stolen, spammy, "water"
A frequent occurrence in B2B SEO is when the contractor requests content from the customer and the manager borrows it from another website with minimal edits. Search engines do not like such content, this can result in pessimization in search results.
Another problem is that the content is not plagiarized but has extremely low quality. Generally this is the usual case with texts written by low-cost copywriters. Such articles are not informative, with a large amount of «water» including spammy keywords.
If there is a lot of such content across the website, the entire domain risks getting under sanctions from Google Panda and Google Fred filters. Write unique texts, involve expert authors, who are well-known in your B2B segment – this is the key to success in B2B SEO in the long term.
Meta tags play an important role in B2B SEO optimization. One of the serious problems I've seen is losing meta tags as a result of works on the website. The reasons for this may be:
technical fixes of any kind;
moving to another hosting;
incorrect operation of CMS plugins, etc.
The solution is to make the full website backup before any more or less serious technical changes. And after their completion – the overall check of the key parameters.
For the technical audit I usually use the following popular scanning tools:
Screaming Frog SEO Spider
NetPeak Spider
Website Auditor
No prices on the website
This error is one of the most serious in SEO even if the prices are rarely shown on B2B sites. This kind of issue is most common on B2B sites because sales people usually need to individually calculate the cost for each customer.
Someone is afraid to push the customer away with a high price or to lose a good deal with a maximum profit. Someone hides prices from competitors. There are different motives but this is an error anyways – the transactional keywords incl. words like "buy", "price", etc. will not be ranked high without the exact prices or without the estimated calculations.
Bad indexing of the B2B website
When indexing websites search engines use the so-called crawl budget which specifies exactly how many pages on your website will be indexed per visit of the search bot.
Crawl budget is spent efficiently on a website with a verified structure. But if the structure of the website is overloaded which is a frequent case on B2B websites, it will be wasted.
The same happens if the B2B site has a lot of «garbage pages»: admin panels or reporting, technical pages and all the rest on which the crawl budget is also spent. This strikes at the website's rating, gives it lower positions in search results, and as a result, you lose traffic.
To avoid the problem, SEOs need to close unnecessary admin and technical pages from indexing and think carefully through the structure of the website.
Website search results, filters, and dynamic pages
This point partially overlaps with the previous one, since the listed page types should not fall under the indexing by search engines. They are useful for the user on the B2B site with bad navigation or huge catalog, but in the search index they are just garbage. Moreover, there might be thousands of combinations of the same filters and thus – thousands of garbage pages with duplicated content and meta-tags.
Such pages are usually generated upon a similar template in the URL and based on this information it is possible to write appropriate directives in robots.txt file or preferably use noindex tag in the website code.
The website is not optimized for mobile devices
Mobile and desktop search results differ and the number of mobile search users is growing even in B2B as companies are supplying employees with mobile devices which they can use to work remotely during the current COVID-19 pandemic. The adaptive design or the prepared AMP page is an important factor that affects the position of the website in the search. This is also reflected in user behavior ranking factors – if browsing the website on a smartphone is uncomfortable, the bounce rate will be higher which will result in worse ranking.
Automated backlink purchase for linkbuilding
Some B2B websites in 2020 still use automatic and semi-automatic methods to get backlinks. For example, an automated submission to the hundreds of half-dead catalogs, the database of dead forums and other similar stories.
It makes no sense today, such backlinks would not bring any benefit. Moreover, when the mass of such backlinks becomes critical, there is a high probability of pessimization in search results for doing this.
Behavioral factor cheating
The influence of behavioral factors is perceptible in any B2B niche – the closer you get to the first page in Google, the more important they are. It is definitely not worthwhile to engage with their cheating. However, there are specialized exchanges and web services that offer such a service.
It's really easy for a search engine to identify an automated activity trying to improve the session depth and bounce rates: even if the IPs change, etc. The fingerprints of the browser Chrome built by Google can easily make Google aware and you'll get penalized.
There is no point in taking risks if you can work with the website and improve these metrics in a natural way. Make an audit and fix technical errors, improve the usability and commercial quality of landing pages, increase the CTR of snippets in search results – that's way better for your organic B2B SEO.
Conclusion
B2B SEO is specific – big websites, multi-vendor catalogs, lots of filters and navigation, etc. Keep this all in mind and apply the generic SEO principles to your B2B website. The results will definitely come if doing everything in accordance with Google standards.