Rank Trackers for Yandex: How to Make the Correct Choice?
Date :
August 30, 2021
By
Rank tracking is an essential part of SEO as a process that allows you to find problematic landing pages and also to measure the overall website effectiveness from the search engine rankings standpoint. Since the feature itself is highly important, there are both paid and free tools for rank tracking on the market.
Smaller projects and one-time checks would have no problems using free tools whatsoever. However, when it comes to actual enterprises and regular monitoring, you'll need a dedicated solution with an extensive amount of features.
Before we begin analyzing examples of rank tracker for Yandex, it is worth noting that, despite the fact that there are many similarities between Google and Yandex as search engines, their search results still tend to vary a lot, mostly because of various geographical factors that Yandex takes into account.
Since Yandex is, in fact, a Russian search engine, it is much more knowledgeable about the nuances and specific things that people might search for. For that reason, the difference between search results in Yandex and Google search engines is inevitable.
Top 5 Yandex rank trackers
Below you'll find a list of the top 5 Yandex rank trackers, as well as general recommendations about choosing the correct solution for your specific use case.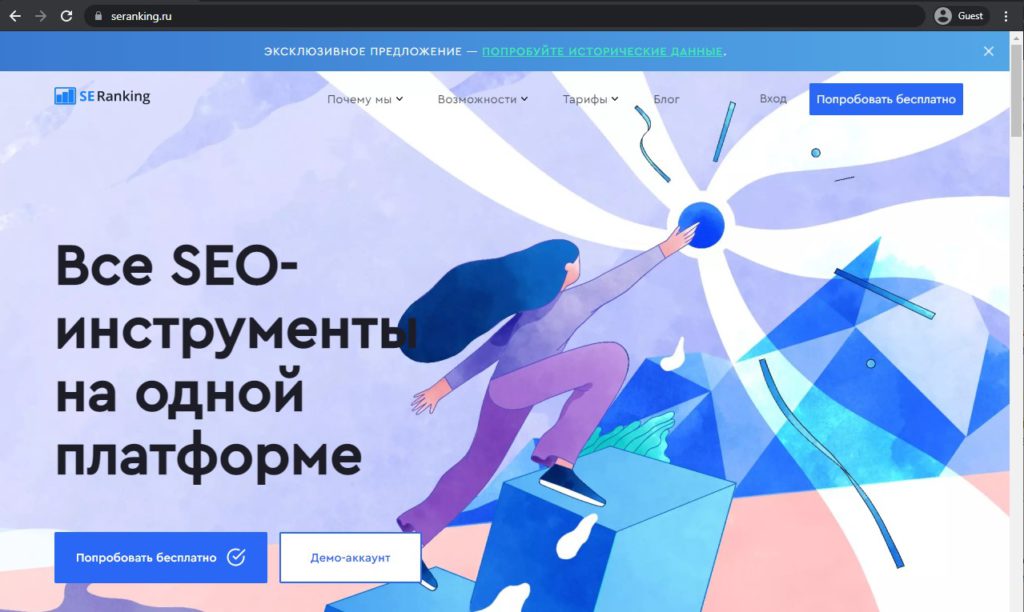 SeRanking is an extensive toolkit for SEO professionals that offers extensive rank tracking features. It is a great example of a professional rank tracker for Yandex, with tools like:
The ability to automatically pick the most relevant keywords based on your website's contents
The ability to import keywords either from one of the analytics systems, or directly from a XLS/CSV file
The ability to add up to five competitors that you can compare your search results with – these can also be added automatically based on your keywords
There are also some regular features, such as analytics integration (Yandex.Metrics, Google Analytics), extensive rank tracking reports, visualisation of your search results within a specific time frame, competitor monitoring, and so on.
There is a two-week free trial available, and then you can pick between paying for each rank tracking request individually or to buy a subscription (based on how frequent you want the rank tracking to be performed).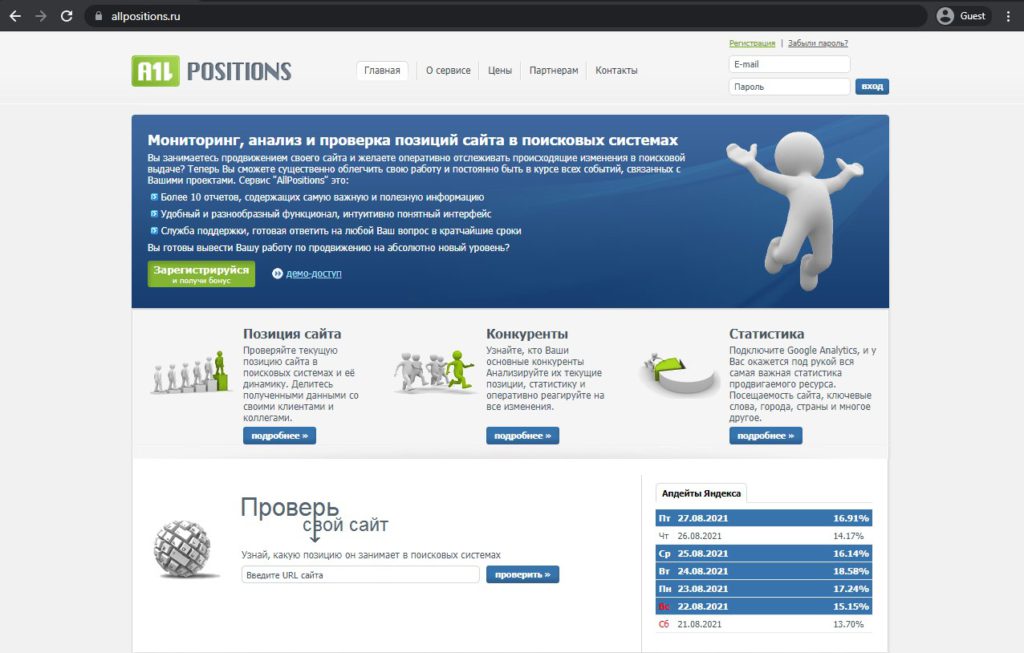 Allpositions is a Russian rank tracking service with many interesting features. It's relatively easy to work with – all you have to do is to sign up, create a project, and add a new domain, add target keywords and you're good to go.
It can work with most of the search engines that are available for Russia, Belarus, and Ukraine – such as Google, Yandex, Mail.ru, and so on. You can also set up the frequency of rank tracking requests, from daily and weekly to monthly, after each of Yandex's own updates, and on-demand. It can also group keywords and show the time frame of the most recent Yandex updates, as well as how much they're affecting the search results.
The payment model of the service is relatively simple – every action is paid for with Allpositions' own currency called "coins". It costs 1 coin to check 1 keyword position of a website, and the coins themselves are cheaper to buy in bigger packs. There is a free trial, too – every new user gets 1000 coins for free.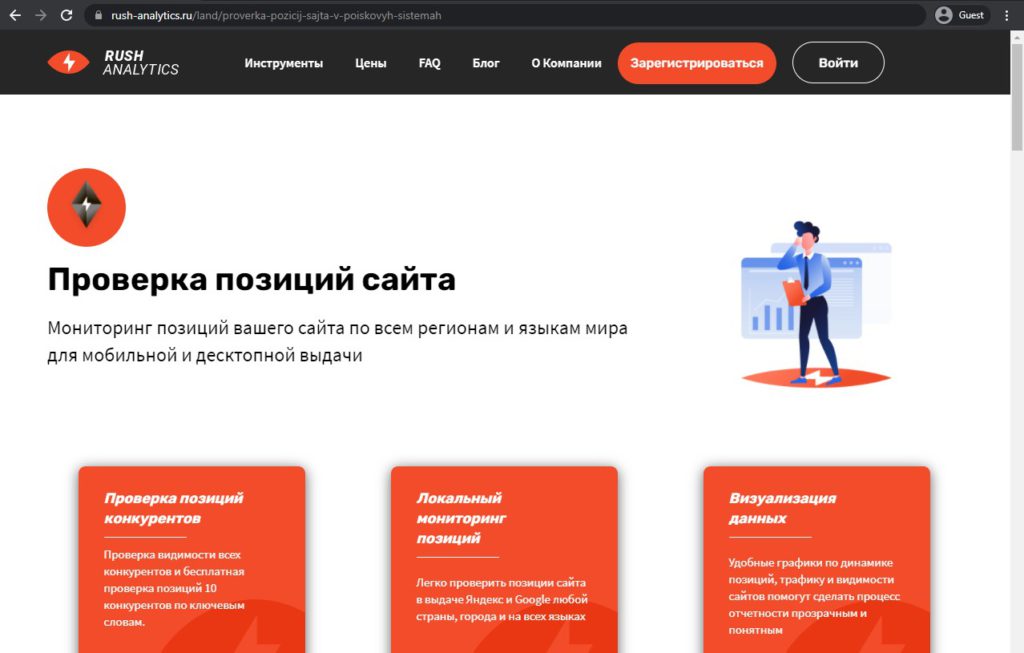 One more example is the SEO-related service that mostly deals with analytical information – which includes rank tracking in both Google and Yandex. Some of its main features are:
Competitor search rankings
Ability to track Google search results in the entire world (only Russia, Belarus, Kazakhstan and Ukraine are available when it comes to Yandex search results)
Customizable visuals for search results in a specific time frame
Ability to work with both mobile and desktop search results
Offers a week of free trial and 200 search requests for all new users, after that offers several different tiers of paid subscription with different limitations on the number of rank tracking requests.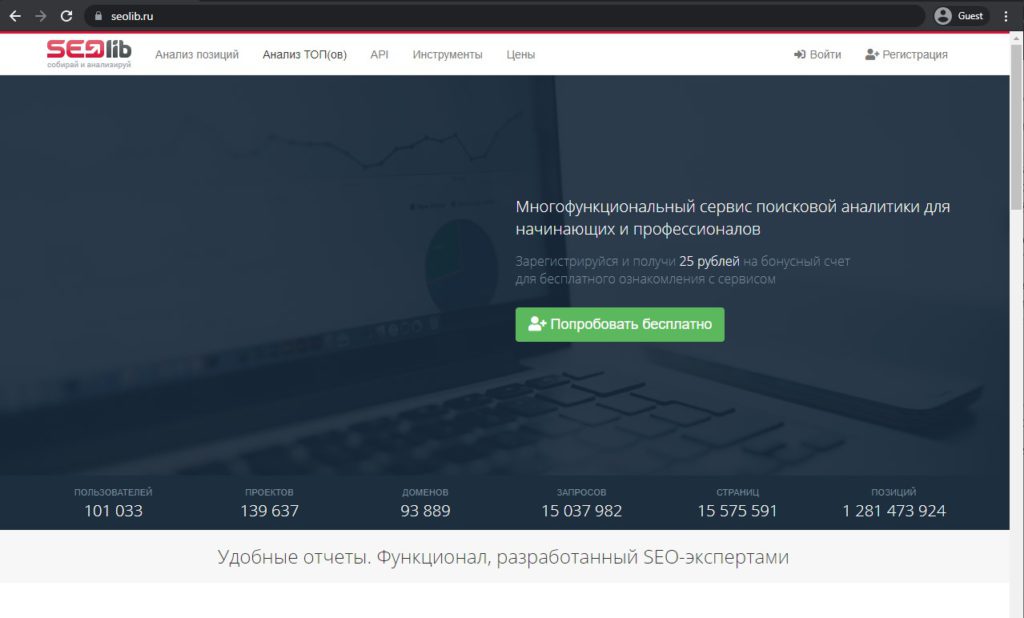 SEOlib is a slightly different service since it is mostly used by webmasters, and yet it also offers rank tracking as one of its features.
There's also your usual rank tracker for Yandex feature list, with scheduled tracking requests, graphical representation of website positions in the search result, report exporting into XLS, CSV, or XLSX, keyword grouping, device grouping, and so on. There's also customizable guest access, and automatic report sending, to name a few less common features.
There is also a free trial of sorts – each new user gets 25 RUR for free, but the cost of one rank tracking request can also vary greatly depending on the search system, the number of check-ups, and some other characteristics.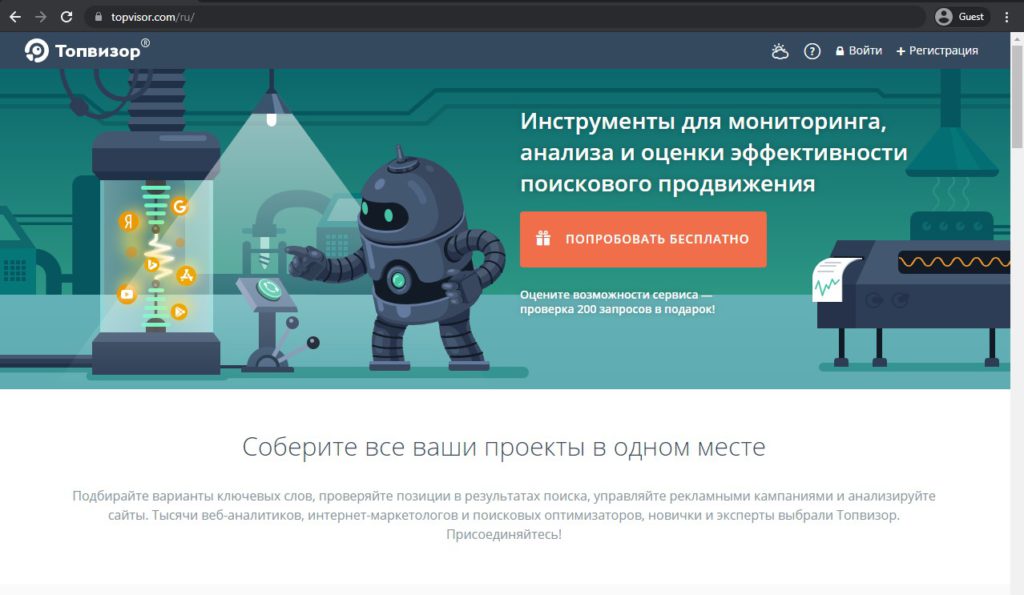 Topvisor is another example of a search analytics service that offers rank tracking and rank monitoring, among other features. Some of the features that this service offers are:
Search result groups
Rank tracking based on device type
Rank tracking within a specific geographical region
Capability to show a list of top-performing domains for each keyword combination
Capability to put rank tracking on a specific schedule
Integrations with Yandex.Metrics, Google Analytics, webmaster panels, etc.
The service itself works on a freemium model, offering free functionality with limitations and a starting fund of 10 RUR after registration. Every search request costs 0.05 RUR. After those are gone, you're free to keep using the basic version by simply adding funds to your balance inside of this service, or you can buy one of the premium subscriptions that offers a discount for each search request – down to 0.03 RUR for the XL subscription.
How to choose a rank tracking service
Since the Yandex rank tracker market is relatively big and varied, it might be hard to figure out what to choose. Here are some leading questions that can help you figure out what service do you really need for your rank tracking efforts:
Do you need a Russian version of the software or not?
How often do you need the rank tracking software to refresh search result data?
Which search engines do you want to work with?
How much are you willing to pay for rank tracking as a whole, and which payment method is the easiest one for you?
Which extra features are the most important for you (competitor tracking, guest access, keyword grouping, etc.)?
How many search requests are you planning to track and monitor?
Checking Yandex rankings without third-party software
It is true that, technically, you can just check for the search results in Yandex by hand, with no software needed – this applies to other search engines, too. You'll still have to change your search location manually beforehand, though. It can be done from Yandex's main page by clicking on one of the two locations:
Clicking on the city name in the upper left corner lets you change search location immediately
Clicking on the Settings ("Настройка") bar in the upper right corner shows a drop-down menu, in which you'll have to choose Change city ("Изменить город") option
Both of these actions would get you to the region select page. You can also get there directly from any of the search results pages – by clicking a city's name with a crosshair icon directly under the page counter at the bottom of the page.
It is worth noting that the region selection page has a "detect automatically" option that is turned on by default. To enter the location manually, you'll have to un-check this option and enter the city in question below it. Clicking "Save" should change your location preferences accordingly.
It is worth noting that, while changing location would affect your search results, Yandex also uses other means of search result personification, which might affect the results of your manual rank tracking efforts.
Conclusion
Rank tracking is an essential part of SEO, and it's far easier to perform automatically, rather than manually – this can be applied to not just Google, but Yandex, too. While there is a particularly large market of Yandex-specific rank trackers, the abundance of choice allows for everyone to find the solution that suits their specific purpose or use case.