Social Media for B2B Lead Generation
Date :
September 8, 2021
By
Social media can be successfully used to generate B2B leads in many different industries. But what is the best social media platform for B2B lead generation? While it is possible to generate leads using the majority of popular social media websites, some of them are better at specific tasks than the other ones. Today I'll try to figure out how we can utilize various social platforms for B2B lead generation. This post includes social media lead generation strategies using Facebook, LinkedIn and ReddIt.
LinkedIn
When it comes to B2B lead generation, LinkedIn might just be one of the most effective platforms. It can be used for many different marketing-related purposes (lead generation, demand generation, etc.), has a massive audience of actual specialists on various subjects, and is mostly focused on businesses in general.
My personal experience with LinkedIn as a B2B marketing tool started way back in 2013, and at that point, it only had the simplest pay-per-click model and the bare-bones text advertisements as their only way to promote something.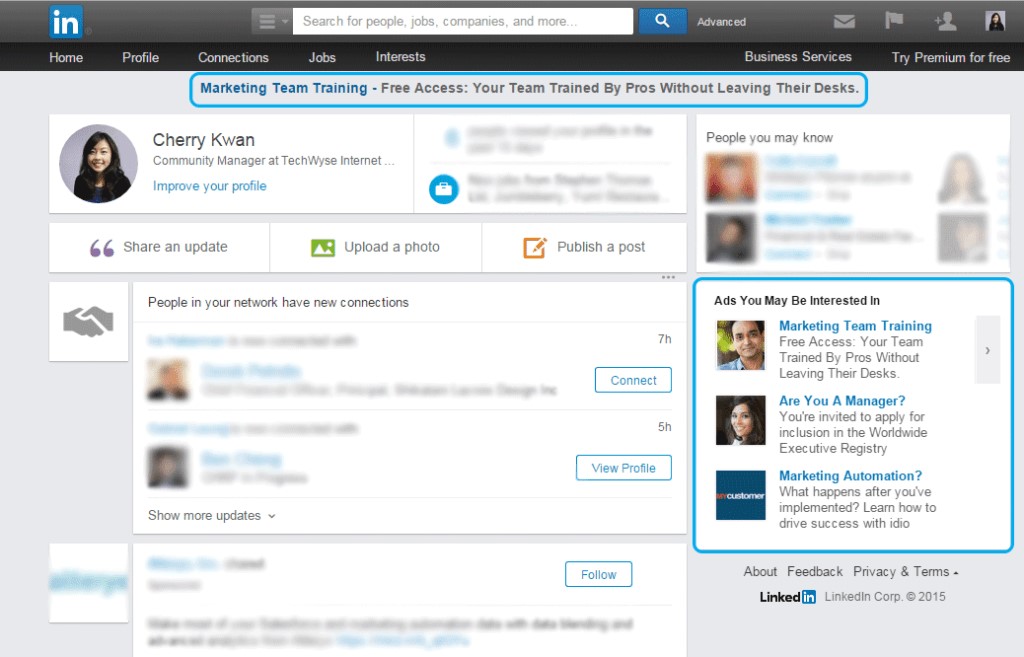 Fortunately enough, LinkedIn has grown technology-wise a lot since then, and is now offering many different options when it comes to targeting, campaign types, supported ad formats, and so on.
I'll take a look at how LinkedIn can be used for B2B lead generation, and B2B marketing in general. It's possible for us to segregate leads into two major groups: lower-funnel and upper-funnel. Lower-funnel leads are the leads that are actively evaluating different products, they already know their pain points and identified several products that allow solving them. So it's a stage where they compare the pricing, licensing terms, support options – very close to the purchase order.
This is why lower-funnel leads are mostly generated by Google Ads and review websites, and it's the exact reason why they are so expensive. The level of the ad competition on Google is very high nowadays, the bids can be up to $50 per click (not lead, but click). Upper-funnel leads, on the other hand, are the leads that only research how to solve their problem or even don't know that they have a problem (which is more about demand generation). They can be generated using many possible ways, since this is the stage where customers are often looking for additional information about the products via ebooks, whitepapers, webinars, case studies, etc.
You can use content syndication and promote the materials in social media which is cheaper compared to lower-funnel lead generation. Let's take two of these as examples – whitepapers and webinars. My experience in the field is proven by LinkedIn team themselves publishing a case study with one of my clients highlighting impressive results.
Whitepapers
A whitepaper download is a direct sign of a prospect showing interest in a particular topic, be it something generally connected with the industry your company works in, or something extremely specific, like a technology or a method. Below you'll see some of my examples of technology whitepaper campaigns in LinkedIn: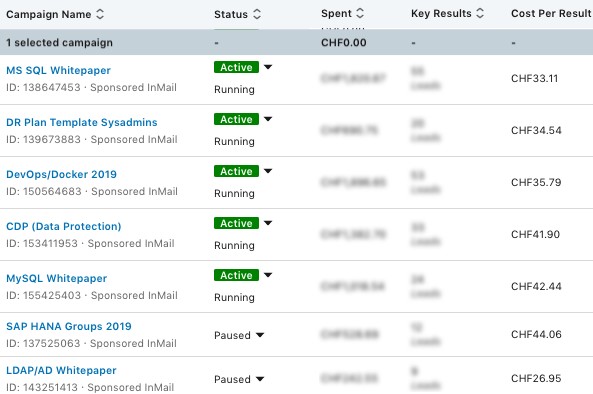 Here you can see several examples of the most successful whitepaper campaigns – encompassing Docker volumes, MS SQL databases, SAP HANA backups, and so on. Each of these whitepapers requires specific targeting. For this example with one of my clients, Bacula Systems – a backup and recovery vendor, I've performed targeting using multiple different parameters, such as:
LinkedIn Groups – may include any group on the subject, in our case it was about backup and recovery efforts;
Specific job titles – any post that is connected with backup and recovery duties in one way or another, be it directly or indirectly (via compliance, for example);
Specific skills that a person could have – anything related to an experience with backup and recovery platforms and means of generating backups in general.
As such, I've targeted database administrators, IT managers, and system administrators – with the addition of data protection officers and managers after the introduction of GDPR in Europe. All this – in separate campaigns and with different messaging.
But what ad format should be used for these campaigns? It is possible to collect these leads directly from your own ads without landing them on the website using a specific form created inside of LinkedIn (this technology is called LinkedIn Lead Ads).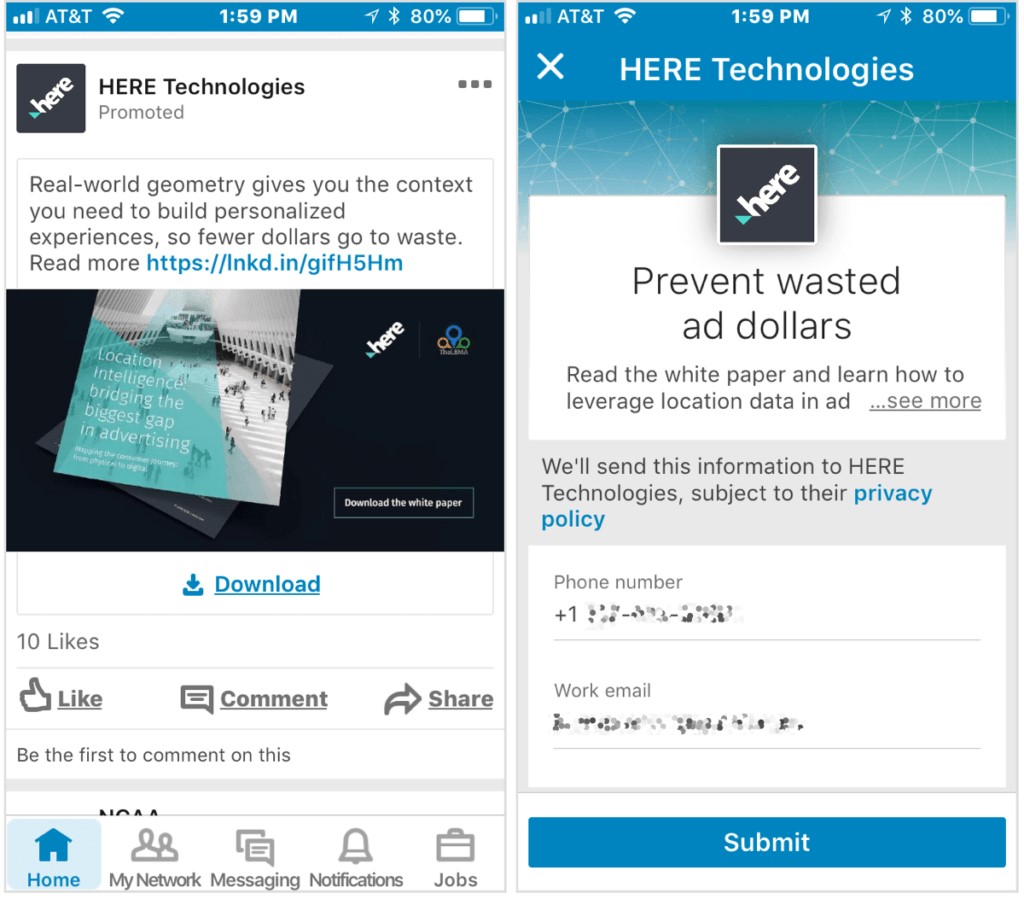 When it comes to ad formats, there are many different ones available on LinkedIn, including text ads, message ads, video ads, spotlight ads, follower ads, and so on. While all of these ad formats were tested by me in one way or another, I'd like to share a particular example of the combination of Lead Ads with Inmail messaging.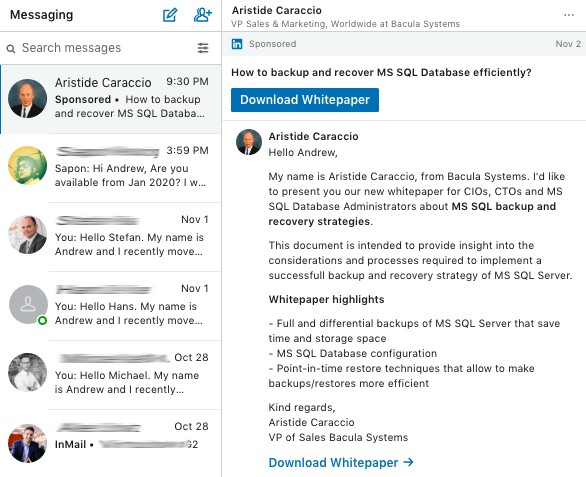 The message itself is supposed to be short and to the point, with as little distractions as possible. It's important to keep the balance in these messages, so here are my recommendations about them:
The message is supposed to be personalized with various tags, %FIRST NAME% or %COMPANY%, for example;
Provide additional information on the subject, but do not overload the prospect with it;
The main subject of the message is supposed to be clear and concise so that the prospect has a bigger affinity with it (i.e., if you're marketing to MS SQL advertisers, then write about MS SQL in subject);
Keep the introduction part as short as possible – any prospect can check the information about you or your company later;
Do not forget about the main purpose of the message in question – why was this particular Inmail sent to this specific prospect?
I have talked more about the topic of LinkedIn B2B lead generation in this blog post.
Facebook
Facebook is one of the largest social media platforms. Unlike LinkedIn, Facebook is not a platform that is only dedicated to work matters, and yet it is still massive and has an extremely large number of business pages.
Some of the case studies from my personal experience with Facebook B2B lead generation are explained below. It is worth mentioning that, while the campaigns themselves seemed to be relatively successful, the leads themselves turned out to be "colder" than Google or LinkedIn ones (according to the sales team). For that reason, lead nurturing is an essential part of this process, using an automation tool of your choice, be it Autopilot, Marketo, Mailchimp, Pardot, Mautic, etc.
Visitor remarketing with Facebook Lead Ads
The company I worked with, Bacula Systems, is a backup software vendor, and their Bacula Enteprise software is based on their own open-source version of the product called Bacula Community. The idea is to penetrate the market of small businesses with the free solution and then start marketing them the feature-rich Bacula Enterprise when they've grown enough.
To do that, Bacula has a set of programs that are aimed solely at this migration process, with a number of discounts and special offers. While Bacula Community has its own website (bacula.org), we never tried to market it directly to Community users to avoid unnecessary spam. Additionally, at the time of this use case (2016), there was no requirement for registration before downloading the Community version.
After setting a Facebook pixel at bacula.org, I've realized that this is a massive audience which can be targeted. The first thing I've tried is to start with some advertising messages, such as: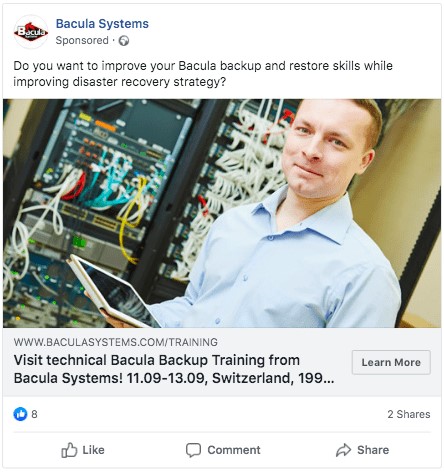 migration to the enterprise product: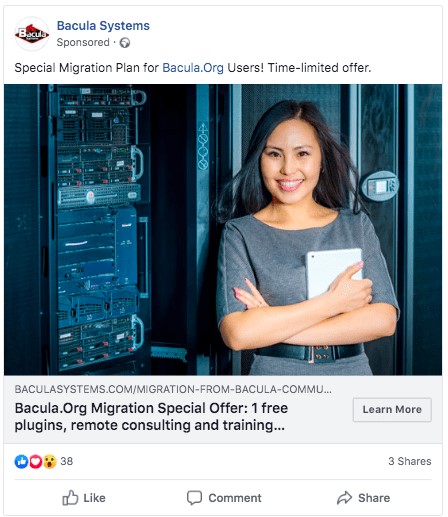 small business edition promotion: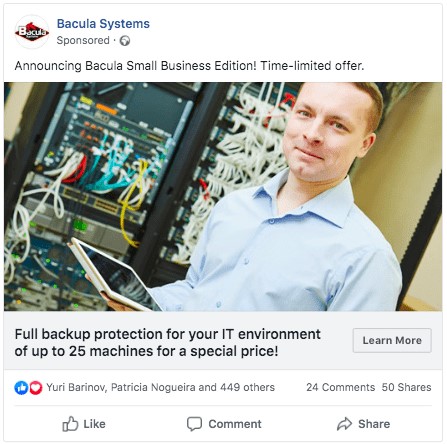 At the same time, the first version of Facebook Lead Ads was introduced, and I've tried those out. The results were surprising, to say the least:

The cost-per-lead using Lead Ads was incredibly low (3 CHF/lead), and it was basically a ground-breaker at the time. Additionally, the credibility issue was solved by Facebook offering pre-filled forms, and this boosted conversion rate drastically.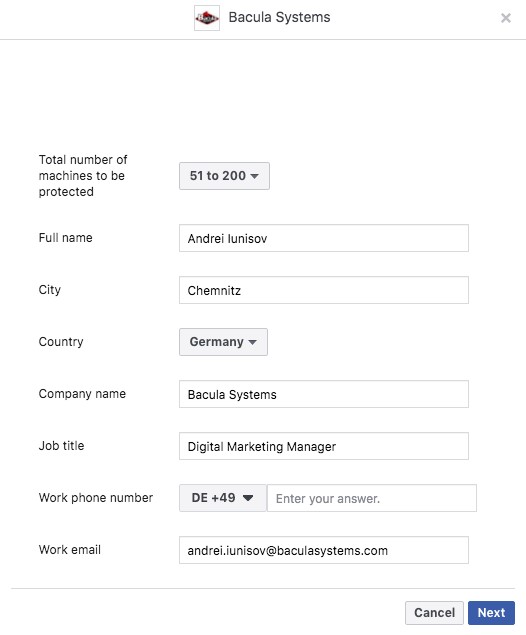 Technology whitepaper campaigns
Bacula Systems' massive advantage of working with the majority of existing hypervisors, databases and other applications was an excellent selling point, and we used it while creating specific whitepapers about each hypervisor or database backup process. To download the whitepaper, visitors had to fill the Facebook Lead Ad form (same as in the above example).
Facebook allows targeting multiple job titles and interests, in addition to specific geographical regions and age brackets – this was exactly what we needed for our whitepaper campaigns.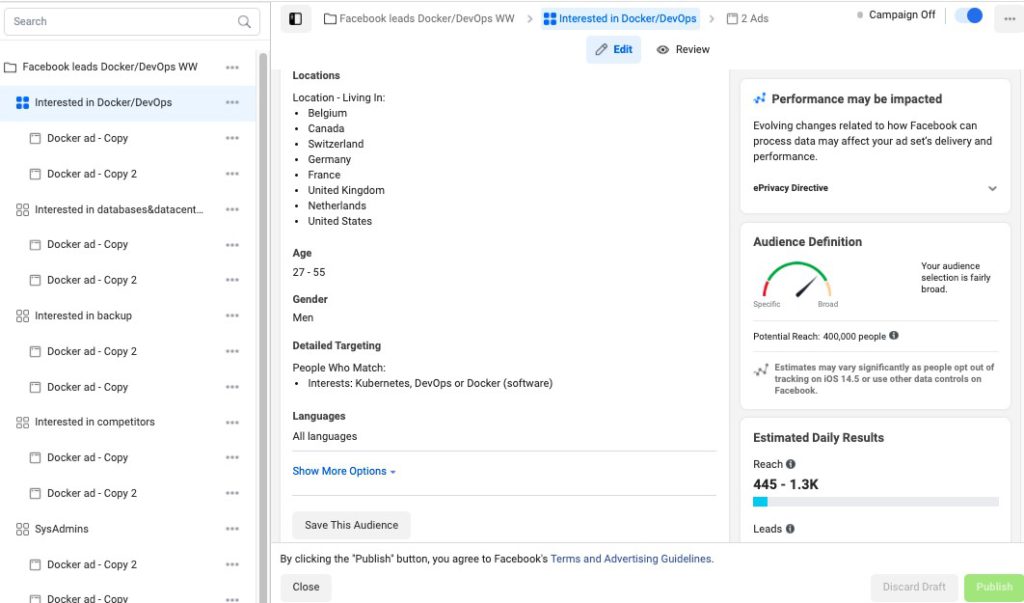 Below you'll see a list of some of the most successful campaigns I've executed with Bacula Systems: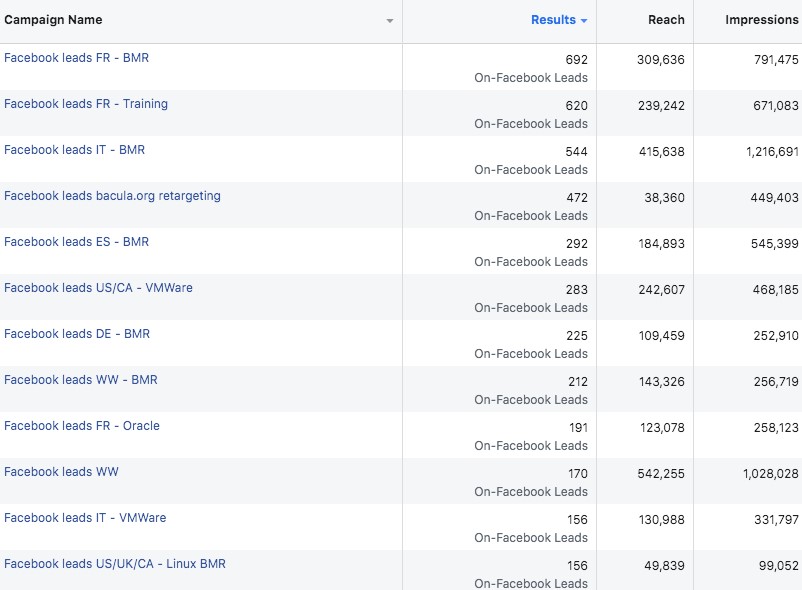 As you can see, we ran campaigns in various geographical locations (France, USA, UK, Spain, Italy, and so on), and promoted different whitepapers to various audiences (Oracle, Linux, VMware, etc).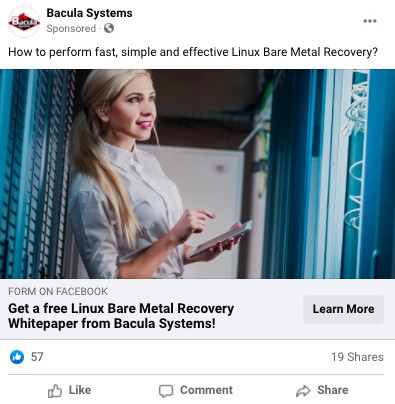 We also localized the ad messages according to geographical regions, too: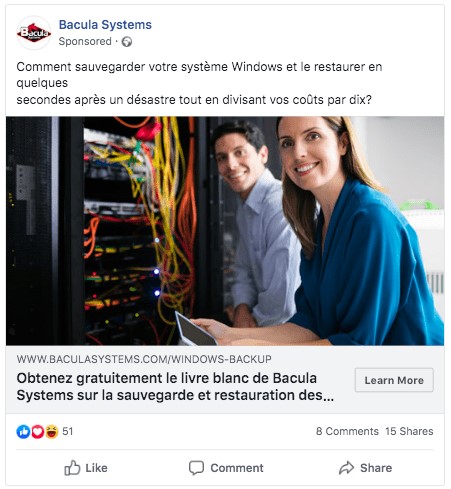 Since Facebook leads are not particularly the same as the leads you'd get from Google search – someone browsing a social media platform may not be ready to start interacting with your content right away (free trials, whitepapers, etc.), and most likely not immediately ready to buy your software right away. This is why a proper process of nurturing is extremely important. In our specific case, we've used a tool called Mautic for our email nurturing purposes. Here is the nurturing logic which lasts approximately 12 months from the start: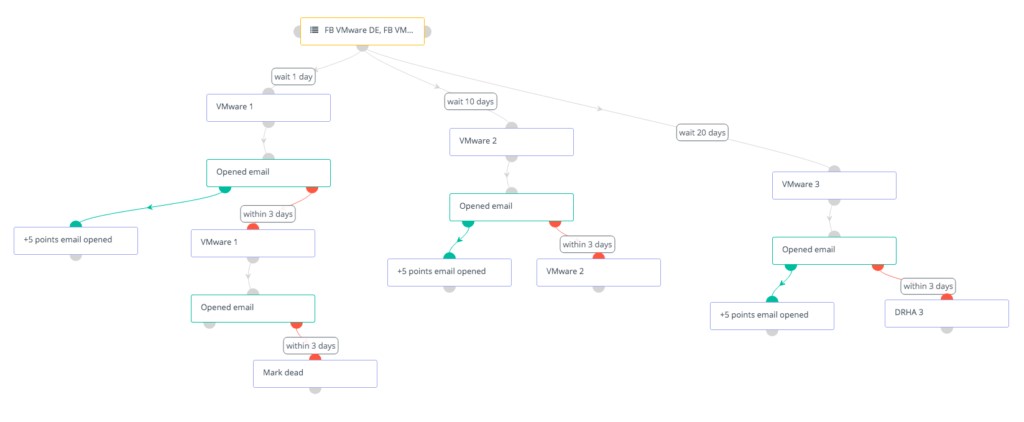 Of course, these are not the only cases and tools I've worked with. Some other marketing practices I've used include product training campaigns, webinar promotions, and so on. You can find a few more examples of my experiences with using Facebook as a social media for B2B lead generation in this blog post.
Conclusion
In this post I've looked at several different examples of B2B lead generation on 2 social media platforms. Generating leads in social media for B2B is absolutely possible and not expensive. You can start with several thousands USD for test campaigns and scale if you have sufficient results.