SEO in Russia 101. SEO for Yandex: Optimization Tips, Best Practices & Tools in 2022.
Updated 22nd December 2022
Date :
June 1, 2021

By

If you decide to start an online business in Russia, you need to take note of important information about the Russian digital market.

According to statistics for 2018, there were 110 million Internet users in Russia, and about 58% of this number has made online purchases. The number of users is growing each year, so Russia is a very attractive region for digital marketing.
Important facts about the Russian online market
– All advertising content on the Russian-language Internet should be marked with an age limit according to the Federal Law of 29.12.2010 No. 436 "About the protection of children from information that damages their health and development". You should take the target audience into account when posting information on your website;
– The level of English Language skills in Russia is lower than in any other European country. The first thing you need to do for SEO in Russia is to translate all of your content into Russian. Thus, you become closer and more comprehensible for your audience and you can also attract visitors from neighboring countries – Kazakhstan, Belarus, Armenia, Azerbaijan, Georgia;
– In Russia there are 3 own domain zones: 2 latin (.ru and .su) and 1 cyrillic (.рф). According to https://statdom.ru/, as of April 25, 2020, were registered approximately 5,000,000 .ru domains, approximately 730,000 .рф domains and approximately 100,000 .su domains. Using these domain zones can increase users' confidence in the website, which will have a positive impact on the results of search engine optimization in Yandex and Google in Russia.
– In Russia, Yandex is one of the most popular search engines. In April 2020, about 48% of all search requests in this region accounted for this search network.

Hence, you need to investigate the subtleties of the search engine and the Yandex algorithms so that you can properly organize the search engine optimization in Russia.
– The average cost per click in paid search advertising in 2019 was 30.3 rubles in Yandex and 24 rubles in Google Ads in Russia (according to Aori data). If you compare this data with the prices of search ads in Europe or North America, this is quite cost-effective but still needs control over the ad expenses and ROI.
What is Yandex?
Yandex is a Russian multinational IT company that owns the same-named search engine on the Internet, as well Internet portals and services in several countries. It occupies the most significant position on the markets of Russia, Turkey, Belarus and Kazakhstan.
The search engine "Yandex" is the fourth search engine in the world in terms of the number of processed search requests (over 6.3 billion per month at the start of 2014). According to the evaluation of Alexa.com, website yandex.ru occupied in September 2018 according to the popularity the 21st place in the world and 1st – in Russia.
Currently, Yandex is an impressive IT company offering users a wide range of services, including:
Mail
Translate
Disk
Browser
Taxi
Money etc.
Although Yandex and Google are competitors, there is still a certain similarity between them, and some methods of Google SEO are appropriate for Yandex SEO optimization. However, compared to promoting Google in German or English, the Russian-language SEO in Yandex has a number of features that we'll talk about below in this article.
Why do I need a special SEO in Yandex if I'm already doing one at Google?
Why should you spend time and effort with Yandex SEO in Russia if your website has a good Google ranking? There are differences in the algorithms of these search engines, so if your website is optimized for Google, this does not mean that it receives a high rating in Yandex.
Search engine optimization in Russia must necessarily consider the Yandex ranking factors, e.g.:
Force of Yandex in the morphology of the Russian language. It is perfectly oriented to Russian grammar and semantics and therefore better indexes Russian-language websites;
Locality of the search Yandex and the availability of additional services connected to the Yandex search and providing additional traffic, namely Yandex.Handbook, Yandex.Ether (Yandex.Video) or Yandex.Maps;
Yandex special attention for commercial ranking factors (a kind of analogue to evaluating the quality of E-A-T content on Google).
How to collect keywords using Yandex Keyword Planner Service (Wordstat)?
As the description suggests, Wordstat is a keyword planner tool from Yandex that offers a very simplistic approach to keyword analysis in SEO for Russia – and all of that is inside your own browser. This Yandex SEO optimization tool itself has a very minimalistic interface that expands the original Yandex search page's functionality.
First of all, it's important to mention that only one keyword can be analyzed per search. To begin the Yandex SEO research, you have to type the keyword in question into the search field and press "Submit". After that, you'll see a number of new options added to the search field, as well as below it.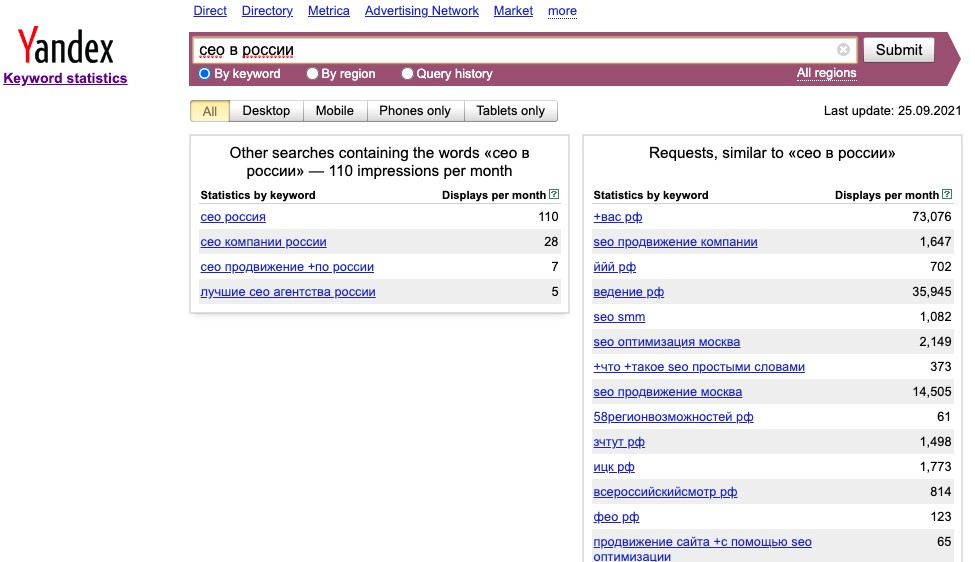 One of the two biggest fields you'll be able to see immediately contain similar and partially similar keywords – this provides you with a lot of information to aid in your efforts to perform SEO for Yandex. The left field shows you the number of impressions for this particular keyword and lists 20+ more keywords that contain the requested search terms (with the entire keyword included if it was more than one word originally, just like a broad match in PPC).
The right field, on the other hand, shows a number of potentially related keywords, along with their impression counters. You can also choose to sort keyword results by region in two different forms – as a list and as a color-graded map.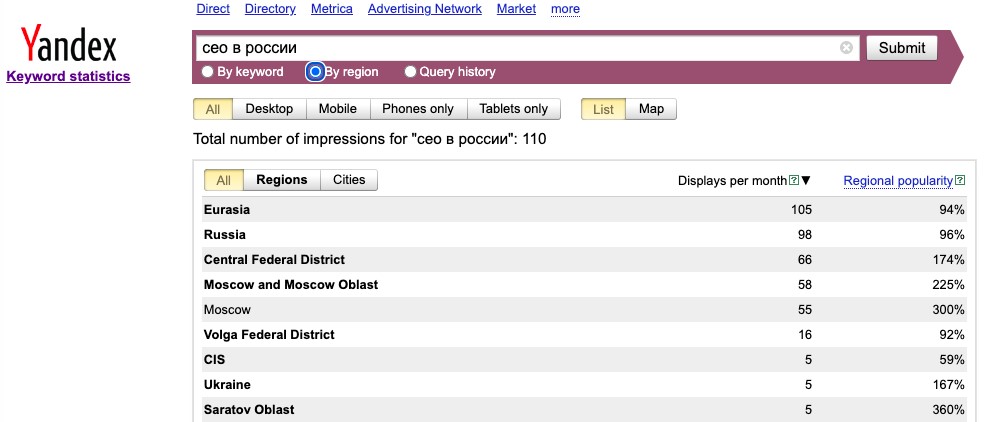 Two remaining features allow you to see the historical search results on a specific keyword, as well as the ability to filter mobile-only impressions. All of that is crucial information for any Russian SEO attempt with Yandex. You can collect keywords this way, research why your traffic is going up and down depending on the seasonality of the particular keywords and also research keywords per region if you're doing local SEO in Yandex.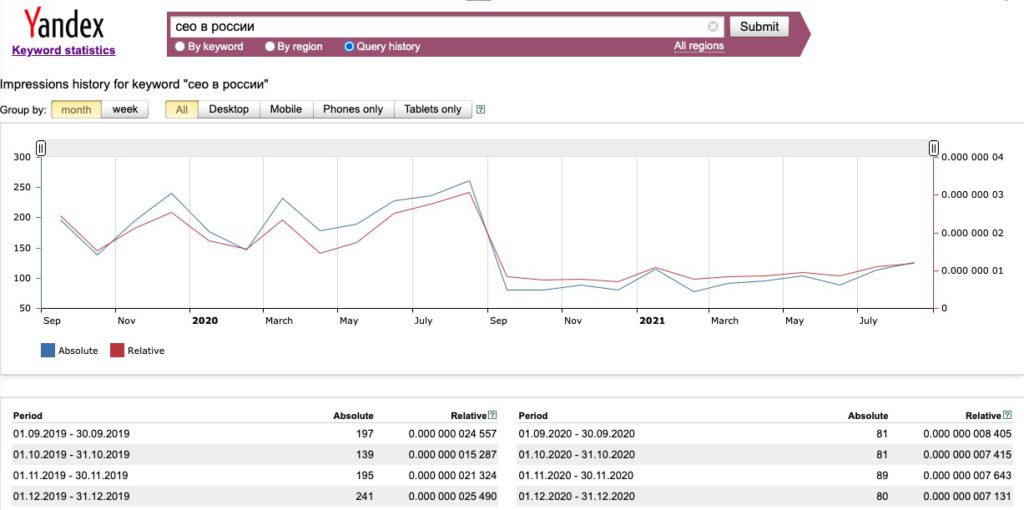 The main ranking factors at Yandex SEO
There are more than 1,200 factors that influence the success of SEO in Yandex. Moreover, in the classical scheme 6 main groups can be distinguished into which all these factors are divided:
Host – data on the age of the site, on the domain name, on the domain zone;
Technical SEO – response codes of the server, availability of duplicates, download speed, etc.
Content (text) – text relevance in different areas of the document;
External links and internal links of the website;
Commercial – assortment, availability of prices, phones, office, delivery etc.;
Behavior (internal and external) – time on the website, depth of viewing, CTR at SERP, etc.
User behavior on the website
Behavioral factors are one of the most important factors that search engines take into account when ranking websites in the search results. And if Google does not directly confirm the dependence of the website's rating on user behavior, Yandex openly declares that the actions of the visitors have a major influence on the rating of the website. For Yandex, this factor is even more important than backlinks.
Various factors are taken into account when analyzing user behavior. The fact that a visitor spends a lot of time on the website and navigates through the pages shows, for example, the interest of the website and the value of its content. Websites that get a visitor carried away and encourage them to linger are ranked higher.
The bounce rate is also taken into account. If the percentage of visitors who have visited your site and left immediately is large, this is not optimally reflected in the rank order of the website.
However, Yandex looks more closely and also analyzes user behavior after they leave your website. If a visitor switches to a competing website after viewing your website based on the results of the same search, Yandex assumes perhaps that the content you offer is not relevant or useful.
You can effectively monitor user behavior by analyzing server logs or using Yandex.Metrica or Google Analytics.
What is useful to pay attention to:
Sources of attendance. It is important to know what resources attract the main visitor stream for you. When new visitor sources appear, analyze them. Maybe they attract a different audience, and you should adapt your content to their needs.
Landing pages. Track how visitors perform targeted actions on the page. Are important links conveniently located? Do users follow a predefined conversion path? You can change the elements on the page and see how changes affect visitors' actions.
Search requests. Learn for what questions the main stream of visitors comes to you. The report can also show you new search phrases that interest users in favor of you.
Technical stuff of users. After you have received information about the technical characteristics of the user devices – screen resolution, operating system, preferred browser, Internet speed, – you can optimize your site for these parameters.
What exactly is not to be done is to try to manipulate the behavior of the users. Yandex easily detects, using its algorithms, abuse attempts and strictly punishes violations.
Here are the methods that Yandex will definitely not approve:
Intrusive pop-ups and aggressive ads. No one likes a lot of advertising, it interferes with content viewing, distracts and annoys;
Use of any kind of fraud. Attempts to mislead users when a third-party program or malware is downloaded while downloading a single file are considered fraud and will be severely punished;
Use of software to simulate the actions of visitors. Any cheating, and particularly methods that emulate user actions are considered spam by Yandex and are subject to strict sanctions.
 Website content in SEO for Yandex
For any search engine, the quality of content is crucial. When a website offers interesting and useful content that responds completely and succinctly to a query, this has clearly a priority for search engines. Google places high demands on the quality of content, but Yandex is even stricter in this regard.
When optimizing your site for Yandex, you need to consider Yandex filters. They filter websites with low quality and exclude them from delivery. In general, an analogy can be drawn between Yandex filters and the Google Panda or Fred algorithms.
To what the Yandex filters pay attention:
hidden text on the page. White letters on a white background or other labelings, which are hidden from the users, are sure to be noticed by the filter.
keyword lists. A too high concentration of keywords on the page can be considered as spam.
a large number of links that are not related to the topic of the website. The placement of links is useful and justified if they correspond to the topic of the resource and their number is appropriate and moderate.
automatically generated content. The filter is so configured that it recognizes texts that were written using synonymizers and dorgens.
What to do to avoid Yandex filters?
Contemplate the quality of the content. This is a universal tip for all search engines, including Yandex. Fill the site with unique, interesting and useful information and remove duplicate content. Make sure that the content is well structured. For clarity and attention, add infographics, images or videos. Make sure that the content of the texts meets the requirements of the users and not the search engines. Note that commercial factors are extremely important for Yandex. Therefore add traditionally avoided topics to your texts – for example, announce prices, calculation models, calculators, and other tools.
Remove paid links or leave a small number. Refrain from the aggressive backlink generation if your website is younger than one year. And don't place any intrusive ads and pop-ups at all.
Focus on internal links. If visitors follow links to other pages of your website, they are more likely to find valuable information for themselves and spend more time on your website. Also make sure to place links to other reputable websites. This increases the value of the content you publish.
The correct setting of meta tags is of great importance for SEO in Yandex, as these tags determine the relevance of the text for the query. The Google search algorithms also take meta tags into account. However, Yandex is considered to be even stricter. Even minor errors can lead to undesirable results.
When optimizing meta tags for Yandex you need to consider some nuances:
Note the recommended length of the title and description tags. The optimal length of title is up to 65 characters, of description about 160 characters. The content of the title must not be duplicated in the description.
Avoid duplicating the title tag and the H1 tag, they should differ.
Avoid pages with missing title and description tags and duplicate meta tags on pagination pages.
If tags are created automatically, check that they comply with the requirements. Otherwise, they may be classified as of poor quality by the search algorithm, and the pages will lose their ranking.
Yandex recognizes both Latin and Cyrillic letters. In Russian-speaking countries, URLs in the Cyrillic letters are still preferred. The URL length should not exceed 115 characters.
Yandex began to recognize the canonical tag later than Google. With this tag, you can mark pages with duplicate content to get no penalty for them. However, the attribute rel = "canonical" can be ignored by Yandex for various reasons.
There is a great tool for checking a website for meta tag compliance – this is Yandex Webmaster. With it you can view the status of all meta tags and see possible errors.
The design of the text with h2-H6 headings and its correct formatting are of great importance in Yandex. The presence of numbered lists and enumerations also improves the formatting of the text and has a favorable effect on the result. Banalities such as unique content and the absence of grammatical errors are not even worth mentioning – this is a prerequisite.
When optimizing this group of factors in Yandex, the presence of filters should not be forgotten, e.g., over-spam, over-optimization, Baden-Baden due to which of which the document can be discounted in the ranking for the overoptimization of texts.
Commercial factors – Yandex SEO specifics
In 2011 Yandex reported on the use of new factors for ranking commercial websites. There were announced important criterias such as trust in the website, the quality of services, the easy selection and the design. Initially, these factors were utilized only for ranking websites in the Moscow region, but since 2013 they are used everywhere.
Commercial factors have a major impact on the ranking of websites. Therefore, be sure to follow your requirements for search engine optimization in Russia.
In which areas you should work:
Publish detailed contact information about your company. Visitors to the website should be able to ensure that you are a real company. Therefore, specify the maximum information: addresses of offices or delivery points, all types of communication methods: email address, Skype and the other messenger apps, phone numbers (it is better to have a local phone number in each destination sales region) and even registration IDs. An online chat on the website is also welcome.
Avoid using only mobile phones and email addresses in your contacts for a publicly available free email service. For multichannel phones, no communication with the ranking was identified, but for the numbers 8-800 the positions increase frequently.
Create and develop company pages in social networks. This increases the prominence of your company, strengthens confidence in the company and attracts new customers. Publish data on your groups on social networks on the website.
Offer your customers a wide choice of products. The wider the product range on the website, the greater the likelihood that visitors will find what they need here. However, make sure that there are not many products with the status "Out of stock".
Create informative product pages. The more complete the information about the characteristics of goods that the customer receives, the easier it is for him to make a purchase decision. Don't forget to specify the prices.
Publish information about discounts and promotions. Discounts alone are not only a good way to attract customers, but also an indicator for Yandex that you care about your customers.
Publish details on payment and delivery methods. A wide range of shipment and payment options is your competitive advantage.
Organize the support desk. Users should see where they can go in case of difficulties. This can be the FAQ section, Technical Support Phones, online consultants.
Tell about the company's specialists. If your company provides services, it must have a Person – accompany the description of the service with a story about who provides it.
Demonstrate competence and authority by publishing certificates, diplomas and further pieces of evidence on the website.
Reviews are no less useful for SEO in Russia, but there's no necessity to place them on every page – a separate section on the website is enough.
Information content is also important – give recommendations on selecting products or services, reference materials and answers to questions on the website – all this correlates with getting into TOP in Yandex. Think for yourself about how you can make the website even more user-friendly. Sometimes it is useful to look at your resource with the eyes of customers. Perhaps you will see new possibilities to improve it.
It is also useful to browse competing websites at the top of the search and learn from their experiences.
Technical factors in SEO for Yandex
The main technical factors for Yandex correspond to identical factors in Google.
Server response codes (no 4** and 5 ** error codes);
The speed of loading the site (and the availability of Turbo. Pages);
Availability of a mobile version;
Code cleanliness (absence of large CSS and JS blocks);
Availability of the SSL certificate (secure HTTPS connection);
Correct indexing and configuration of the robots.txt file;
Correct Sitemap.xml;
No page duplicates;
Missing redirecting chains within the site;
The location of the server relative to the target group.
All this is generally the basis without which it is impossible to achieve a noticeable result in the website advertising in Yandex and Google, if this is done wrong.
You can get as many external links to your website as you like. However, if these consist exclusively of duplicate content, you cannot achieve a positive result at the action. Therefore, the list of this group is a must for any website.
Now it seems obvious that the presence of a mobile version of the site represents the competitive advantage. Yandex has highlighted such websites since 2015. Since 2015, Yandex has assigned such locations. And in 2016, a new algorithm called Vladivostok was introduced. This algorithm determines whether the site has a mobile version and assigns a higher rating to these sites.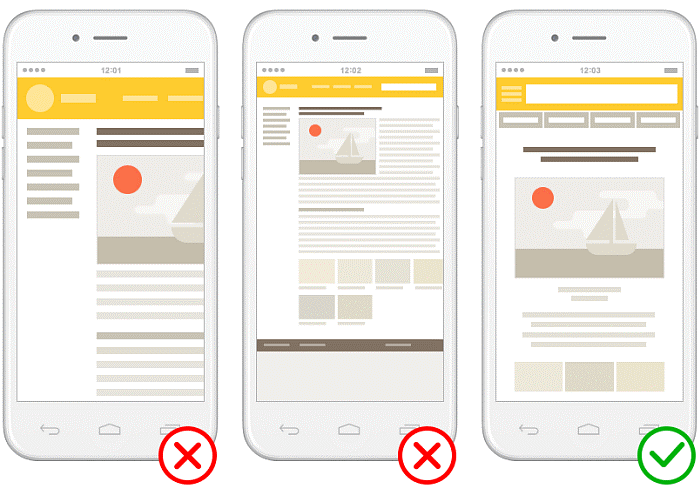 In the same year Yandex developed Turbo Pages technology, similar to AMP from Google. Turbo pages are lightweight versions of pages that are stored on Yandex servers and are loaded at lightning speed even with a slow internet connection. Such pages are marked with a schematic representation of a rocket.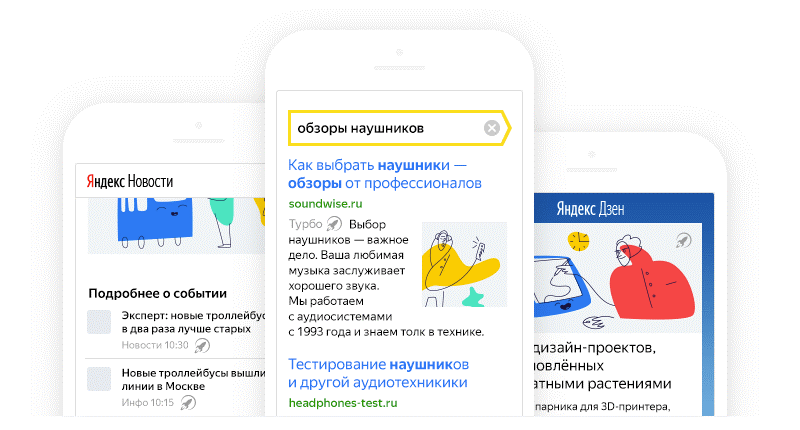 Using Turbo Pages can reduce the load on your server and also reduce the number of errors. Do not neglect the need to regularly check the mobile version of the website with the Yandex Webmaster special tool for possible errors.
Yandex local SEO in Russia
Among all requests for the Yandex search, depending on the region, 15 to 30% are those to which the user expects local, regional information – for example, about services or events in his city. The Yandex search responds differently to such requests in different regions. For example, residents of Samara find at the request of "lawyer services" professional legal services in Samara and Nizhny Novgorod – lawyers of Nizhny Novgorod.
Since 2009 residents of a local region have received a list of websites that belong to this location in response to their requests. Requests can be geo-dependent and geo-independent. Such a request is considered to be geo-independent, for which no geographical link is required, e.g., a search for a recipe or a song text.
A geo-dependent search assumes that local resources are displayed. In this way, residents of different regions receive different search results in response to the same request.
For a site to match geo-dependent queries, you must assign it a region. This is done in Yandex Webmaster, the region is assigned automatically, but you can specify it manually. After that, you need to add your company to the Yandex Spravochnik. Here you can specify up to 7 regions, each respectively must be confirmed with a real address and contacts.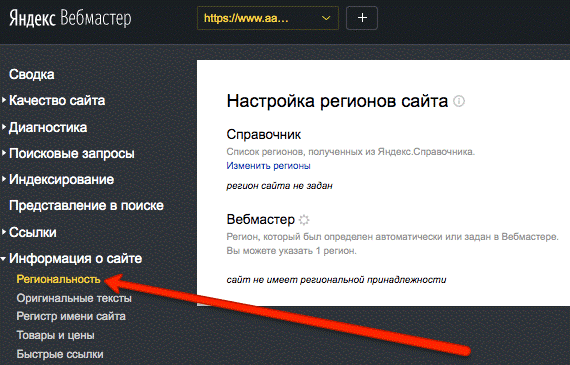 If your business is located in more than 7 regions, you can run a local SEO using subdomains. You can create a separate subdomain for each region where your company is represented.
In order for Yandex to recognize all subdomains correctly, you must add each to Yandex.Webmaster and assign each one its own region. It is also necessary to change the Title, Description and H1 tags in the subdomains and update the content according to the assigned region.
If your site is not bound to a specific region, you do not need to specify regions and configure geo-targeting.
Host ranking factors in Yandex
Yandex takes the age of the domain into consideration when ranking websites. A site with a long history is considered to be more solid and reputable. Of particular importance is the age of the site for industries such as medicine, law, retail and e-commerce.
When you create a new website in Russia, you can buy an old domain so that Yandex immediately considers your resource reliable. You can buy a domain with a history in Russia, for example, at the numerous domain auctions. The large registrars conduct these auctions, e.g., reg.ru, nic.ru, mastername.ru and others.
However, a website with a small history can be at the top of the search if it corresponds to the rest of the requirements of Yandex. It only takes some time.
It is understood that the factors of this group are mainly relative. To understand how important these factors are for ranking a particular website in Yandex, we can only perform a comparative analysis of the website that is advertised with competitors. This applies to indicators such as the age of the domain, the number of indexed pages, etc. A number of parameters, such as, e.g., the history of the domain, are generally static and here the same for everyone. The fewer owners the domain has changed, the better. However, this does not mean that a new registered domain with no history is better than the so-called "drop" with history.
Backlinks in search engine optimization for Yandex
We are used to the fact that backlinks are the key to Google. However, Yandex announced surprisingly yet back in 2014 that this factor would no longer influence the ranking of the websites. Instead, more emphasis was placed on behavioral factors.
Consider the main link ranking factors in Yandex:
The number of external links to the site;
Anchor sheet;
Credibility of the linked websites;
Number of referring domains;
Thematic proximity of the donor and the acceptor of links;
Age of donor;
The spam of the donor;
Sanctions against the donor;
The number of outbound links to external websites;
The quality of the websites to which outgoing links lead.
The speed of the link growth plays an important role – you should not speed up the process of the increase in link mass in order not to get sanctions from Yandex or Google. The quality and spam of the donor can be checked for example with special services for Russian-language SEO, e.g., http://checktrust.ru/.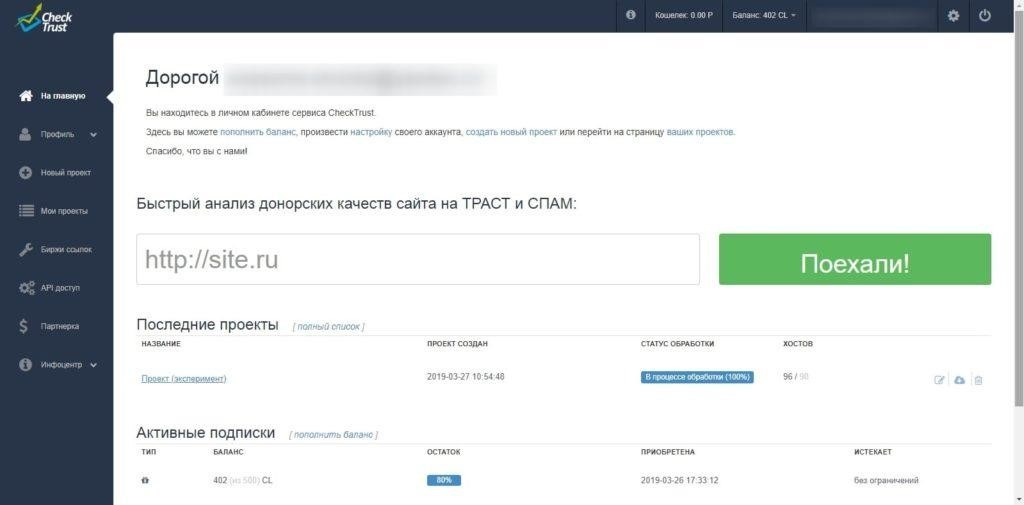 Of course, backlinks have not become completely useless, but now their quality and the traffic they bring to the site are taken into account. Even if you have placed a backlink on an authoritative website, it will not be considered until it causes traffic.
However, the random and excessive build-up of backlinks can harm you, as the Minusinsk algorithm can punish you for it. This algorithm considers SEO links as spam and punishes this with a restriction of the ranking for a period of one to several months. In Yandex.Webmaster you can check whether no Minusinsk penalty is imposed on your website.
When optimizing this group, it is important to carry out a comparative analysis with competitors and to understand whether there are differences in the quantity and quality of the reference mass. Understanding the necessity for a link factor in a particular topic is extremely relevant in Yandex, since after the implementation of the Minusinsk algorithm in a number of industries, links no longer obviously affect the results in TOP-10. Working with internal link factors also increases the link weight for targeted SEO pages.
Using Yandex Webmaster Tools for SEO in Russia
Yandex Webmaster tools is a free web service that allows you to analyze and improve your SEO performance. It's also a great way to spot Yandex SEO problems before they can damage your business.
How to verify a site using Yandex Webmaster Tools
The first step is to sign in to the Webmaster Tools page. Logging in transfers you to the "My sites" page – it is your landing page in the service. On this page, you can see the yellow "Add site" button, you have to press it to start the process.
The first screen you'll see here would request you to add an entire URL of your website, without any corrections. After that, you'll see a screen titled "Verify rights to", and a meta tag code. This line of code needs to be added to the HTML code of your website's home page in the "head" section.

Different platforms have their own methods of accessing webmaster tools – for example, a WordPress website with an All in One SEO addon has a "Webmaster Tools" tab in its "General Settings" window, which you can use to verify access to webmaster tools for different analytical systems, including Yandex, Bing, Google, etc.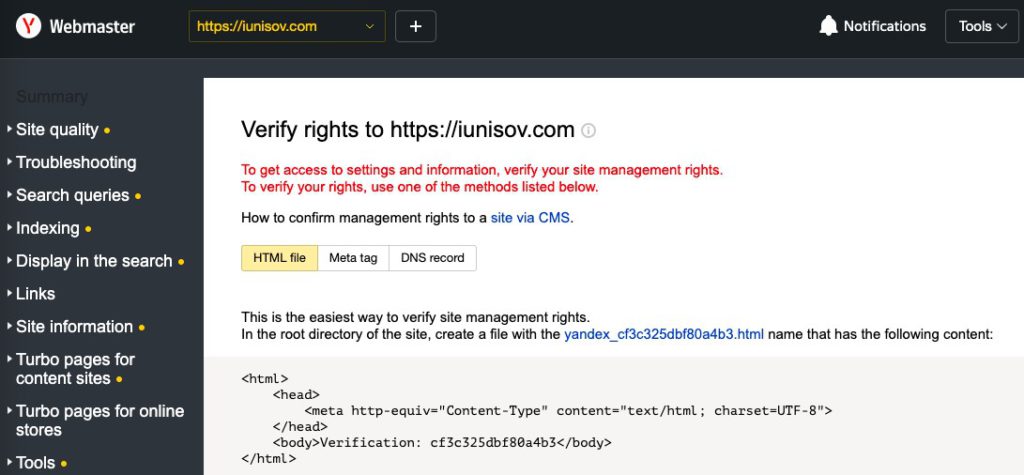 Implementing that line of verification code to your website's "head" section would allow you to bypass the previously mentioned "Verify rights to" page in Yandex Webmaster Tools and successfully connect your website to the entire toolset, allowing you to work on your efforts in the field of Russian SEO.
How to get more traffic to specific webpages using Yandex Webmaster?
Yandex Webmaster offers you additional help in your Russian SEO efforts by providing recommendations in terms of keywords. These can be used for PPC advertising, as well as for increasing the traffic from organic search. You can find these recommendations in the "Recommended keywords" tab under the "Search queries" menu tab.
With these recommendations, Yandex Webmaster uses search results and picks up both popular and unpopular web pages from your website. All of the recommendations can be exported using either XLS or CSV format. Additionally, Webmaster offers filtering options for its recommendations, so you can always input the name of the city you want to see the results of by clicking a "filter" icon which benefits local SEO in Yandex.
Let's say that you have an online store and Yandex Webmaster Tools. Your main goal is to bring more traffic to specific product pages since some of your products are most likely more popular than others. Here's what you can do:
Filter your recommendations by using specific product URLs;
Sort the filtered list so that the keywords with the most potential are shown at the top;
Make sure that the web page in question matches the corresponding search result ("product_name review" has a review of the product on the page, etc.);
Optimize web pages that need to be worked on, including title, h1, description, content and so on.
Troubleshooting website problems using Yandex Webmaster
Yandex Webmaster is checking your website for various errors on a regular basis daily. All of the errors that Yandex Webmaster managed to find are displayed on a specific page called "Site diagnostics" (under the "Troubleshooting" menu tab). It's also an option to be notified about each and every error found via email.
There are four main categories of errors: fatal, critical, potential, and recommendations. As the name suggests, fatal errors are the most serious ones, concerning server connection, security, Yandex rules compliance, and so on. Critical errors, on the other hand, are somewhat less problematic, even if they are still dangerous – revolving around SSL certificates, unusable internal links, server response time, and more.
Potential problems are not as serious as the other two and contain a lot of moderately problematic issues, such as non-existent file visibility, the existence of duplicate pages, the number of redirects, the correctness of robots.txt and Sitemap files, etc. Recommendations are the last category of the four, providing suggestions for better search results in various ways.
Both fatal and critical errors could potentially lead to pages or websites being excluded from the search results, while potential problems have a lower priority rating and only partially affect stats like indexing speed, indexing quality, etc.
After fixing a specific error, you can either wait for the entire website to be scanned again, or to trigger a manual scan – it can be done at that same "Site troubleshooting" page.
Tracking security issues with using Yandex Webmaster
Another category that is important when it comes to SEO for Yandex can be found under the "Troubleshooting" tab – it's the "Security and violations" page. It works in a similar way to the "Site troubleshooting" list – scans the website on a regular basis and provides a list of security-related issues. Each security issue includes an explanation of why this part was deemed a security issue, the contamination list (to try and find the source of the problem), as well as the means of solving the problem and preventing it from happening in the future.
After fixing your errors, you can press a specific button called "I have fixed everything" to manually initiate another scanning process to make sure that your problems are fixed. If there are no problems found during the search, you'll stop seeing the security error message, and all of the restrictions on your website would be lifted.
Internal and external backlinks management
Both internal and external backlinks to your website are researched by Yandex bots on a regular basis and are represented by two different pages: "Internal links" and "External links" under the "Links" menu tab.
Internal backlinks page is supposed to be all about showcasing internal backlinks that are not working at the time of the scan. Each one of these links needs to be fixed, since the existence of non-working internal backlinks leads to a less pleasant user experience, and hence worse ranking.
The entire list of internal backlinks that are not working can be exported in a TSV file format, and one page can hold up to ten thousand links at once.
External backlinks page, on the other hand, shows the list of backlinks that lead to your website from other sources. All of the information about backlinks is connected by Yandex's search robot, but it's not supposed to be absolute. Some of the information that this page can provide about each link includes page URL, page title, hyperlink URL, location date, data refresh date, etc.
This allows site owners to monitor new backlinks appearing, as well as to find out links that are not working. It's also possible to filter out specific backlinks via filtering using a specific parameter – links that are not working, for example.
Some of the reasons why specific external backlinks might not be included in the list:
A backlink that is formatted like a regular line of text and cannot be interacted with;
A backlink with redirect;
A recent backlink that was not yet noticed by Yandex bot;
A backlink that leads to a non-primary mirror of your website (using a different security protocol, using or not using a "www" prefix, etc.);
A page has several backlinks to the same web page – only one of those would be shown on the list, and more.
Generating insights with keyword statistics from Yandex Webmaster
Keyword statistics from Yandex Webmaster are an essential part of Yandex SEO optimization process – they're there to allow users the ability to monitor how well the website performs with its search results. You can use it to track the dynamic position of the site in the search results, find out which keywords bring more traffic, and so on. Both the geographical information and the device type can be included to filter the results even more.
The statistics are shown in the form of keyword groups – there are several pre-existing groups that Yandex offers, and you can also add your own custom ones. Two of the existing groups are "Popular keywords" and "Favourite keywords".
"Popular keywords" include a list of your keywords that have shown the best results for the past three months. "Favourite keywords", on the other hand, reveal more information about the keywords that have been marked as "Favourite" – you can add more keywords as "Favourite" to acquire detailed information about them.
The information is refreshed on a daily basis and can show several different indexes – be it CTR, clicks, impressions, and so on.
Yandex Site Quality Index (SQI)
Yandex has been using its own Thematic Citation Index (TCI) to evaluate the authority and reputation of a website for almost twenty years – up until 2018 when it was replaced by a new indicator that was supposed to fix the errors of the previous one, and it's called Site Quality Index (SQI).
Since TCI was created in the early days of the Internet as a part of an initial effort to assist users with Yandex SEO optimization, it has been struggling with adapting to the ever-changing environment for a while, and the introduction of SQI was performed mainly as an attempt to fix this situation and have a metric that is more flexible and adaptable to different circumstances.
In the modern world, you can't just measure how reliable the website is by analyzing the links that it receives, since there are many more potential sources that can influence the popularity of a said website, be it social media, mobile versions of websites, SSL security and more.
In the most basic terms, SQI is a measurement of quality for a website. It is usually recalculated on a monthly basis and has a minimum value of 0. The maximum value is currently unknown, but it is common knowledge that huge sites like vk.com have their SQI rating in six digits, at the very least.
However, results that are this massive are few and far between, so it's always important to consider each and every SQI measurement value in the context of the industry, as well as in the context of potential competitors in the field. The company itself claims that SQI is supposed to measure how useful the website in question would be for Yandex users. Some of the aspects that are used to evaluate a website as a part of Russian SEO efforts are listed below:
User satisfaction level;
The existence or absence of any attempts to influence SQI artificially;
Audience size;
Trust level for both users and Yandex itself towards this website;
Information from other Yandex services, such as maps, search, zen, etc.
It's fairly obvious here that these official criteria are mostly vague so that no one can know how to tamper with the evaluation results. Additionally, there's no double-sided connection between higher SQI and higher positioning in search results – Yandex Webmaster's SQI page claims that, while higher popularity of a website might result in both SQI and search result placements growing, there's no direct connection between obtained SQI and search query positioning.
That same SQI page in Yandex Webmaster also has a number of badges that are awarded when a specific goal is reached. These can also be used to understand more about how SQI evaluates websites. These badges are "Popular site", "Users' choice", "Secure connection" and "Turbo pages".
"Popular site" is the representation of high and constant traffic, and also a representation of a dedicated audience. "Users' choice" is given to websites with higher than average user engagement levels. "Secure connection" is all about HTTPS support, if a large part of your traffic is going to HTTPS pages.
"Turbo pages", on the other hand, is all about specific pages that have a much higher load speed – reportedly, about 15 times faster than their desktop counterparts. Yandex achieves this by using the combination of a mobile device-specific layout and the help of Yandex's own infrastructure – data from Turbo pages is stored on a company's servers. In Yandex-related services, such as Zen, News, and even in search results all of the Turbo pages have a specific icon with the image of a rocket.
The first step of creating a Turbo page out of your existing website pages is by setting up an RSS feed using one of the pre-existing plugins. After that, you have to connect that same feed to the Webmaster – or use the Turbo pages API. All you have to do next is to add the integration with the analytics software of your choice, be it Yandex.Metrica or some other, and set up advertisements to be displayed on your Turbo pages, if your site has ad monetization.
It's fairly easy to see your website's SQI rating – there's an entire section about it called "Quality indicators" (under the "Site quality" tab). That same page allows you to compare your website with up to 19 direct competitors in the field. When comparing your results with competitors and attempting to improve your ratings, it's important to remember that the indicator that is SQI is always developing and improving, so there's some form of fluctuation that is possible at basically any moment in time.
Yandex search engine changes during 2022
Going back to SEO for Yandex in 2022, there are three main enhancements that are worth mentioning as the biggest ones affecting search ranking: Proxima, Anti-Quality and Surplus. Each and every one of these changes is drastic enough to affect the results of each search query made with Yandex which is why we have to look at all of them as major algorithm updates.
Proxima
Proxima is a relatively new quality metric that was announced by Yandex. Proxima's main goal was to combat the problem of oversaturation of relevant answers to a single search query. It's an additional metric which "fine-tunes" the relevance. Proxima is supposed to combine a multitude of different signals: expertise, conversion, loyalty and trust.

Yandex announces Proxima at their webmaster conference
Since trust is an incredibly important factor when it comes to these kinds of result filtering, Yandex rolled out Proxima in several waves. The first wave only affected websites with complicated topics, such as medicine and finances (usually called YMYL which stands for "your money, your life" topics in Google Search Raters Guidelines).
The main reason for this kind of approach is the complexity of these topics since medicine or finances have a lot of nuances and rules that may confuse users and lead them towards making wrong decisions affecting their life and money. Now it is up to the search engine to make sure that users who look up complicated topics like these are only going to receive trustworthy content.
After this change was implemented for websites about complex topics, it was later applied to the rest of the content categories. Proxima is similar to how Google filters its own search results with the E-A-T algorithm (Expertise, Authoritativeness, Trustworthiness) that uses three main factors to gauge the quality of each and every website as a search result in Google search engine.
The next vital signal is loyalty. A customer's loyalty is a complex parameter that combines a multitude of behavioral factors of each specific user on the website including time spent on the webpage, the number of other pages opened (session depth), bounce rate and so on. The audience's loyalty as a parameter is also influenced by other factors such as user reviews in Yandex.Spravochnik, click-through rate (CTR) in search results, levels of direct traffic, branded search volume, and reposts or shares of materials in social media.
Expertise signal is one more vital metric that matters a lot for websites, especially the ones operating with sophisticated and complicated topics. Expertise assessment includes a lot of different parameters, and most of that assessment is performed by a dedicated person called the "search assessor". In the context of Yandex, an assessor is a specialist that evaluates the results of the search query in accordance with Yandex's quality protocols, just like Google's search quality raters and their guidelines.
Assessors are now looking for authors of the materials, as well as their credibility in the form of research papers, public presentations, reports or any other materials within the same topic, or general profile information. As such, each and every author of materials within these sophisticated topics should be presented as a specialist in their own field – with a dedicated profile that has their picture, proof of their diplomas and other credentials, as well as links to their social media pages and even hyperlinks to other researches that the author relied on for this material.
Speaking of researching information, it is a strict requirement for every statement to have a source that it was taken from. A source can have several different forms – an article, a research paper, an article of the law as well as other document types. If there is not enough information on a particular topic, it is also acceptable to use notable figures in the specific field as a reference.
Anti-Quality
Continuing the topic of expertise, as well as the topic of quality as a whole – there was a certain time period when a lot of the Yandex Webmaster users noticed their websites' positions change quite significantly in many cases. That was how Yandex's new "Anti-Quality" algorithm started working. It is focused on fishing out specific types of unscrupulous, malicious and dishonest websites.
The idea behind the Anti-Quality algorithm is to use a multitude of factors to determine how exactly the average user perceives the website in question. Factors such as reviews in Yandex.Spravochnik and other review platforms, general business reputation and background are at their most important here. In addition to them Yandex considers the convenience of placing an order, multiple ways to pay for products or services and also multiple ways to deliver them, refund and chargeback policies availability and other similar factors.
The way Yandex approaches user reviews is by separating them into two different categories: critical and regular. Regular problems are considered far more common and less destructive than the critical ones, with examples such as late delivery, large waiting times in the office, warranty cases, employee unprofessional behavior and so on. This category of issues in reviews is not perceived by the Anti-Quality algorithm as the reason for the entire website to lose its rankings.
Critical problems, on the other hand, are far more destructive in Yandex's eyes. Issues such as commercial fraud, significant price increases after signing the contract without any reason, failure to deliver the product or service in time and also data protection risks for the client are all good examples of customer issues that would cause Yandex to drop this website in search rankings.
Surplus
Quality is an important factor for Yandex as a search engine, which is where the second topic comes in – called Surplus. This metric's main goal is to gauge how successful the specific website was in solving a user's problem.
Each and every interaction of a user with the results of the search query is recorded and evaluated, and the combination of all these interactions is what Surplus essentially is. Since it is a combination of different elements, the overall surplus is evaluating the positive or negative effect of each user interaction and uses all of them at once to form the final surplus score.
SEO for Google (google.ru) in Russia
It is true that not optimizing the website for Yandex while performing SEO in Russia is rather wasteful – but doing the opposite is a mistake, as well. While Yandex does have a massive market share in Russia – Google's part of the market is even bigger, even if the difference between the two is rather small. As of September 2021, Google's search engine market share in Russia is at 56%, while Yandex is at 41% (according to Statcounter).
This is why it's incredibly important to adjust your SEO activities to both Google (google.ru) and Yandex to achieve the best of both worlds. While there are some common points of SEO strategy that can be applied to both Yandex and Google, they are still different. From this perspective, it's possible to set up a list of 10 main differences when it comes to Yandex vs Google in Russia:
JavaScript tolerance. JavaScript websites are a massive headache for Yandex (unlike Google), especially if they are single-page applications and not pre-rendered – they just won't be indexed at all.
Regional targeting. Yandex has a set of algorithms with which they offer location-based search results, and the accuracy of this is extremely important for Yandex as a Russian company. There is a specific option called "regional binding" in Yandex Webmaster settings that allows Yandex to target your content for specific geographical locations. Additionally, since August 2020 Yandex supports hreflang via XML sitemaps, which it could not do before that. Now both Yandex and Google are capable of working with hreflang.
Site quality indicators. While it is a somewhat new addition for Google, Yandex has been showing icons that represent the "site quality" for a while now. Yandex still claims that any attempt at influencing this indicator would lead to it all being removed. There are 16 different icons that represent different parts of a website's SEO success or highlight problematic areas:

Verified profile
Airline
Embassy
Visa Center
A Yandex Service
A popular website
Service center
An official site according to Yandex.Directory
A participant of the Central Bank of Russian Federation's register
It's a user choice website
An official dealer, according to Avito.ru
Navigation answer
Brand website
Turbo (AMP) page
A secure connection is established to a website or content
It's a quick loading website

User behavior monitoring. Yandex's stance on using user behavior data in their algorithm is rather clear – they are using it, and it's an important part of determining the SQI and search engine results, in general. Additionally, since Yandex monitors any attempts to influence user behavior, they also recommend users themselves to analyze their web server logs – a lot of attention should be paid to search queries, platform specs, traffic sources, and target pages. When it comes to Google vs Yandex in Russia, Google's stance on similar content usage is still rather unclear and there's a lot of debate over the subject, in general.
Retention rates. Yandex's monitoring and logging of user retention rates is several years older than the same feature in Google. Yandex Metrica allows you to quickly see user data breakdown based on different parameters. It should be noted that all of the data is anonymized.
Turbo and AMP. While both of the search engines have their own version of a lightweight page that is extremely fast to load and useful for people with a slow internet connection – the debate around whether they are needed or not is surprisingly similar. As such, Turbo also faced a lot of criticism from many webmasters, who claimed that Turbo pages are only useful for content websites and generally very restrictive by nature. However, now a few years have passed, and Turbo pages have become a lot more customizable, easier to advertise, and so on. It is worth noting, though, that Turbo pages also have the capability to directly affect SEO rankings, while their Google counterparts (AMP) cannot.
Special content blocks and snippets. Similar to Google, Yandex is capable of augmenting search result pages with content result blocks and/or snippets. Unlike Google, Yandex allows you to have up to 3 different special result types and up to 11 snippets. That way you can see if you have specific issues that affect your eligibility.
Final conclusion
The compliance with the rules of Yandex, systematic work on the website and improving the indicators, the impact on the most important factors – that is all that is necessary for your website to take the first places in Yandex.
Above I have examined in detail the most important and basic parameters that are taken into account when ranking in Yandex. For a successful site optimization for Yandex, the following is important:
to understand the general principles of ranking in Yandex,
to know the most important ranking factors in Yandex,
not to think like everyone else and make a bit more than competitors.
How can you not rely on changes in the search algorithms and make sure that the site always remains in the TOP-10 of Yandex? Work primarily on the "satisfaction" of the user of your website. When a site in Yandex reaches the TOP-10, the behavioral factors of the site become most important. Roughly speaking, a site in order to get from the 10th to the 1st position should do the following:
Enlargement of the number of clicks on the link to the site from the search (CTR on the SERP)
Decrease of the number of errors on the website and of search results
Increase of time and depth of view within the site
Increase of the number of inputs
Increase of the proportion of searches for a company or website brand.
If all of these indicators on your website are constantly improving and getting better than those of competitors, no point changes to the Yandex search algorithms are important or scary for them.