LinkedIn B2B Lead Generation & Marketing: Examples & Case Studies in 2022.
Updated 24th November 2022
Date :
June 7, 2021

By

LinkedIn is the most powerful platform for B2B lead generation online. It has a huge audience, focuses on business-related connections and has a lot of different tools for lead generation and nurturing.

My LinkedIn B2B lead generation experience started in 2013 when it had much less ways to advertise. At those times advertisers were able to use only simple text ads based on pay-per-click model.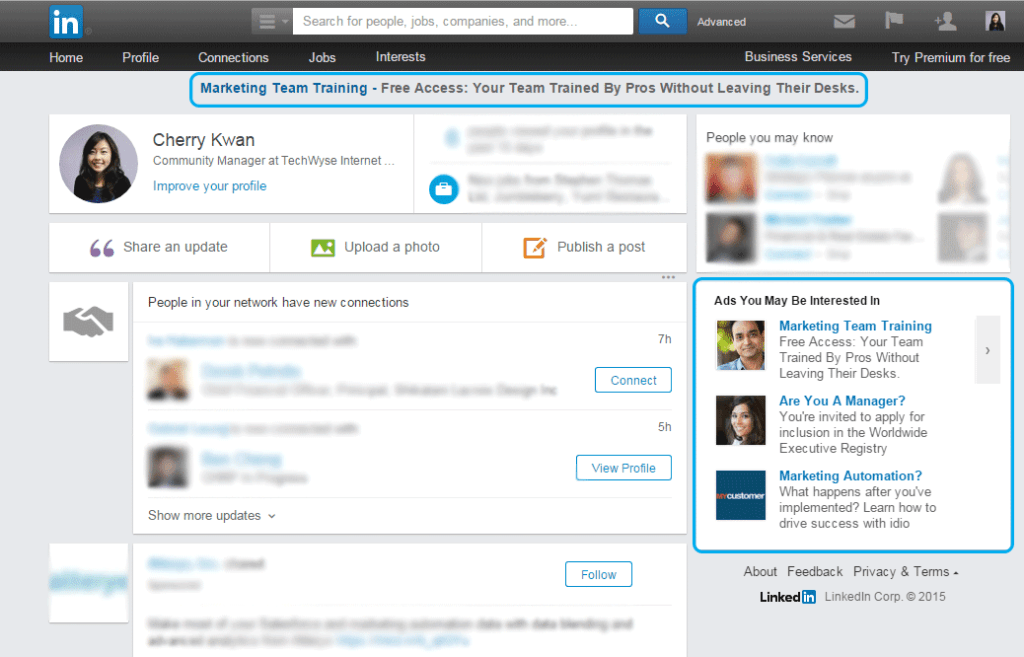 I have to admit that I was unable to deliver significant results this way because the cost-per-click on LinkedIn for the industries of my clients was always higher than average (especially higher than in Google Ads). That is why lead cost was ruining the unit economy.
During the last 8 years LinkedIn ad platform made a huge progress with targeting capabilities, ad formats and bid strategies. I started testing it once again for some of the clients and surprisingly the results became much better. The cost-per-lead dropped down and the quality of the leads became much better.
I think there's also an additional factor of why B2B lead generation on LinkedIn got better – it's marketing automation technology which is evolving. The rise of enterprise nurturing tools like Marketo, Pardot or smaller products like Mailchimp and Autopilot allows businesses to get leads on different stages of consumer journey, not only during the phase of final purchase. This lead generation tactic allows to get more leads because of smaller lead cost and also leaves the space for additional marketing if the sales cycle is more than 2-3 months.
Let's take a look at the ways to use LinkedIn for B2B lead generation where I had success below. My competence was confirmed by LinkedIn team itself publishing case study with one of my clients where we had such notable results:
The lead generation forms completion rate of 35% surpassed all LinkedIn benchmarks
The customer halved its cost per lead (CPL) target for the campaigns
Generating lower-funnel leads on LinkedIn
Usually when I am talking about lower-funnel leads in enterprise software industry or the other B2B industries I mean trial downloads, requests for proposal or price quotations. These are the prospects that have already chosen the list of products and are in the evaluation process.
Trying to target these people not only on LinkedIn but in all the other social networks or is not efficient according to my experience. It doesn't depend on the ad copy or targeting criteria, the main reason of why these campaigns fail is because it's unlikely to catch lower-funnel leads in social network exactly during the moment when they're evaluating products. Search advertising is much more suitable for this goal – and this is why Google Ads is so expensive nowadays.
Generating upper-funnel leads on LinkedIn
Instead of trying to get the leads in the most competitive stage of the consumer journey it's more useful to focus on the upper part of the conversion funnel. During this stage customers are looking for more information about the products by downloading whitepapers or ebooks, registering for webinars or just looking at the other implementations in case studies. Let's take a look at all these ways to generate leads.
Whitepaper downloads
By downloading whitepaper the prospect shows the interest in either general topic which is connected with your company industry (e.g. "How to use artificial intelligence in backup and recovery?") or in specific technology which is close to your product (e.g. "How to backup and recover VMware virtual machines?"). I rarely use generic whitepapers for lead generation as they have poor lead quality in the end. Here some of the technology whitepaper campaigns on LinkedIn and their results: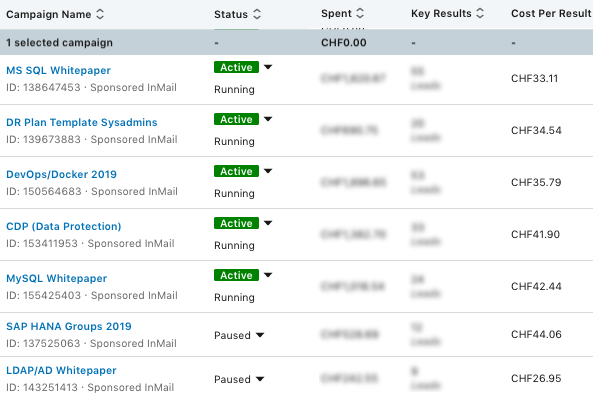 You'll see here some of the most prominent technology whitepaper campaigns: MS SQL database backup strategies, Docker volumes backup and restore, MySQL database backup, SAP HANA backup and Microsoft Active Directory protection strategies. Technology whitepapers require you to look for the relevant audience with the usage of:
LinkedIn Groups targeting
Job title-based targeting
Skills-based targeting
So for example for MS SQL database backup strategies you'll need to look for MSSQL database administrators. That's quite simple, you make a selection and adjust the other targeting criteria like profile language, age, company size, job seniority etc: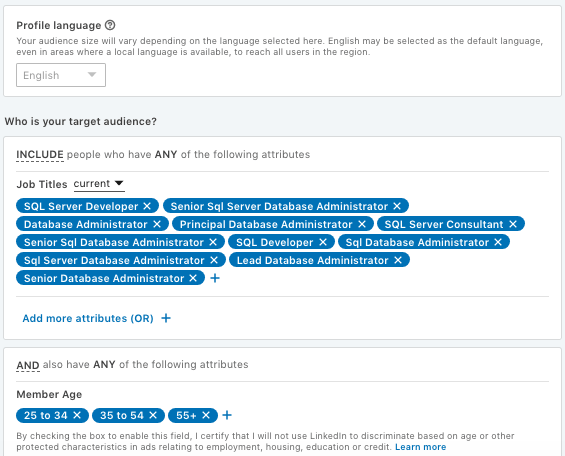 You also need to exclude your company followers and employees. However, when you don't have the direct position name (e.g. SAP HANA database administrator) in LinkedIn's catalog – it could be useful to use LinkedIn Groups targeting: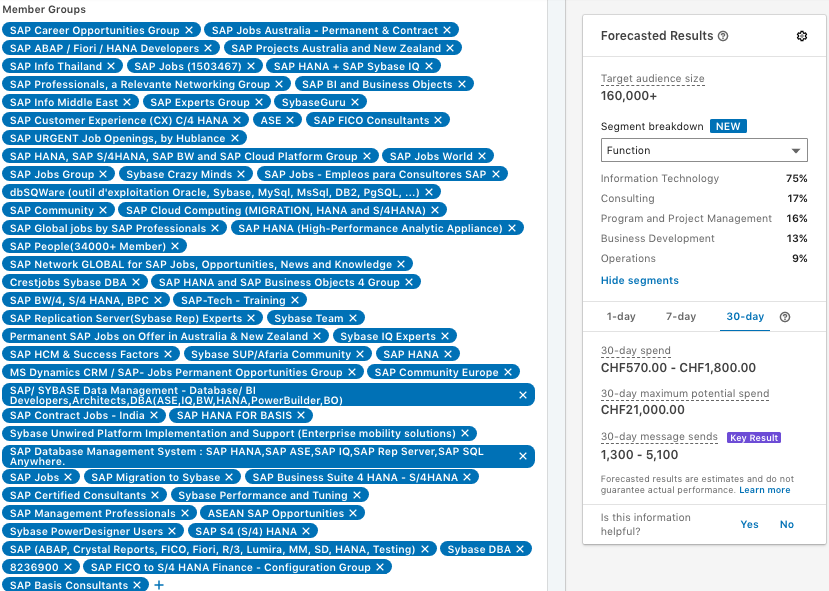 Even with geographical exclusions and all the other limitations listed above in the example the audience size of SAP HANA-related groups is 160K people which is really huge.
Keep in mind that position names need to be researched deeply with product marketing department before starting the campaign. I used to target system administrators, database admins and IT managers in the beginning but then after GDPR was introduced in Europe I also started to target data protection managers and officers.
If you can't find the relevant groups and job titles, you can target skills. For example, one of my customers is Cipherpoint – a SharePoint security & encryption software vendor. I target "SharePoint" skill, because there are not so many security professionals tied specifically to SharePoint. So it's better to select the people with the generic SharePoint knowledge.

Now let's talk about the ad formats and campaign objectives. While marketing to B2B companies on LinkedIn you can not only generate traffic to your website, but you can also create a form just inside the platform and collect leads directly from your ads (this is called LinkedIn Lead Ads, you need to choose lead objective while setting up the campaign from the beginning).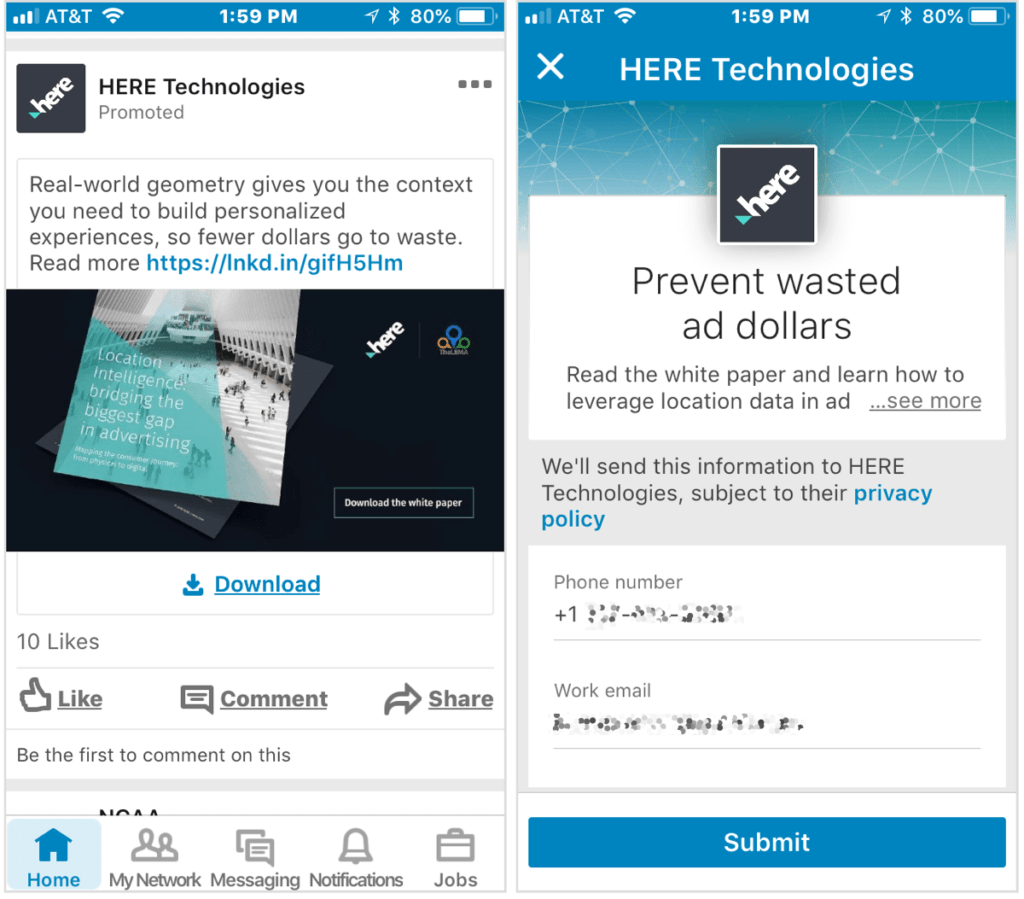 Format-wise there are different options for Lead Ads:
Single image ads
Video Ads
Carousel Ads
Spotlight Ads
Follower Ads
Message Ads
Text Ads
I have used all these different approaches but let me share the examples with Inmail messages in combination with Lead Ads. Their big advantage is that they're delivered on mobile devices where users tend to download whitepapers (which will never happen in case of trial download of the enterprise software product).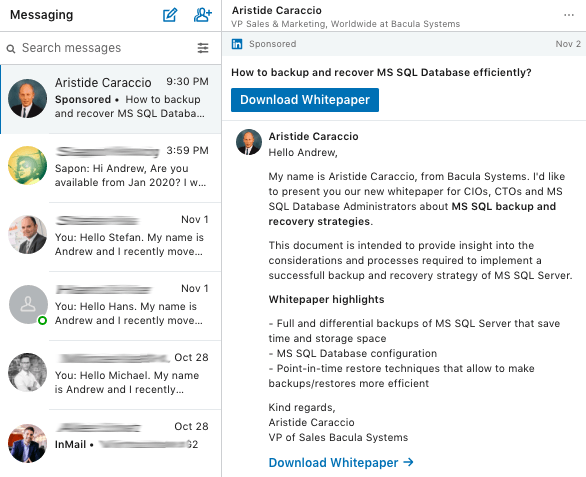 Keep the messaging short and sweet as in this example. I was testing for more than 2 years when I finally came to the best conversion rate. The key to success is simple:
Keep the subject line straight-to-the-point, write exactly what the prospect might be looking for;
Personalize the messages with %FIRST NAME% and other merge tags;
Introduce yourself very quickly, without the long sentences of what you and your company is doing (the prospect can check this later on);
Send the main messaging – what do you want to do with this Inmail in regards to this particular prospect?
Provide additional information and highlights.
Here is the example which I used for the other client of mine: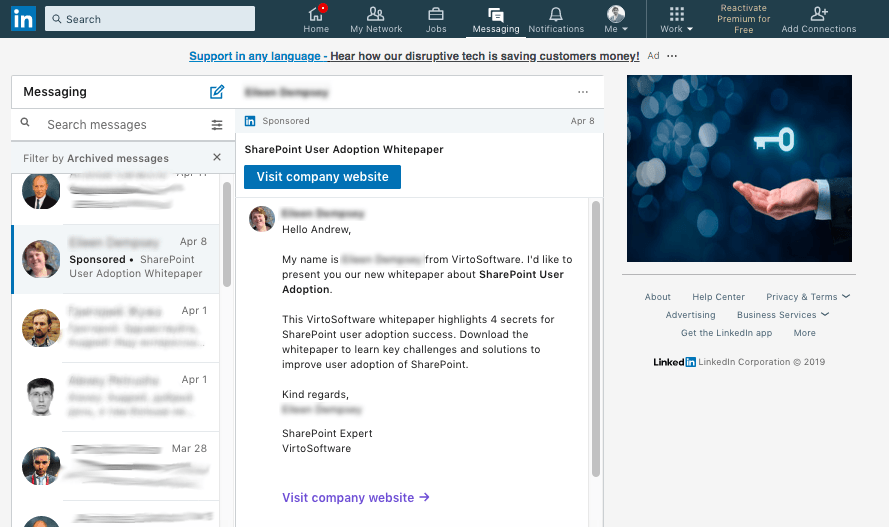 In this case the campaign is actually the remarketing one. We're attracting visitors to our blog using SEO and then promote Inmail ads with whitepaper downloads to this specific audience cluster on LinkedIn. This way we're transferring the unknown organic traffic visitors to the specific leads. By using this approach I was able to generate hundreds of leads on a monthly basis.

Webinar visitors lead generation
LinkedIn is perfect for generating webinar participants. The Inmail format allows you to send the webinar invitation which you get immediately in your mailbox. Then you just have to read it, click on the link and you'll see all your data pre-filled from your LinkedIn profile.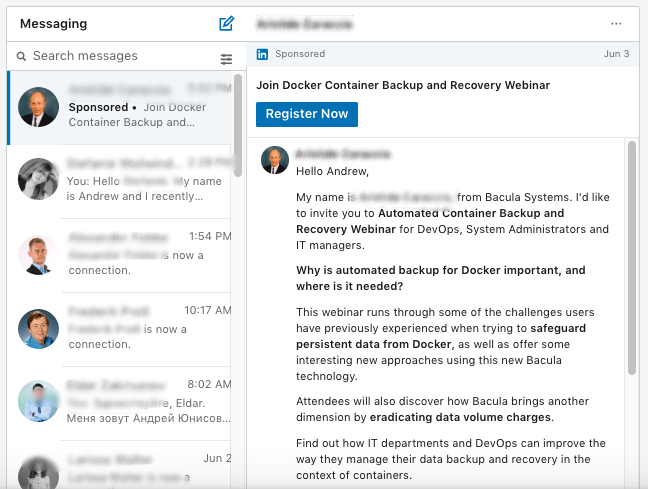 The messaging is a little bit different compared to the technology whitepapers. It gives an immediate insight on what the visitor will get during and after the webinar. All the other principles that I listed above stay the same. The targeting is based on the job title and is splitted in different groups. The cost-per-registration is quite small – below 30USD/registration.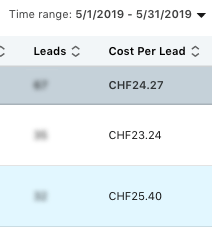 LinkedIn B2B lead generation checklist
Here is a small LinkedIn B2B lead generation checklist that I created based on my experience:
Choose the strategy: upper-funnel or lower-funnel lead generation;
Define call-to-actions that will generate leads:

Whitepaper downloads;
Case study downloads;
Webinar registrations;
Other downloads or registrations.

Define the campaign objective:

Traffic;
Lead generation;

Define the ad format:

Single image ads
Video Ads
Carousel Ads
Spotlight Ads
Follower Ads
Message Ads
Text Ads

Develop and test your targeting models:

Technology-based targeting;
Account-based targeting;
Occupation-based targeting;
LinkedIn Groups targeting.

Create InMail messages with this in mind:

Keep the subject straight-to-the-point;
Personalize the messages;
Introduce yourself quickly;
Send the main messaging;
Provide additional information and highlights.

If you use image ads – apply the below principles to them correspondingly;
Create Lead Ads form or landing page on your website with LinkedIn conversion tracking code;
Start the campaign, track results and optimize the below parameters for better cost-per-lead.
You can also get the checklist in a PDF file and a free 30-minute consultation with me if you'll fill in this form.