How to select target accounts for advertising in B2B online marketing?
Updated 9th December 2022
Date :
May 4, 2019

By

When you're doing digital sales to consumers, there's no question on how to select target audience. Set the Google Ads according to relevant keywords, setup Facebook targeted campaigns based on specific demographics, work with different retargeting networks, etc — and you'll get the orders or leads from these sources. It looks too simple, but close to the reality anyways.

The other situation is about enterprise sales using business to business online marketing when you need to select specific audience, possible a pool of companies that you target on based on their industry or size. For example, in my practice with Bacula Systems we target MSPs, hosting companies and software development companies. However, driving ads just to the list of these companies even to the relevant person might not be successful, as you don't know the exact message that will work — you don't really know if they want to change their backup and recovery software. You can still market some technology papers to them, but in most cases these leads will never turn to opportunities in the future pipeline.

The other way of marketing your products is not by delivering impressions to the companies that are in your audience, but to deliver your message to the companies that already look for the products you produce or even your product specifically. This is completely different experience — you can now measure and predict the intent to buy specific product from specific vendor in a real time. There are many intent analysis tools on the market, they are very different in functionality and price, however there are solutions for both small business and for enterprise companies.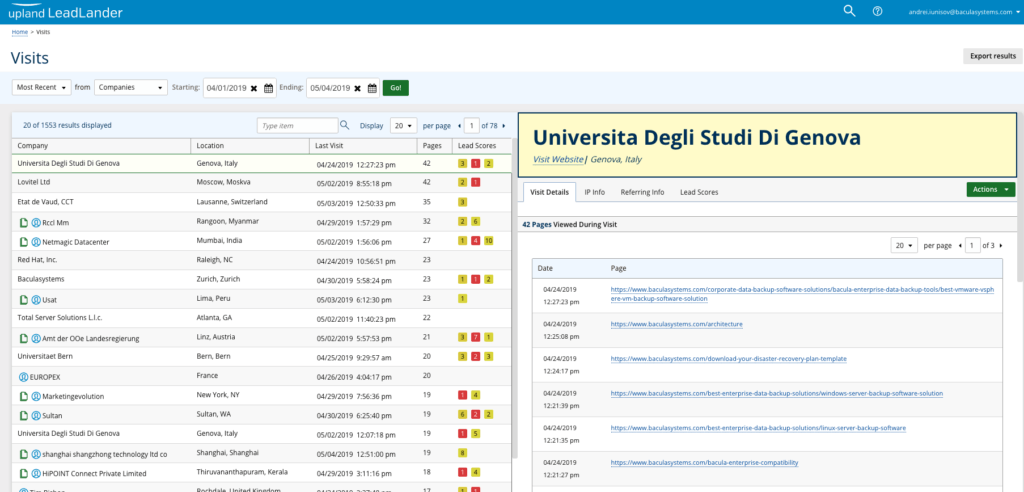 We at Bacula Systems use the software called LeadLander. It's a way of measuring purchase intent on your own website. LeadLander allows you to capture the company name and even the visitor's email while browsing your website without submitting any forms on it. With LeadLander you're able to understand:
– What companies are actually looking for you products?
– How actively are they looking at them?
– What people in these companies are actually doing the product research?
LeadLander shows you the company name which you can instantly lookup in discovery tools like Discover.Org. If you'll be lucky enough, the lookup tool can even show you what specific backup and recovery technology is used by this prospect. This will definitely help your sales team to position the product during the evaluation process and tender procedure. It also allows us to those specific case study when pitching the prospect as we have different case studies of clients migrating from specific software vendors to us.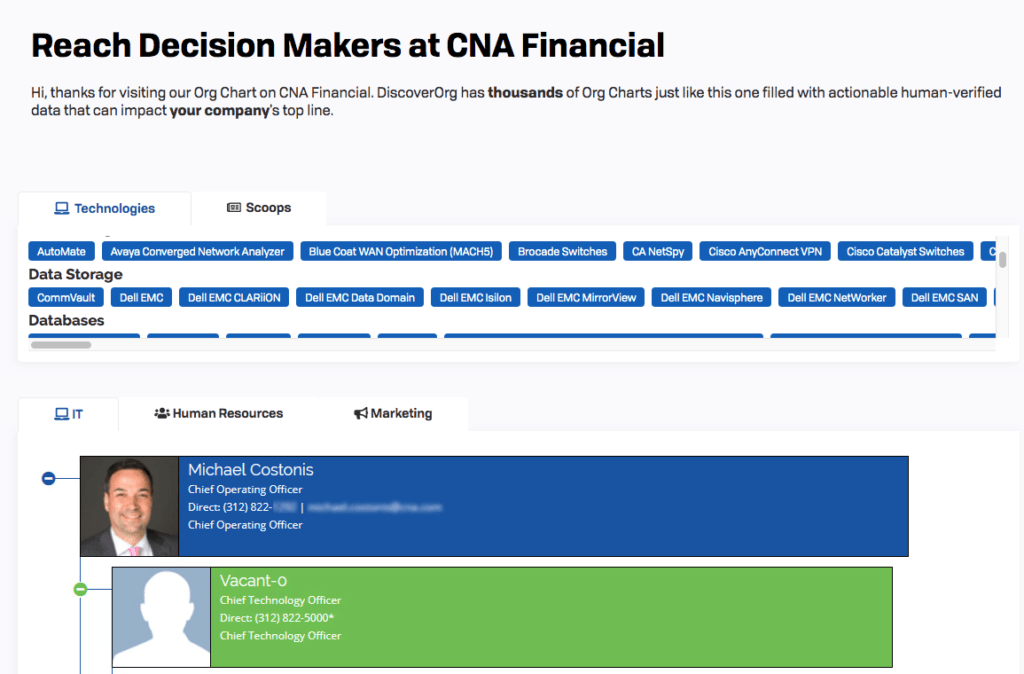 LeadLander shows you the email of the person that is browsing your website. This can be used in a number of ways. The first is simple — just include this person to the B2B email marketing list that you might have for your leads. However, this could be illegal from GDPR point of view, because you need to ask the person for a subscription confirmation in the first email. The second way is much better — create a list of such visitor emails and upload it to Facebook or Google for matching this audience and marketing to it. With this delivery method you'll be able to market smartly and the prospects will not feel under pressure from your ads.
By viewing the session history of the particular website visitor you can understand what he is interested at. For example, if the person is interested in technical pages of your website or support section, you probably deal with the technical manager (in our case his will mostly be a system administrator), but if this person is browsing subscription pricing pages — could be a person from procurement department or IT management.
There are also some online tools that are more expansive, I'd name review websites and intent tools like Bombora. The review websites like TrustPilot or TrustRadius  host the vendor pages where the visitors can leave reviews of the products. These review websites usually also have the forms where the visitors can leave their questions to the vendor products. By submitting this information the visitors can be considered as the ones that expressed the interest in the product. This information is offered to the software vendors, this can be also used to generate company names that are actively looking at your product now.

Bombora is an online service which can track visitor behavior across the web and identify what this person is looking for. They also quantify the probability of the intent to purchase specific «topics». For example, in our case they can provide the information on the topic «backup and recovery» and identify what companies are doing the research in this field now.
Feel free to choose between these technologies and also look for the other options to track the intent to purchase of your technology on the market.