Facebook B2B Lead Generation: Best Practices and Case Studies in 2021
Date :
June 25, 2021
By
5 best practices for Facebook B2B Lead Generation
Facebook is one of the hugest ad platforms available online and its size of inventory and targeting flexibility is awesome. However during digital marketing conferences and my personal conversations with colleagues I found out that their experience with Facebook B2B lead generation was not so successful.
I started using Facebook Ads back in 2009 but this was first for Parallels Desktop for Mac which was a consumer software product. Since 2009 I used Facebook for various industries and products but only had the chance to see how it works for B2B lead generation back in 2016 when I started digital marketing initiatives at Bacula Systems.
Why using Facebook for B2B lead generation?
The answer for me is simple – it's a possibility to have an alternative lead source to organic Google Search and Google Ads. If someone happens with your organic rankings (f.e. Google marks your website as malware for no reason and throws out of the index), you'll have an alternative way to continue delivering leads to your sales team without losing numbers. Additional reason could be of your Google Ads campaigns are no longer working for you because of poor unit economy – this happens when the traffic becomes more expensive than you expected. Also, your ad account or ads can be blocked automatically for "unwanted software" or something else. So it's always nice to have an alternative lead source. Facebook Ads is one of them.
Below I will list some of the case studies that I had with Facebook in terms of B2B lead generation. These campaigns were quite successful in terms of cost per lead which you'll see below, however the sales people claim that these leads are "colder" than the ones from Google or LinkedIn. That's why using Facebook B2B lead generation can't be done without proper later nurturing these leads using marketing automation tools of your choice: Marketo, Pardot, NET-Results in enterprise cases, Autopilot or Mailchimp for small businesses and Mautic – for those who want to host marketing automation software on premise.
Retargeting of Bacula.org visitors with Facebook Lead Ads
Bacula Systems is a company which builds its offering based on the open source product Bacula Community. We use the open source software product to "feed" the small business backup software market with the free solution and see them growing later to enterprises that we're mainly marketing Bacula Enterprise Edition to. We have a set of sales programs that support the migration from Bacula Community to Bacula Enterprise with special offers and discounts. Bacula Community has its own website (bacula.org) but we never market to community users directly – we don't want to disturb and spam anyone. The community product download was also not requiring the registration for downloading it at that time in 2016.
When I set the Facebook pixel to bacula.org I saw a huge audience available to market to and decided to go and try several advertising messages. Those messages were:
– Migration to the enterprise product from the community one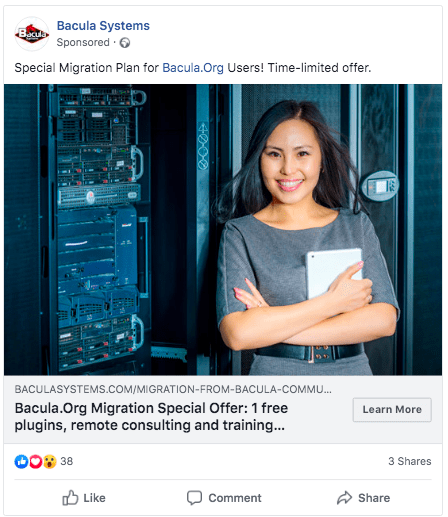 – Small business edition for the companies that don't need enterprise functionality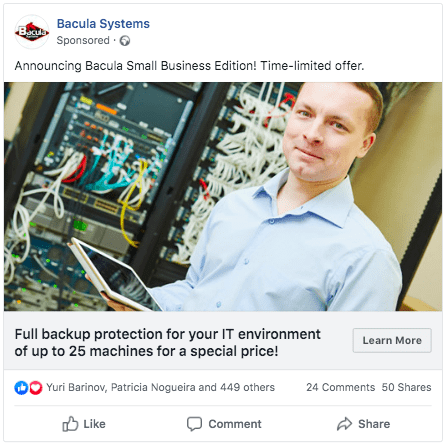 – Product training for the community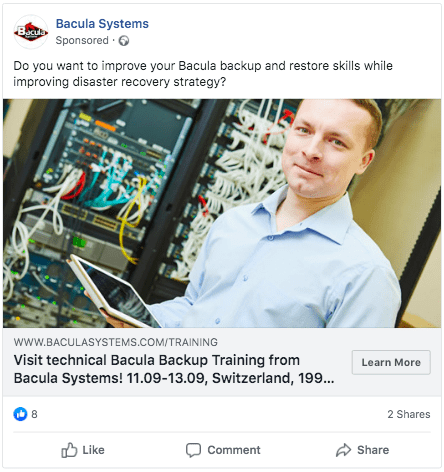 After several tests I figured out that landing visitors to our main website baculasystems.com which was made at that time doesn't generate leads at all, that was probably connected with the fact that we didn't have the microconversions on site that could generate us leads. The users sent to the main website were bouncing. That was the time when Facebook pioneered the Lead Ads and I went ahead in testing them for us. The results were impressive:

It's possible to generate B2B leads with Facebook Ads for 3 Swiss francs for this particular audience and these messages. Even if the lead-to-opportunity conversion is only 3%, than the cost-per-opportunity will be 100 Swiss francs – it's a very good value for an enterprise B2B product.
A direct price comparison would be easier to work with, in this case. Roughly in the same time period as these tests of mine were conducted, HubSpot released their "2017 Demand Generation Benchmarks Report", detailing a number of important factors when it comes to lead generation among over 350 different companies. One of their sorting options allows us to see the lead generation price per company size.
As such, we can see that the smaller organizations have a smaller cost-per-lead, while larger ones are paying a lot more. For example, companies with less than 50 employees are paying roughly $146 per lead, while enterprises with over a thousand people as personnel have a $348 lead price estimate.
Additionally, this same report allows us to see that cost-per-lead sorting by industry makes "IT and Services" the most cost-heavy among others, with roughly $369 per lead. This is a big contrast with my result of 100 Swiss francs per lead (~$110).
The idea of not sending the user to an unknown website from a social network and offering the form directly on the well-known website instead solved the credibility issue. Additionally when your form is already pre-filled with data from your profile you'll have better conversion rate from those who opened the form by itself – there is no need to fill anything in.
Retargeting of our main website visitors
After the first successful step I decided to go ahead and retarget the main website (baculasystems.com) visitors. The reason behind this is simple, B2B sales require several touchpoints so I thought it could be useful to communicate our messages to the main website visitors during their Facebook sessions too. Even if they will not convert immediately, they'll see Bacula Systems credibility growing from being shown everywhere on the web. Additionally the average sales cycle for Bacula Enterprise is from 12 up to 24 months, so it's worth notifying about yourself without this being too costly.
In this particular case I tested Facebook Lead Ads and also the regular traffic campaigns from Facebook. You can see their results below: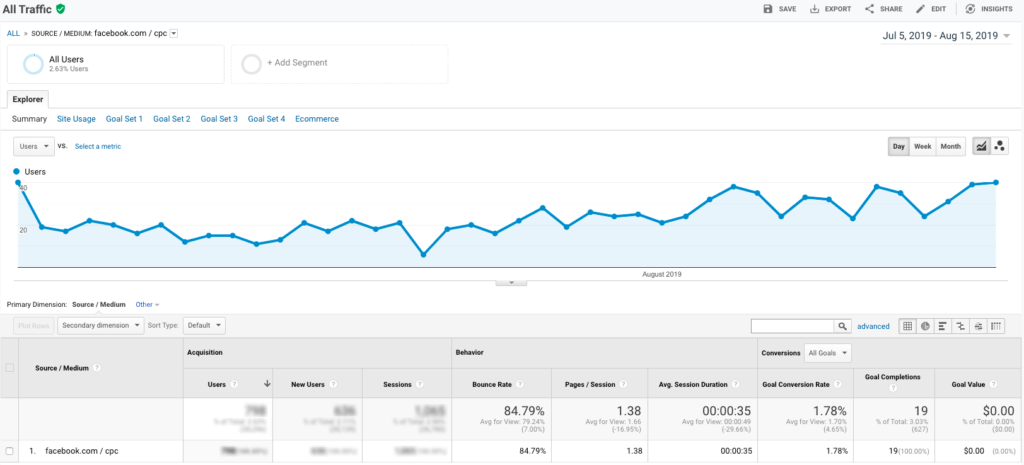 19 conversions from the website were generated. We count whitepaper downloads, trial requests and contact form submissions as a lead. So the cost-per-lead equals to approx. 43 Swiss francs per lead. The average B2B software market lead cost for Europe will be approx. 120 Swiss francs without the specific geographical targeting, so we can see the clear advantage of Facebook B2B lead generation in retargeting audience case.
Technology whitepaper campaigns
Bacula Systems key advantage is the ability to backup practically any hypervisor, application or database with the support of 25+ operating system versions. To further promote this enterprise product flexibility and generate leads tied to specific technology that needs to be protected (f.e. VMware hypervisor backup or SAP HANA database backup) we used technology whitepapers that were sent to the prospect right after he filled in the Facebook Lead Ad form.
Facebook allowed us to target various job titles and compare lead cost results: system administrators, IT managers, CIOs and CTOs, those who're interested in backup, those who're interested in competitors, those who're interested in datacenters etc. Additionally the campaigns were running in the selected geographies and were limited with the age we suppose is an average for taking decision about purchasing the backup system.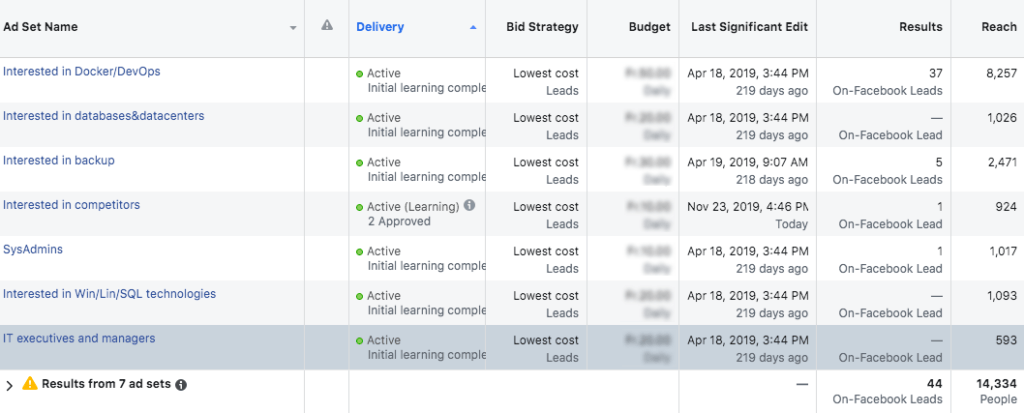 Let's take a look at some of the most prominent campaigns that I have executed: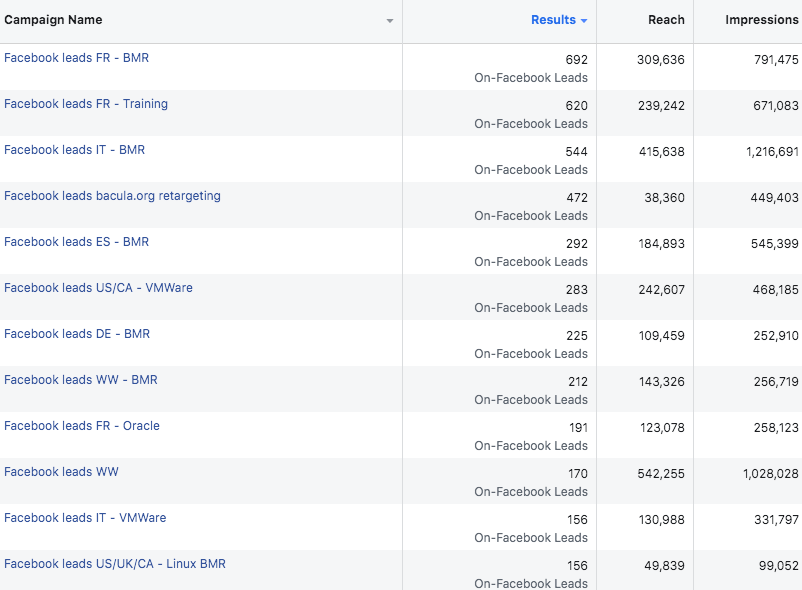 You can see the variety of geographies: France, Italy, Spain, the USA, Canada, the United Kingdom – all runs in separate campaigns. The second level of organization is the whitepaper itself: BMR (bare metal backup and recovery), VMware backup, Oracle backup, Linux backup and the others. The messages are getting localized too: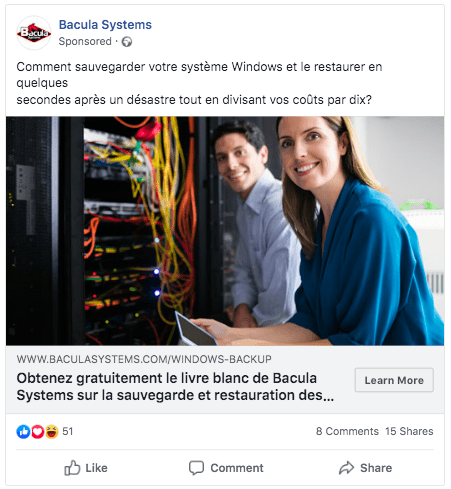 It's vital to nurture the Facebook leads as they're not like the leads from search. The user browsing social network is not always ready to download trial version or even buy B2B software immediately so we need to master his user journey towards the actual interest: from whitepaper download to trial software download, from trial software download to the actual request for proposal.
To execute email nurturing we use the tool called Mautic, it's an open source product which can be hosted on-premise. The strategy that we developed is working for 12 months after the initial touchpoint on Facebook after downloading the technology whitepaper.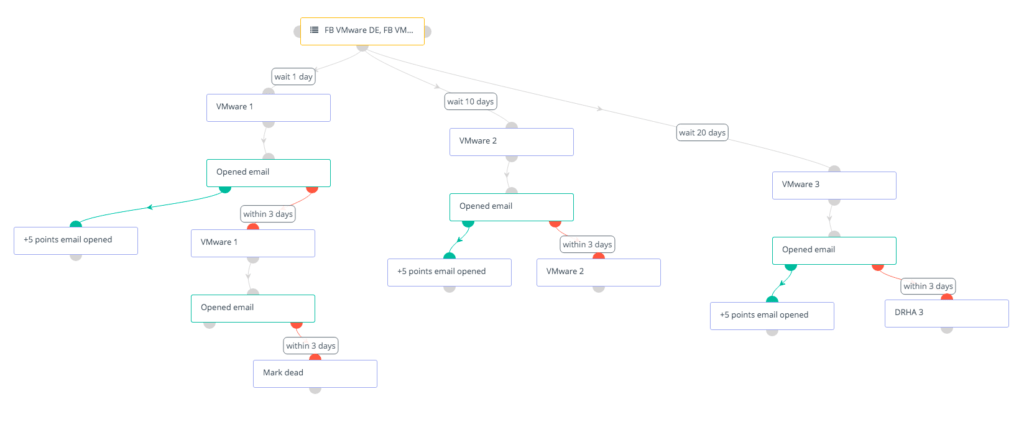 With our nurturing campaigns we see approx. 30-40% open rate and 0,5-3% reply rate depending on the whitepaper content. The replies are very relevant, where prospects are asking about pricing options, PoC terms, etc.. That's exactly what we need to initiate the sales conversation.
Product training campaigns
The next practice that I was able to try with Facebook is training participants generation. Training is very important for Bacula Systems business, it's a foundation of turning the customer into the actual fan of the product and build the retention. But trainings, especially the offline ones that Bacula Systems is offering, require participants. The trainings are evergreen and represent the typical ways to protect the enterprise data with Bacula Community and Bacula Enterprise.

Bacula Systems offers training campaigns in various locations incl. Germany, France, Italy, Spain, the USA and Japan. We had the identical geography and ad copy translations in the ad campaigns, here are the messages that we used: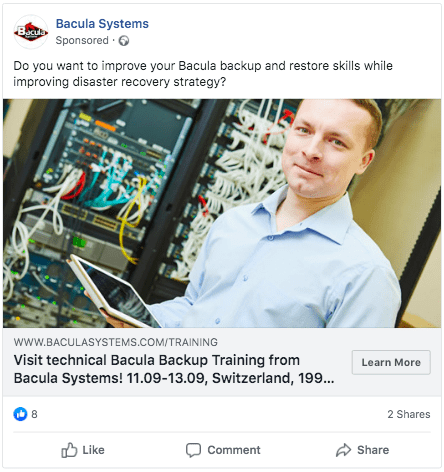 Webinar promotion and offline event visitor boosting
The last case study will not be about the lead generation but will cover the eventing activity area. It's vital for the B2B business to generate participants to webinars and we used Facebook successfully for it.

Here is what you'll see in Facebook's Newsfeed while promoting an event: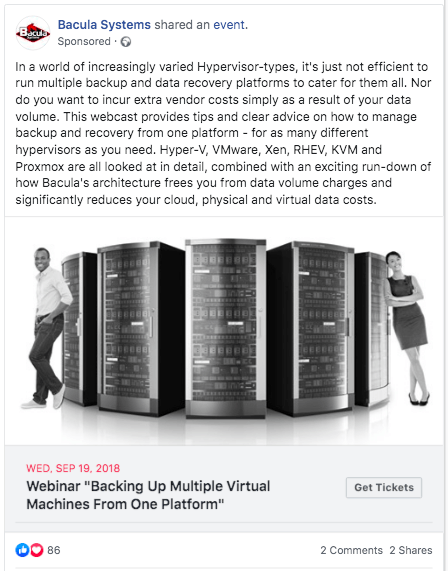 Additionally we used Facebook because of it's really precise mechanism of geo-targeting. While exhibiting at Cloud Expo in Frankfurt we needed to attract the audience to our venue so I created a highly-targeted geo campaign narrowing the exhibition audience with job titles and advertising our stand: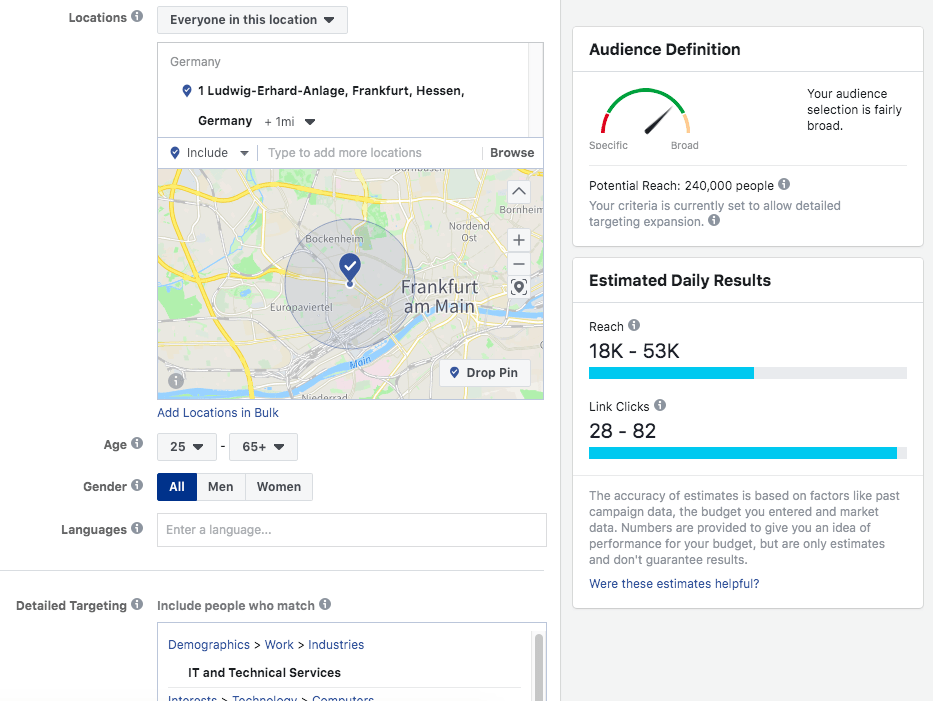 We didn't do it, however it's easy to track the efficiency of this advertising with the usage of coupons or special codes in exchange for something special: not-for-resale license keys, IT assessment or something else.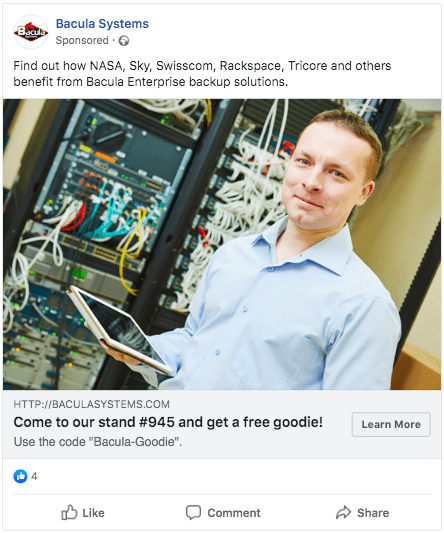 A dedicated Facebook video strategy
Social media platforms have always been favoring video content, and Facebook is no different in that regard. It has been known for a while that engagement rates of Facebook's video content are far higher than the average, meaning that it could be a great way to streamline B2B lead generation.
First of all, there are three main types of video content on Facebook: regular videos, Facebook Watch and Facebook Live. Standard videos on Facebook can be just about anything – you can use them to provide valuable information on a specific product or service, share tutorials, unbox products with explanations, and more. The only important point here is to have a CTA of sorts at the end of each video to build your own reputation and attract potential clients.
Facebook Watch, on the other hand, is their own version of a video streaming service. As such, it can also be used for B2B lead generation purposes via content that facilitates discussions. It's a great place to launch a series on a specific topic, be it interviews, or just regular content on the subject. The discussions around the topic can provide your prospects with valuable insights, and provide you with B2B leads.
The last group of videos on Facebook is Facebook Live, and it deserves an entire section on its own.
Facebook Live
Despite its nature, Facebook Live can also be a useful tool for B2B lead generation. One of the biggest reasons to use it in the first place is the fact that it can be used to extend your reach a lot more than ever before. Facebook allows users to go Live from both their own pages and business pages, as well.
There are many different ways to perform a Facebook Live, be it QnA sessions, helpful tips, new service or product launch, etc. Additionally, the entire process is not that difficult from a technical standpoint, either. All you have to do to begin is to turn on your Facebook Live camera and click the "Live" button (after confirming that both your microphone and your camera are working, of course).
As with YouTube videos, it's important to add a description to your Live before beginning. Configuring your privacy settings and tagging specific people or groups within Facebook is a good idea, too. After going Live, it's important to stay on your topic and not deviate. You can also engage with your audience, answer their questions, and leave calls to action – be it on the Live itself, or in the description.
Each Live can be finished with a "Finish" button, and it is saved inside Facebook, too. This allows you to engage with your audience even more by answering their questions afterward. You can also download said video and share it both on Facebook and on other platforms, such as YouTube.
As a B2B lead generation tool, Facebook Live is a great way to add a human face to your business, which builds trust between you and your potential clients. At the same time, you can build your reputation and authority as the face of a company, asking questions and sharing experiences.
Facebook Groups
Like almost any social media network, Facebook has a Groups feature, which has a lot of potential when it comes to B2B lead generation. Facebook Groups are communities mostly built around specific themes or ideas, and it's an amazing tool for personal interactions or networking in the B2C field. However, it's also possible to find industry-specific communities to engage with professionals in the field and build a reputation among them.
It's also possible to create your own Group to invite various prospects into it. If your group is formed around a specific idea or a topic, you can share helpful information about it, and present your solution as the means of solving problems in this specific field.
There are many different ideas for content that can be used for your Facebook Group promotion, such as surveys, industry-specific news, expert interviews, infographics about the industry in question, answering industry-specific questions, and so on.
This is not the fastest way to generate leads, since it focuses more on building trust and reputation for your company in the eyes of prospects. However, it can bring its own share of results, if you can dedicate enough time and effort, while also enriching your company's and product's authority among the target customer segment.
Facebook Messenger
Another great way of generating B2B leads using Facebook is by deeply interacting with prospects – and this is where conversational marketing comes in, represented by Facebook Messenger in this context. Each question about the subject that you're answering improves the customer's experience and improves the lead-to-opportunity conversion. In Bacula we have done this exercise for our free product audience (bacula.org visitors):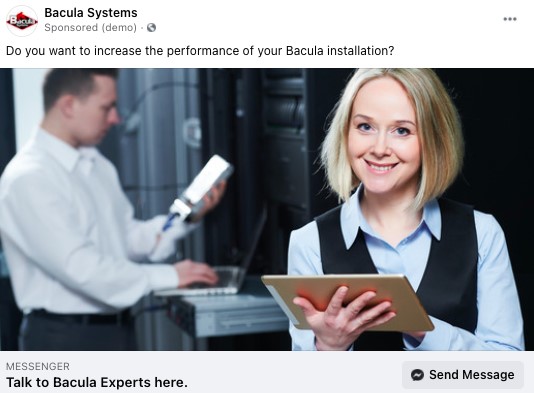 The message promotes the opportunity for free users (obviously small & medium businesses) to talk with backup and recovery experts and get advice on better data protection.
Facebook Messenger can also be used to send personalized messages as a part of your ad campaign – which is an entirely different level of advertisement. There are several different marketing platforms available, and it's recommended to use one of them for a better experience on the subject – including automated responses, among other features.
For example, here are three different messenger solutions with different approaches to the task:
ManyChat – a dedicated chat marketing platform that is widely popular with its Facebook Messenger automation experience. It allows users to generate fully automated sequences for their clients across multiple platforms – with SMS, Emails, and more.
MobileMonkey – a somewhat broader chat marketing platform that lets businesses connect with customers near-instantaneously using Web Chat, Instagram, WhatsApp, SMS, or Facebook Messenger. The existence of a multi-platform chatbot allows for chat marketing content to be reused for different platforms, and chat unification allows you to keep track of all of the platforms in a single place – and that includes all of your automation efforts, too.
Drift – a self-proclaimed Revenue Acceleration Platform that combines Conversational Sales with Conversational Marketing across a multitude of platforms to provide a seamless experience for both businesses and their clients. Drift offers a multitude of features, such as personalized real-time conversations, various automation features, the ability to monitor how buyers engage with your business, and many more.
There are many more examples, but even these three can be used to prove a point that the market of chat marketing solutions, in general, has a lot to offer for any kind of business, so that you can find the one that fits you the most.
Conclusion
We have reviewed the 5 ways of how I used Facebook for B2B lead generation and nurturing within the enterprise software company. I assume that the typical user journey, consumer behavior and marketing tactics can vary in your particular case but I strongly advise you to try Facebook for B2B lead generation keeping in mind these strategies.