Enterprise software lead generation. How to generate enterprise leads?
Updated 9th February 2023
Date :
May 13, 2019

By

Enterprise software lead generation is a process of generating leads for software companies working in the enterprise market segment. Lead generation for the enterprise segment is different from the mid-market or small business software companies. The main differences on how to generate leads for enterprise software companies are:
Generating leads in the enterprise software field is more expansive (both using online and offline leadgen methods);
Because the buying center in the enterprise consists of several employees, generating one lead might not be enough to close the opportunity;
Sales cycles in the enterprise software sales are usually longer, thus lead generation for enterprise software requires to have multiple touchpoints with a lead during his sales journey;
Enterprise prospects, in general, are seen as some of the most lucrative leads you can get. These are usually the companies with over 1,000 employees, firmly placed within a Fortune 500 list, and working primarily with massive contracts and incredibly high Annual Contract Value (ACV). The knowledge on how to generate enterprise leads is paramount when it comes to attracting enterprise-level clients and converting them into actual paid customers.
Enterprise lead generation as a whole differs a lot from how you may work with startup leads or mid-sized companies – mostly because each of these categories has its own different interests, buying behavior and preferences in terms of products or services. It is also one of many reasons why the old method of mass-spreading your advertisement materials with zero personalization and weak targeting would not be effective at all when it comes to enterprise leads.
Since enterprise leads are different enough to warrant a whole different lead generation process, they have quite a lot of advantages – and a few shortcomings, too. For example, some of the biggest advantages of having enterprise leads are:
Reputation and credibility boost. Being able to close even a single deal with a Fortune 500 company is a massive reputation and credibility boost for a company's resume, meaning that other companies with the same sphere would be more likely to work with you if you already have a positive experience with a Fortune 500 company, to begin with.
Bigger revenues. It is quite rare to see an enterprise company that does not have the budgets to spare, and solving a specific issue or fulfilling the need for a specific service is often far easier to be outsourced by them than conserving the existing internal resources. Additionally, big businesses tend to grow and your average contract value might also increase with the growth of the customer.
At the same time it is fair to mention that enterprise lead generation can be a rather complicated process, including the following challenges:
The sales process is not straightforward. The overwhelming majority of enterprises are companies that have a lot of stakeholders. Having a lot of stakeholders means that there are multiple levels of decision-makers, and each decision-maker may have their own opinion about the subject of your product or service – which is why it is not that uncommon for several people to present conflicting opinions about the same topic within the same company. This can block your sales process at some stage if you're not working with the full buying center, including all stakeholders.
The sales process is also extremely long. Even with all of the existing technology in mind, a regular enterprise sales process can last as long as 18 months or even more, with a year being an average statistic in this department. The biggest reason for that is the fact that enterprises want to make sure that they are getting the absolute best deal possible before committing with their money, which is why staying "on top of your game" for a long time period is a requirement with enterprise leads.
The entire process is extremely demanding in terms of resources. Getting a deal with an enterprise company is not the end of the process at all, since you also have to be capable of managing and retaining that company as your customer for a prolonged time period – which means having both the resources and the infrastructure in place that can handle it. Losing a client at the renewal stage is still a real possibility, which is why you'd have to provide your best when it comes to customer service, detailed onboarding, support and many other topics that are specific to client retention.
Account-based marketing for enterprise lead generation
Developing an enterprise lead generation strategy is a very complicated task, and it is hard to imagine such a strategy without the involvement of ABM – account-based marketing. As I have mentioned before, most enterprises have a lot of decision-makers within the company, so it is downright impossible to target just one specific person instead of the full buying center. Targeting large organizations with structures like these is exactly what ABM is supposed to be used for.
There are a lot of details that would be case-specific with ABM, but it's possible to segregate several different best practices and tips that would work in most cases when it comes to enterprise software lead generation:
Customization is paramount
It is rather common for large enterprises to have a clear understanding of what challenges they want to be addressed – which is why personalization is so important in enterprise software lead generation. It allows companies to see how their specific challenges are going to be solved with your product or service. One of the earliest examples of personalization opportunities for enterprise clients is the initial demo stage, which can be used to create mock-ups and bring up use cases that are similar to what a specific client is facing. Hyper-personalization for a single client in such a manner is in high demand with this client group.
Account identification is a good first step
Your enterprise software lead generation strategy may start in several different ways, but the preferred way is to identify the accounts (and their pain points) that you are going to start targeting. During this identification process, it is also heavily recommended to try and get more familiar with the market as a whole. It is rather easy to start with general company information and their affiliations or networks – and then move towards more granular analysis, such as revenue, tech stacks, and other similar information that you can find about these companies.
Case studies are great for proving your value
Most enterprise companies have a lot to work with aside from your marketing attempts, so it is imperative for you to prove your value as soon as possible. Case studies are a great way to do so, offering a practical example of how your product or service can be of value to a company with a problem that is similar to theirs. A single case study can also be shared with multiple decision-makers within the same company, making it even more effective. Whitepapers work in a similar fashion if they are capable of highlighting challenges or pain points that the client themselves may not be fully aware of.
Appeal to multiple stakeholders
On the topic of multiple stakeholders (often referred to as "Buying Center"), it is not necessary to only try and appeal to one stakeholder at a time. In fact, you would be forced to try and convince as many stakeholders within the same company of your product or service's value as possible, with several different target personas that you'd have to create marketing content for, proving the worth of your business in the eyes of the entire company as a whole.
This buying center has seven different roles that people can be assigned to – buyers, influencers, initiators, gatekeepers, approvers, users, and deciders. Each role has its own goal and purpose when it comes to the process of making a purchase decision – deciders have final authority over purchasing decisions and enforce product requirements, initiators request for a product or service to be purchased in the first place, users are the ones that are supposed to use the aforementioned product or service, and so on. Think about creating content for all these roles – this will help to generate a lead and close a deal.
Enterprise Software Lead Generation with LinkedIn
There are some social media platforms that can be very helpful when it comes to targeting enterprise leads. For example, LinkedIn's extensive targeting feature set allows for targeting based on a massive number of parameters – locations, audience attributes, custom lists and so on.
It is also possible to use the aforementioned search parameters to segregate large enterprises specifically – which includes targeting Fortune 500 companies with large employee counts and high yearly turnover numbers. It is also possible to narrow your search results even further by targeting only specific people from these companies – targeting positions that are a part of the buying center (filtering according to job titles). You can learn more information about this particular topic by using this link to LinkedIn's own article about targeting options and apply for your own enterprise criteria.
Enterprise Software Lead Generation Using SEO
One of the companies I am working for is VirtoSoftware, it develops SharePoint applications and web parts used by enterprise businesses. We're running our enterprise lead generation campaigns with a huge focus on B2B SEO where we managed to succeed in 2 years.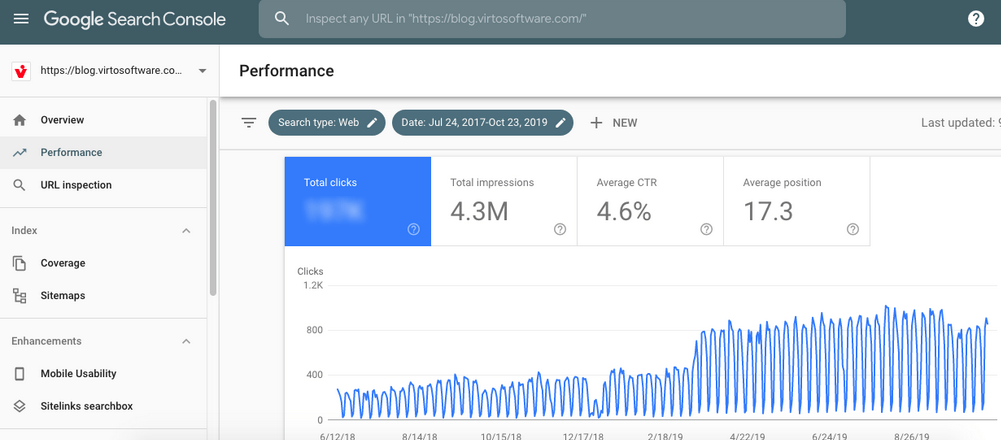 The huge problem for us was that the search keywords that we used were mostly informational in Google and we were unable to understand who is it looking for our product: consumer or B2B enterprise. The websites ranked on these queries were only blogs, like here in the example of "sharepoint forms":
So when you have all these Microsoft blog links on SERP it's really hard to stand out in front of them, but we made it possible — our blog article is on the 2nd place. The problem is that after starting to get traffic we found out that this B2B SEO effort was useless for the actual lead generation process because users weren't flowing from our blog to product pages to perform microconversions like trial downloads or macroconversions like transactions. They had zero intent to research and buy something.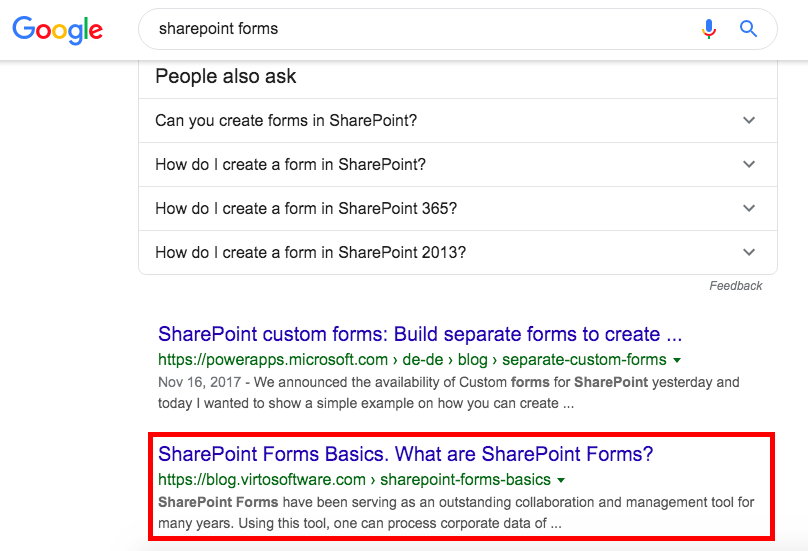 Here is what we tried to do for making the lead generation initiative working and for the improvement of the lead quality. Instead of regular remarketing using Google Display Network or Adroll etc, we initiated a number of campaigns on LinkedIn with the lead generation objective called LinkedIn Lead Ads. Lead generation programs on LinkedIn allowed us to advertise whitepapers about SharePoint migration, SharePoint adoption, SharePoint project management and similar topics. Our audience contained all our blog visitors that had active LinkedIn accounts. And after the launch of this campaign we instantly started to get leads from these people. Here are some figures about this campaign:

We used really simple LinkedIn Inmails to engage with business audience but the topics of whitepapers were deeply researched in Google Trends and Keyword Planner before the initial writing process to make sure the topic we select will generate potential interest.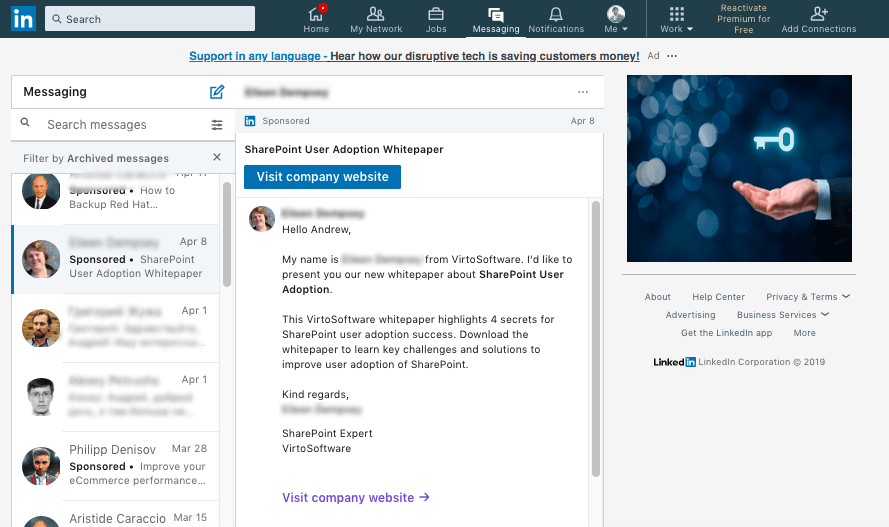 After setting this up we fixed the problem of blog visitors not converting to leads and also the quality of the leads has grown dramatically because of the information that we were able to get from the user's LinkedIn profile with the usage of the pre-filled lead generation form.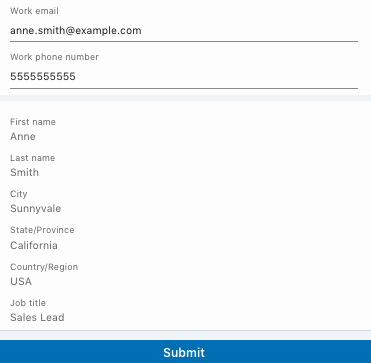 After all I have created the lead nurturing campaign for each whitepaper in a tool called Autopilot: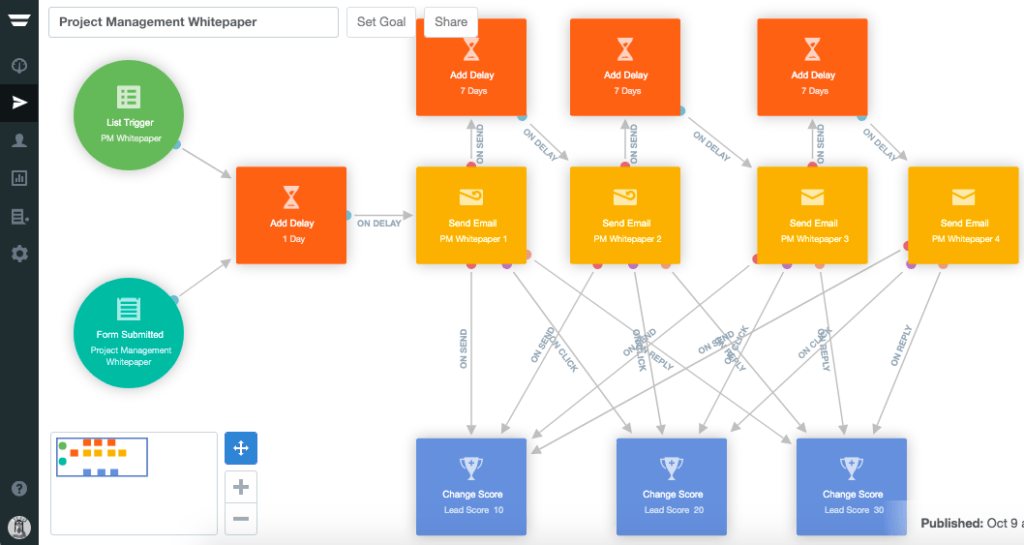 This tool helps us to score the leads based on their activities alongside the nurturing funnel which consists of several month. Our sales team is reaching out only to the prospects that are really active during this process: either open our emails or click to the website landing pages.
By using remarketing on LinkedIn we were able to switch from unknown organic SEO visitors to specific enterprise software leads with company names and positions for the low cost (lower $20 / lead). By nurturing these enterprise leads we score their activity and this helps our sales department to reduce time on lead prospecting and speed up closing.
Conclusion
Lead generation as a whole is a rather complicated process. Choosing to work with enterprise leads is even harder than that – there are more stakeholders to work with, more demanding customers as a whole, and a single sales process can take over a year to complete. At the same time, enterprise leads can be some of the most rewarding lead types to follow, with massive profit margins and large reputation boosts being some of the biggest advantages of this particular choice.
This article attempts to cover as many different factors and nuances of enterprise lead generation as possible, while also showcasing several examples from personal experience.